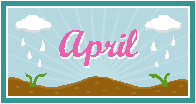 FENTON GIFT SHOP
SPECIAL OFFERINGS

Z5148HPI
3" Gift Shop Exclusive
April Calendar Mouse
$37.50, Buy Now!
"Don't Miss Out...Mark Your Mouse Calendar Now!"
Here's the second figurine in our new series of 12 handpainted mice. This one is for April. Limited in quantity and signed by the artist, these adorable creatures will create quite a stir among avid Fenton figurine collectors.
Z5171H2
4-3/4" Key Lime Butterfly
$29.50, Buy Now!
Our refreshing Key Lime glass is lovely as a Butterfly on stand. It will make a bright accent to your Spring decor! This Butterfly on stand was produced as a 2009 Gift Shop exclusive.
A5163HP
4" Sky Blue Bird Figurine
$23.75, Buy Now!
Sky Blue glass requires a special manufacturing process to create a wonderful translucent quality in each piece. This handpainted bird figurine was produced as a 2008 Gift Shop Exclusive.
Z5065HPPJ
5''
Madras Pink Stylized Cat
$41.25

We're proud to support research toward a cure for breast cancer. This handpainted stylized Madras Pink Cat is a great way to show your support and is the purr-fect gift for that special survivor in your life! Fenton, a proud Relay for Life sponsor, will donate a portion of all proceeds from this special Gift Shop Exclusive to our local Williamstown event.
Fenton eBay Auctions
Own a unique Fenton creation, including one-of-a-kind pieces, through our weekly eBay Auctions!
Items featured this week...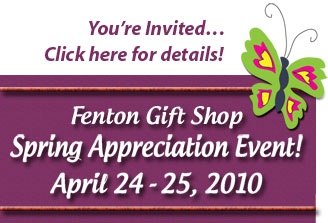 Fenton USA Presents. . . Spring Rosalene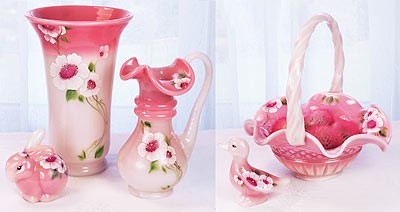 We are introducing several new pieces in Rosalene for Spring 2010, from bunny and duck figurines to a Diamond pattern basket, pitcher and vase. The vase is inscribed with the signature of Christine Fenton, granddaughter of company founder Frank L. Fenton. Fenton designer Michelle Kibbe created a delicate pillow flower motif that harmonizes wonderfully with this beautiful glass.
Rosalene glass is a collector favorite. In the late 1960s Frank M. Fenton and Fenton chemist Charlie Goe wanted to duplicate an antique color called Pink Slag. This heat-sensitive glass was made in the early 1900s for a brief time by another glass company. By adding pure gold to an opaque glass batch and reheating the formed piece, the soft white glass became a wonderful soft pink. Frank M. Fenton named the new glass Rosalene. After some production difficulties and further experimentation, Fenton produced the first Rosalene grouping in 1976. Over the years Rosalene has adapted to a variety of shapes and treatments. Click on each image for details or, to view all of Spring 2010 Fenton USA items, click here.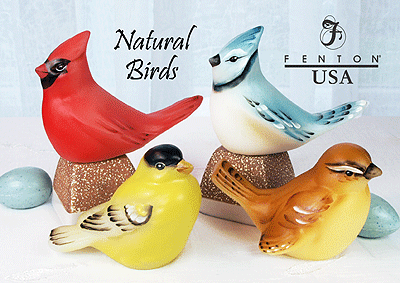 Fenton USA's Natural Birds
for Spring 2010!
Springtime is filled with the songs of birds returning to our area. For 2010 we have a delightful grouping called Natural Birds. Handcrafted in
our Opal glass and handpainted to resemble their live counterpart, each bird figurine is signed by the artist who completed it. Click on each figurine for details or click here for the latest items from Fenton USA! To locate a Fenton dealer near you, click here.
Spring Cleaning Free Shipping Offer!
We're doing some Spring cleaning and found limited quantities on five special items handcrafted in our elegant Aubergine glass. Aubergine glass is perfect for creating a beautiful Spring tabletop display or to give as a a gift for someone special!
Click here to view the FREE SHIPPING offer on these five items, while supplies last, or until April 5th. On April 5 regular shipping charges will apply to each item. There are very limited quantities available (under 12) on these items so don't delay! When you see an item you like, simply click on it to order.
No Fooling! An April Fool's Day
Rose Salt & Pepper Set Offer!
No fooling! There are just 7 first-quality sets of these Rose pattern salt and pepper shakers available in our new Buttercup color. These shakers were shown in our January 2010 Catalog, but we encountered production problems in pressing the Buttercup color with this mould, so we decided not to make any more!

Here's your chance to acquire something that's both functional and unusual. The Fenton Rose pattern dates back to the mid-1960s. It was inspired by a U.S. Glass Co. pattern from the 1920s. Click on the image for details! Remember, only 7 sets are available, so
don't delay in adding this lovely Rose pattern Salt & Pepper set to your collection!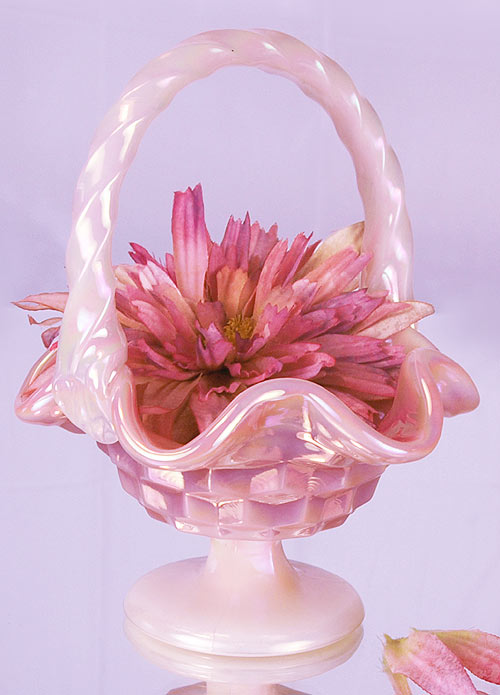 2010 Spring Fenton Family Signing Events
Mark your calendar! We are finalizing our Spring 2010 Fenton Family Signing Events schedule! Our next event is scheduled for April 3 at The Bronze Look in Princeton, WV. Father and Son Tom and Scott Fenton will be on hand to personally sign your 2010 Spring Fenton Family Signing Event Exclusive Basket and all Fenton purchases during this event. Our beautiful 6'' American pattern Basket is handcrafted in Rosalene glass and will be available only at these events. Click here tor the event schedule and check back for updates! Click here to see how the basket is created at our factory in Williamstown, WV! Special Note: The Bronze Look is offering a Fenton USA Burmese Purse Treasure Box as a fundraiser for a local cancer patient. Click here for details.
---