FENTON GIFT SHOP
SPECIAL OFFERINGS
Z9761KF
5-1/2'' Aubergine Cross Bell
$35.00
Buy Now!
The regal beauty of Fenton's Aubergine glass really shines
in this
5-1/2"
Lily and Cross Aubergine Bell.
A Gift Shop Exclusive, this bell and the handpainted version below make lovely Easter gifts for someone special or perfect additions to your bell collection.
Z9761HPA
5-1/2''
Aubergine Handpainted
Lily and Cross Bell, $48.50
Buy Now!
This Fenton Gift Shop Exclusive
5-1/2" Lily and Cross Aubergine Bell features lovely handpainted white flowers and green leaves.
160012
3-1/2'' Featured Artist Exclusive Emerald Green ''Irish'' Bear
$75.00, Buy Now!
Collectors of Susan Bryan's handpainted glass creations
will want to add this Gift Shop Featured Artist Exclusive Bear
to their collection. This adorable Emerald Green Irish Bear figurine has white flowers
with gold highlights. A limited quantity has been produced, so be sure to order yours today!
160013
2-3/4'' Featured Artist Exclusive
Emerald Green ''Irish'' Bear
$50.00, Buy Now!
Bring a wee bit o' luck to your day or that of someone special with this Fenton Gift Shop Featured Artist Exclusive Bear figurine. Susan Bryan designed this adorable Emerald Green Irish Bear. Limited quantities of this bear have been produced, so don't delay, get yours today!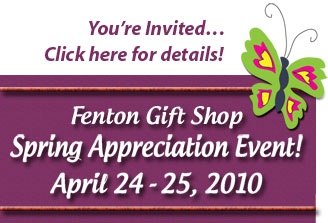 Fenton USA Presents. . . New Persimmon Selections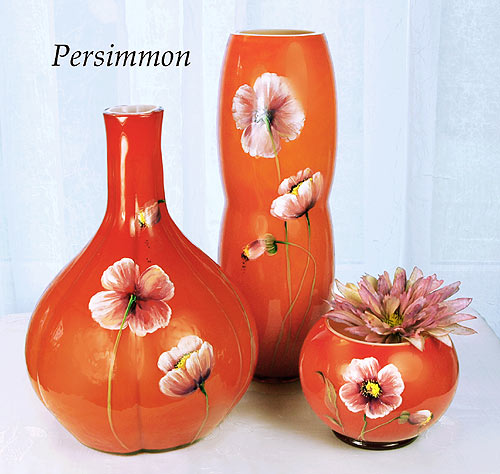 Included in our Spring 2010 grouping are these three beautiful pieces in one of our newer colors, Persimmon.
Persimmon, which was introduced
in 2009, is sure
to brighten your home decor! Persimmon glass requires great care during production to achieve the perfect color effect. The inner layer of Milk Glass provides the perfect backdrop for this heat-sensitive glass and creates the color effect.
The two vases and rose bowl are handcrafted by the skilled glassworkers in Williamstown, WV. Fenton designer Stacy Williams' lush poppy flower motif is the perfect complement to this vibrant glass color from Fenton USA. Stacy used four sheer colors to create each flower and bud. Each piece is signed by the talented artist who completed it. Click on each image for details or, to view all of our Spring 2010 Fenton USA items, click here. To locate a Fenton dealer near you, click here.

Splish Splash! "Into the Pond" from Fenton USA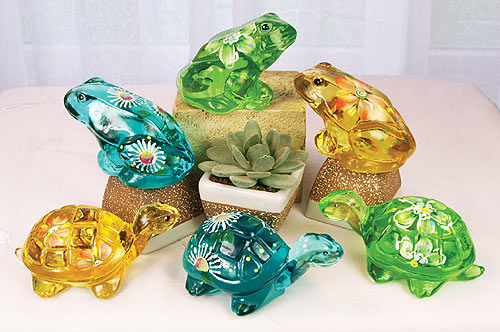 Spring heralds the renewal of our gardens along with the birth of God's creations from land and water. Our Into the Pond collection
for 2010 includes delightful frog and turtle figurines.
The moulds were designed by Jon Saffel in 2001. A glass frog in any of Fenton's colors recalls the glistening, moist skin of this aquatic amphibian, and its hind legs are poised to leap to a nearby lily pad. Our whimsical turtle, covered with spring petals, has just emerged from a meadow. Handcrafted in our new Buttercup and Robin's Egg Blue colors, as well as Key Lime, each colorful figurine features bright handpainted designs by either Stacy Williams or Kim Barley. Each piece is signed by the artist who completed it. All of the handpainted Into the Pond figurines are also available undecorated. Click on each figurine for details or click frog or turtle to view more of these figurines.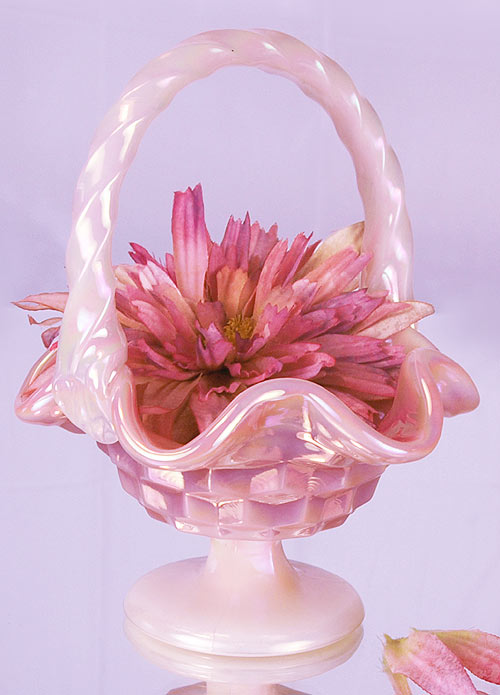 2010 Spring Fenton Family Signing Events
Mark your calendar! We are finalizing our Spring 2010 Fenton Family Signing Events schedule! Our next event is scheduled for April 3 at The Bronze Look in Princeton, WV. Father and Son Tom and Scott Fenton will be on hand to personally sign your 2010 Spring Fenton Family Signing Event Exclusive Basket and all Fenton purchases during this event. Handcrafted in Rosalene glass, this beautiful 6'' American pattern Basket will be available only at these events. Click here for the complete event schedule and be sure to check back for updates!
Special Note: The Bronze Look is offering a Fenton Art Glass Burmese Purse Treasure Box as a fundraiser for a local cancer patient. Click here for details.

Fenton eBay Auctions
Own a unique Fenton creation, including one-of-a-kind pieces, through our weekly eBay Auctions! Items featured this week...
---