FENTON GIFT SHOP
SPECIAL OFFERINGS

ZZ51654B
3-3/4'' Indigo Blue
Cherry Blossom Cat
$39.50, Buy Now!
Cherry Blossoms on Indigo Blue Cat figurine. Nothing signals the arrival of Spring more than the sweet scent of cherry blossoms. Produced as a Gift Shop Exclusive, this piece is a must have for any Fenton cat collection.
Z52284B
7'' Indigo Blue Cherry Blossom Doll, $61.25
Buy Now!
Our Cherry Blossoms on Indigo Blue Doll is a Gift Shop Exclusive. Perfect gift for doll figurine collectors, she will surely be sought after for years to come.
042644B
5-1/4'' Cherry Blossoms on Indigo Blue Handpainted Paneled Pitcher
Originally $75.00, Now $60.00
Buy Now!
Designed by Kim Barley, the fresh handpainted Cherry Blossoms on Indigo Blue motif reflects the simplicity of Asian style. Mix and match with other Indigo Blue pieces for a lovely Spring display!
U5078HP1
3-1/2'' Handpainted Indigo Blue Elephant, $25.00, Buy Now!
Preferred Second. This Indigo Blue Elephant with handpainted white floral design will make a wonderful addition to your Fenton animal figurine collection.

Fenton eBay Auctions
Own a unique Fenton creation, including one-of-a-kind pieces, through our weekly eBay Auctions! Items featured this week...
Fenton USA Presents. . . 2010 Artist Selections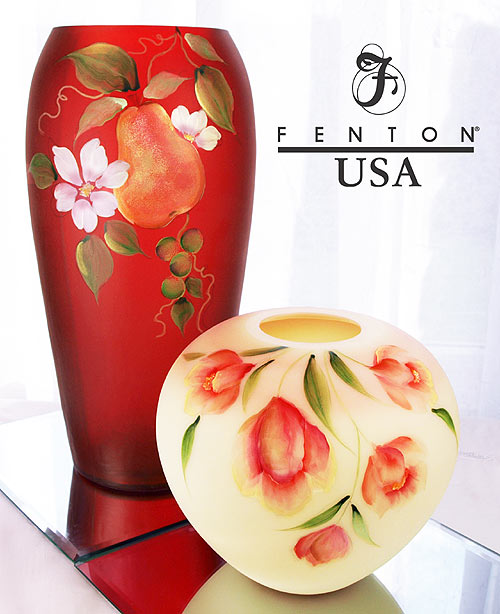 Fenton USA Artist Selections are a celebration of American glass artistry. Included in our 2010 grouping are two outstanding works of art: Pear Blossoms Ruby Velvet Vase and Tulip Domain Burmese Vase.
Both pieces feature handpainted designs by Kim Barley. The stately 11-3/4'' Ruby Velvet Vase design has a lifelike pear on the front. Three colors were carefully shaded and then finished with lightly stippled metallic accents.
Our beautiful Tulip Domain Vase is handcrafted in Fenton's classic Burmese, which contains pure gold in the formula to create the soft pink blush. Kim used coral and light red colors to create the lush tulips which appear to be draping down from the top of the vase.
Click on each image for details or, to view Spring 2010 Fenton USA items currently available, click here. To locate a Fenton dealer near you, click here.

Birthstone Bear Keepsakes from Fenton USA
Fenton Birthstone Bears, a long-time collector favorite, are back for 2010! They make perfect sentiment gifts and are also highly collectible!
Made in Crystal, these handcrafted figurines are adorned with a birthstone colored crystal heart and a special personality tag for each calendar month.

Fenton's Birthstone Bears debuted in June 1987 as part of our regular product line.
The development process took a long time as we pondered various astrological and zodiac ideas before settling on these unique birthday gift figurines. They have remained popular ever since! In 1988 the Birthstone Bears were introduced on QVC as part of their Collector's Corner show. They proved to be a success as they "just flew out the door" during the broadcast and were quickly reordered. The success of this show led to QVC requesting more products from Fenton. Our relationship with QVC continues today with George Fenton appearing as co-host on the upcoming May 4 show. Click on the May Bear figurine for details or click here to view all of our Bear figurines.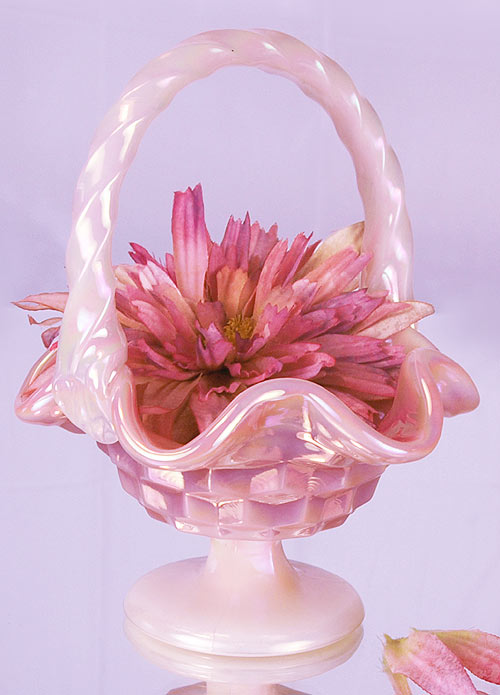 2010 Spring Fenton Family Signing Events
Mark your calendar! We are finalizing our Spring 2010 Fenton Family Signing Events schedule! Our next events are scheduled for March 25-27 in Texas and Arizona.

George Fenton will be on hand to personally sign your 2010 Spring Fenton Family Signing Event Exclusive Basket and all Fenton purchases during these events. Our beautiful 6'' American pattern Basket is handcrafted in Rosalene glass and will be available only at these events. Click here for the event schedule and be sure to check back for updates!

---


Click on each image
for this week's

Special Offers from the Fenton Gift Shop!

GS82041
10-1/2'' Dinner Plate in
Flora Blue by Gabriella Miller
Originally $14.00, Now $10.50

Click here for more Ceramics!

GS82054
3'' Blue Rose Garden Mug
by Gabriella Miller
Originally $9.50, Now $7.13