FENTON GIFT SHOP
SPECIAL OFFERINGS
Z5148HPJ
3'' Exclusive ''March''
Calendar Mouse
$37.50, Buy Now!

Don't Miss Out...
Mark Your Mouse Calendar Now! Our new series of 12 handpainted mice kicks off in March with our Lucky Irish Mouse. Limited in quantity and signed by the artist, these adorable creatures will create quite a stir among our avid Fenton figurine collectors.
Z5148HPA
3'' Sea Mist Green Lei Mouse
$35.75, Buy Now!
Produced as a Gift Shop Exclusive, this Sea Mist Green Mouse with a colorful lei will add a little delight to your Fenton collection.
Z5148HPD
3'' Rosalene Natural Mouse
$36.00, Buy Now!
Produced as a Gift Shop Exclusive, this 3" Rosalene Mouse has handpainted details for a natural look. His expressive blue eyes make this little guy the perfect keepsake for someone special.
Z5148HPE
3'' Rosalene Mouse
with Poodle Skirt
$38.00, Buy Now!
Our Fenton Gift Shop Exclusive 3" Rosalene Satin Mouse is a blast from the past in a cute handpainted poodle skirt and saddle shoes!
Fenton USA Presents. . . Poppies on Blush Rose!
Our popular Poppies on Blush Rose grouping returns for 2010 with new pieces perfect for today's home decor. Blush Rose is the newest addition to the Fenton family of "Oh, so pretty!" pinks. Continuing the tradition that began with Rose and Velva Rose in the 1920s, our Blush Rose sparkles and shimmers. Many items feature a lovely touch of opalescence.
Blush Rose provides the perfect canvas for Kim Barley's Poppies on Blush Rose design on our 23'' Gone with the Wind Lamp and
9-1/4'' Oval Basket. Note the beautiful diamond optic pattern in the basket.
Click on each image to order or, to view more items in Blush Rose, click here. To view our Spring 2010 Fenton USA items currently available, click here.
---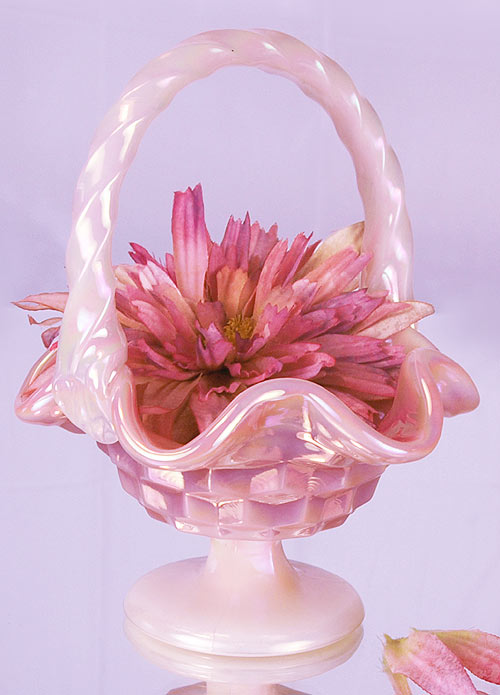 2010 Fenton Family Signing Events
Mark your calendar! We are finalizing our Spring 2010 Fenton Family Signing Events schedule! A member of the Fenton family will personally sign your Fenton Family Signing Event Exclusive and all Fenton purchases during this event. The 2010 Spring Family Signing Event Exclusive, available only at these events, is this beautiful 6'' American Basket handcrafted in Rosalene glass. Rosalene glass contains pure gold in the formula. This iridized Basket will be available only at participating Family Signing Event dealers for $49.50 U.S.
Click here for the event schedule and be sure to check back for updates! Below are listed the events that are coming up soon! Please contact each dealer for event details.
To locate a Fenton dealer near you, click here.

Spring 2010 Fenton Family Signing Events for MARCH 2010:

Lynn Fenton Erb will be appearing at the following Fenton dealer location on March 20, 2010. Please contact the Fenton dealer for details. Click on Lynn's photo for her bio or click here for the schedule.
MARCH 20 - Christian Family Book Shoppe, 304-442-2142
74 Michigan Ave., Smithers, WV 25186;
email: christianfamilybookshoppe@yahoo.com

George Fenton will be appearing at the following Fenton dealer locations in Texas and Arizona. Please contact each Fenton dealer for details. Click on George's photo for his bio or click here for the schedule.
MARCH 25 - Collectors Items Unlimited, 903-818-1274, 1275
%Blue Moon Antique Mall, 410 W. Main St., Denison, TX 75020
email: collectorsitemsunlimited@yahoo.com
MARCH 26 - Emerald City, %Antique Gallery, 972-219-0474
1165 S. Stemmons Hwy., Ste. 128, Lewisville, TX 75057
email: pwb1957@tx.rr.com
MARCH 26 - Fenton Crossing, Phone: 972-989-5961
800 N. Central Expressway, Plano, TX 75074
email: artglass4u@yahoo.com

;


MARCH 27 - Glass Creations, 623-939-5966
7011 N. 58th Ave., Glendale, AZ 85301
email: qcreations@qwestoffice.net
---
Fenton eBay Auctions
Own a unique Fenton creation, including one-of-a-kind pieces, through our weekly eBay Auctions! Items featured this week...
---
04683ZY
7'' Opal Satin and Rosemilk
Bunny Box
Originally $99.50, Now $49.75

Click on each image
for this week's
Special Offers from the
Fenton Gift Shop!

300045
7'' Opal Satin and Rosemilk
Bunny Box
Originally $99.50, Now $49.75