FENTON GIFT SHOP
SPECIAL OFFERINGS

Z5151HPE
3-1/2'' Emerald Green Bear with handpainted Daisy design
$34.75, Buy Now!
Z5251HPE
2-3/4'' Emerald Green Mini Bear
with handpainted Daisy design, $24.75, Buy Now!
Our adorable Emerald Green Bear figurines have been handpainted with a fresh daisy pattern. These Fenton Gift Shop Exclusives for 2009 make beary special gifts or additions to your Fenton Figurine collection!
Z5151HPV6
3-1/2'' Gift Shop Exclusive
Sea Mist Green Bear
$42.75, Buy Now!
Z5251HPA
2-3/4'' Gift Shop Exclusive
Sea Mist Green Mini Bear
$25.50, Buy Now!
Collectible and oh-h so cute... our Sea Mist Green Bear figurines are sure to bring a smile! The 3-1/2'' Bear is handpainted with an upbeat whimsical floral design. These figurines were produced as Fenton Gift Shop Exclusives for 2009. Mix and match with for a bright Spring display!
Fenton eBay Auctions
Own a unique Fenton creation, including one-of-a-kind pieces, through our weekly eBay Auctions!
Items featured this week...
Fenton USA Presents. . . Sunshine on Buttercup!
Our new Buttercup is a vibrant yellow made with special ingredients to capture the warmth of Spring sunshine and the excitement of nature's awakening. Designer Kim Barley's floral motif, Sunshine on Buttercup, is both graceful and elegant. For this grouping we've added a few pieces of Buttercup Overlay. Fenton glassworkers have mastered the overlay process. First, a small quantity of Milk Glass is gathered on a blowpipe and carefully shaped. Then, a layer of Buttercup glass is gathered over the Milk Glass. Each time, the right amount of glass must be gathered so that the overlay will be uniform.
Each handpainted Sunshine on Buttercup piece is signed by the talented Fenton artist who completed it. All handpainted Buttercup Overlay and Buttercup items are also available unadorned. For details, click on each image or, to view our Spring 2010 Fenton USA items currently available, click here. To locate a Fenton dealer near you, click here.

Hopping into Spring with Bunny Figurines from Fenton USA!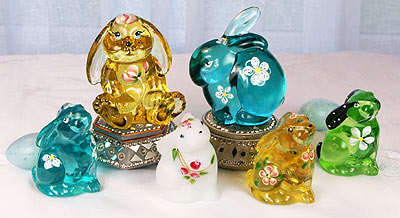 Our Spring 2010 bunny figurines have arrived just in time to add extra sparkle to your Spring display or to give as a gift to someone special!
Handcrafted in our new Buttercup and Robin's Egg Blue colors as well as Opal Satin and Key Lime. Each bunny has a bright floral design by Michelle Kibbe. Each handpainted figurine is signed by the artist who completed it. Click on each image for details. To view our more bunny figurines and bunny boxes, click here.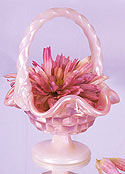 2010 Spring Fenton Family Signing Events
Mark your calendar! We are finalizing our Spring 2010 Fenton Family Signing Events schedule! Our first event is at the Christian Family Bookstore in Smithers, WV. Lynn Fenton Erb will be on hand to personally sign your Fenton Family Signing Event Exclusive Basket and all Fenton purchases during this event. The 2010 Spring Family Signing Event Exclusive Basket, our beautiful 6'' American Basket handcrafted in Rosalene glass, will be available only at these events. Click here for the event schedule and be sure to check back for updates!

Fenton 2009 Dirty Jobs Show Repeats on March 16th!
Mark your calendar! Fenton Art Glass was first featured on the Discovery Channel show Dirty Jobs in November 2009. In case you missed it, the show is airing again on Tuesday, March 16 at 8 p.m. (ET). Check your local listings for details. We have limited quantities available on some Fenton USA products which appeal to fans of Mike Rowe as well as to Fenton collectors. Click here to see all available items.
---


Click on each image
for this week's
Fenton International
Special Offers from the Fenton Gift Shop!

GS840
14'' FireWorks Charger Platter
Originally $34.75, Now $17.38

Click here for more FireWorks Ceramics!

GS842
8'' h. FireWorks Pitcher
Originally $29.75, Now $14.88