FENTON GIFT SHOP
SPECIAL OFFERINGS

160011
3-1/2'' Featured Artist Exclusive Ruby Amberina Bear Figurine
$80.00, Buy Now!
Brighten your day or that of someone special with this Fenton Gift Shop Featured
Artist Exclusive. (Front and back designs are shown.) Susan Bryan designed this adorable Ruby Amberina Bear and titled it Star Bright. A limited quantity has been produced, so be sure to order yours today!
Z5041HPRN
3-1/2'' Iridized Ruby
Christmas Joy Bird Figurine
$42.50, Buy Now!
This 3-1/2'' Bird figurine in our shimmering iridized Ruby glass evokes feelings of Christmas Joy! Great gift for a figurine or bird collector!
CV623RL
6-1/2'' Ruby Amberina
Stretch Comport
$45.00, Buy Now!
Our Ruby Amberina Stretch Comport in the Persian Medallion pattern is ideal for serving nuts and candy or to fill with potpourri.
I2988HPRL
6-1/4'' Ruby Amberina
Stretch Handpainted Vase
$65.00, Buy Now!

Cheerful times blossom when you grace your home with this limited and numbered piece! Only 300 made...this Ruby Stretch Vase with a lovely handpainted floral design is a perfect addition to any collection.

Z5245RU
5'' Ruby Amberina
Cardinal Figurine
$26.25, Buy Now!

This 5" Ruby Amberina Cardinal figurine will make
a lovely gift to give or to receive. Ruby is a glass very sensitive to heat and this feature creates the wonderful Amberina effect. Color may vary.
Fenton eBay Auctions
Own a unique Fenton Art Glass creation, including
one-of-a-kind pieces, through our weekly eBay Auctions! Items featured this week...
Fenton USA Presents. . . Burmese for Mother's Day !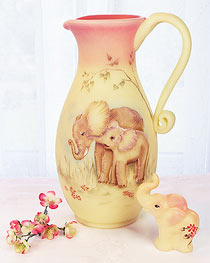 Our 2010 Mother's Day offering is this elegant pitcher and matching elephant figurine handcrafted in classic Burmese glass. The handpainted pitcher features a heartwarming scene of a mother elephant with her baby. The elephant figurine has a complementary floral design.

Frank M. Fenton's enthusiasm for art
glass led to Fenton chemist Charlie Goe recreating the historic Burmese color in 1969. It has since become one of our most collectible colors. Burmese glass contains pure gold in the formula. Careful reheating creates the delicate pink shading.
The 11'' pitcher is inscribed with the signatures of Nancy, Shelley and Lynn Fenton. The pitcher's elegant handle is a "French Curl" handle, and it poses special challenges. A glassworker called a "handle gatherer" takes molten glass on a punty, rolls it on a marver, and uses a dip mould to impart the ribbing. Then he goes to the skilled handler who first attaches the handle at the top and draws it out to the right length. He then uses a large pair of tweezers with pointed tips to attach the handle down below. When he sticks it at the bottom, he rolls it upwards to make the curl effect. When he slides the tool out, two small open areas show in the curl of the handle. Click on each image to order or, to view our Spring 2010 Fenton USA items currently available, click here. To locate a Fenton dealer near you, click here.
---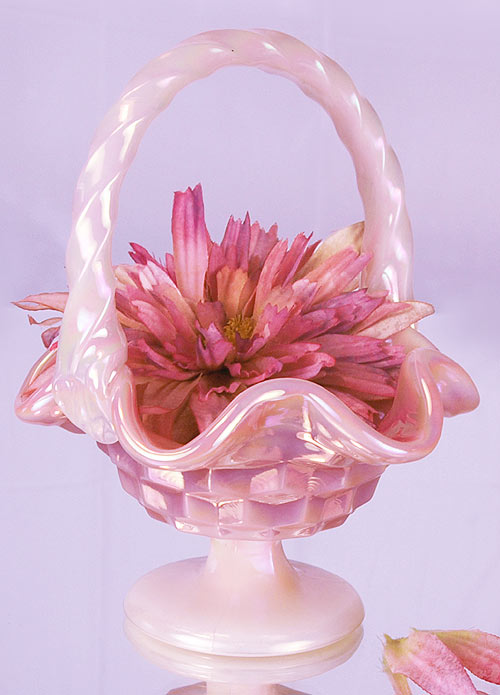 2010 Fenton Family Signing Events
Mark your calendar! We are finalizing our Spring 2010 Fenton Family Signing Events schedule! A member of the Fenton family will personally sign your Fenton Family Signing Event Exclusive and all Fenton purchases during this event. The 2010 Spring Family Signing Event Exclusive, available only at these events, is this beautiful 6'' American Basket handcrafted in Rosalene glass. Rosalene glass contains pure gold in the formula. This iridized Basket will be available only at the participating Family Signing Event dealers for $49.50 U.S.
Click here for the event schedule and be sure to check back for updates! Below are listed the events that are coming up soon! Please contact each dealer for event details.

Spring 2010 Fenton Family Signing Events for MARCH 2010:

Lynn Fenton Erb will be appearing at the following Fenton dealer location on March 20, 2010. Please contact the Fenton dealer for details. Click on Lynn's photo for her bio or click here for the schedule.
MARCH 20 - Christian Family Book Shoppe, 304-442-2142
74 Michigan Ave., Smithers, WV 25186; email: bookhorsecf@yahoo.com

George Fenton will be appearing at the following Fenton dealer locations in Texas and Arizona. Please contact each Fenton dealer for details. Click on George's photo for his bio or click here for the schedule.
MARCH 25 - Collectors Items Unlimited, 903-818-1274, 1275
%Blue Moon Antique Mall, 410 W. Main St., Denison, TX 75020
email: collectorsitemsinlimited@yahoo.com
MARCH 26 - Fenton Crossing, 972-989-5961
800 N. Central Expressway, Plano, TX 75074; artglass4u@yahoo.com
MARCH 26 - Emerald City, %Antique Gallery, 972-219-0474
1165 S. Stemmons Hwy., Ste. 128, Lewisville, TX 75057; pwb1957@tx.rr.com
MARCH 27 - Glass Creations, 623-939-5966
7011 N. 58th Ave., Glendale, AZ 85301; creations@qwestoffice.net
---
Want to learn
more about Fenton?

Increase your knowledge of Fenton Art Glass with our reference books for collectors.

All the books feature beautiful color photos
and concise, well-written accounts of Fenton products and people as well as the rich history of Fenton Art Glass. You'll enjoy the stories and pictures in these must haves for all those who love Fenton glass.


Click on each image or
click here to browse
all our reference titles.
---

220020
#249 Persimmon Vase
Delicious 2 - A/P
$950.00

221920
#171 Rosalene Vase
w/Ponies
Pink Ponies - A/P
$675.00

Join our Fenton. . .


◊ Be the first to hear about new releases of one-of-a-kind originals! Cameo Club members are notified first of new releases through exclusive email newsletters (if a valid email address is registered at the Fenton Gift Shop in Williamstown, WV)

◊ Special discounts for members only! Purchase five Cameo Club Exclusives with 10% discount on each and receive 25% off your sixth purchase! Offer is valid on all Fenton Artisan originals including one-of-a-kind Artist Proofs (AP) and Limited Editions!
All qualifying Cameo Club purchases must
be made and registered at the Fenton Gift Shop or call our Customer Service Dept. at 800-319-7793 (ext. 327 or ext. 383).


221915
#212 Lotus Mist Burmese Vase Summer Fuchsia - A/P
$710.00

221931
#252 Chocolate Cat
Treed - A/P
$125.00

Click here to download
a pdf file of more stunning
Cameo Artist Proofs
and Development Proofs!

Call today to join our Cameo Club!
800-319-7793 (ext. 327 or ext. 383)