FENTON GIFT SHOP
SPECIAL OFFERINGS

Z5293HP01
3-1/2'' Violet Boy
Bunny Figurine
$36.50, Buy Now!
Z5293HP02
3-1/2'' Violet Girl
Bunny Figurine
$36.50, Buy Now!
Our Fenton Gift Shop Exclusive Violet Bunny figurines are perfect for the young or the young-at-heart. Each figurine has been handpainted with a cute detailed face and decorative accents. The perfect gift for somebunny special.
280002
5'' Handpainted Mulberry Vase
$40.50, Buy Now!
Mulberry glass has always been popular with our collectors. The Mulberry color is a Fenton Art Glass exclusive and demands great skill from our glassblowers Handpainted with a simple and pretty metallic floral design, this Fenton Gift Shop Exclusive vase will make a nice addition to any collection.
Z9499IP
4-3/4'' Plum Opalescent
Iridized Fenton Logo
$41.75, Buy Now!

Produced as a Fenton Gift
Shop Exclusive, this Plum Opalescent Iridized Fenton
Logo is a perfect addition to
any Fenton collection. The
deep lustre of iridized Plum Opalescent speaks for itself.

Fenton eBay Auctions
Own a unique Fenton creation, including one-of-a-kind pieces, through our weekly eBay Auctions! Items featured this week...
Fenton USA Presents. . ."Eggsceptional" Fenton Eggs!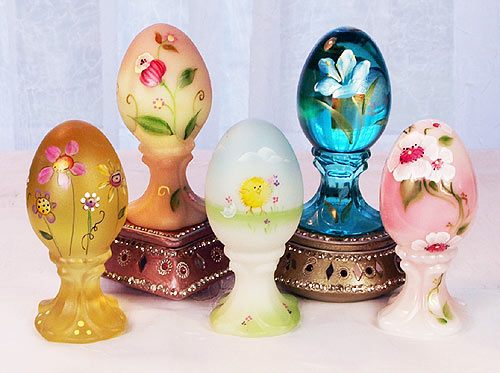 Shown above is our eggsceptional Egg collection for Spring 2010! This collection includes handpainted eggs featuring a variety of attractive designs by Michelle Kibbe and Kim Barley. Handcrafted in Buttercup, Burmese, Opal Satin, Robin's Egg Blue, or Rosalene, each handpainted egg is signed by the talented Fenton artist who completed it. For details, click on each egg image or, to view our Spring 2010 Fenton USA items currently available, click here.
The art of the decorated egg can be traced back to the Ukraine. Decorated eggs (called Pysanky) were used as talismans and also helped ward off evil spirits. It was believed that the more colors on a decorated egg, the more magical powers it held. With the acceptance of Christianity in 988 A.D., Pysanky eggs in the Ukraine became a part of the Christian tradition of Easter, taking on the meaning of the resurrection of God and the rebirth of man. The egg symbol was likened to the tomb from which Christ arose.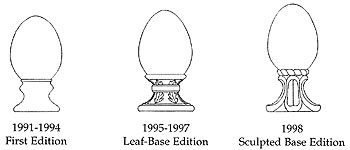 American glass manufacturers have been producing glass eggs since the early 1900s. Since that time, excitement over glass egg collecting has continued to grow. At Fenton, the Egg on Stand was produced in many colors and patterns during the 1970s and 80s. Since 1991, Fenton's Collectible Eggs have been offered each year with intricate patterns and unique glass treatments. There have been three egg moulds (each with a different base design, shown above) used for our Collectible Egg series.

Fenton USA's Cute Easter Companions!
Want a unique gift for a figurine collector or someone special this Easter? Our Spring 2010 Bunny figurines make perfect Easter gifts! Handcrafted in our Opal Satin glass, Michelle Kibbe's handpainted design features brightly colored Egg flowers. Click on image for details. To view our more bunny figurines and bunny boxes, click here. To locate a Fenton dealer
near you, click here.
Exclusive Frank Workman Bowl for QVC
This unique 5-1/2" Offhand Bowl was created especially for QVC as a Fenton Studio piece by glass artisan Frank Workman. It features a light Apple Green color inside with blue stripes and white dots on the outside. Because it is created offhand, no two pieces will be alike and size may vary. The top is approx. 9-1/2'' diameter. The bowl is a limited edition of 100 numbered pieces and includes Frank's personal stamp. A small quantity is still available. Click on the image for details or enter C27556 in the search box at QVC.com. To view Fenton Art Glass items currently available from QVC, click here.
---