FENTON GIFT SHOP
SPECIAL OFFERINGS

U5363HP1
4'' Indigo Blue
Handpainted Bird
$25.00, Buy Now!

Preferred Second. This Indigo Blue Bird with handpainted floral design will make a wonderful addition to your Fenton Bird collection.
U5274HP1
2-1/2'' Handpainted Chameleon Green Frog
$25.00, Buy Now!
Preferred Second. Our Chameleon Green Frog figurines features a cheery handpainted floral design. A perfect St. Patrick's Day gift for a figurine collector!
U5215HP1
2-3/4'' Handpainted
French Opalescent Squirrel
$25.00, Buy Now!
Preferred Second. You'll want to add this French Opalescent Squirrel figurine to your figurine collection! The adorable eyes and wheat design are hard to resist!
U5136HP3
3-1/2'' Handpainted
Turquoise Elephant
$25.00, Buy Now!

Preferred Second. Our Turquoise Elephant has a bright handpainted pink flower design. Trunk is up for Good Luck!
U5066HP1
4-1/4'' Handpainted
Black Hummingbird
$25.00, Buy Now!

Preferred Second. This Black Hummingbird with
a soft pink rose design makes a perfect gift for bird lovers!
Fenton USA Presents. . .
"Spring Watch". . . a Cameo Carved Masterpiece!

Included in the 2010 Studio Fenton collection, this 7-3/4'' diameter Spring Watch cameo carved Bowl features intricate details and remarkable realism. Our skilled glassworkers handcraft this bowl by covering a core of Crystal with rich Ruby glass. Cameo artists Kelsey Murphy and Robert Bomkamp have designed and created a beautiful masterpiece. The scene features two Cardinals perched on branches. Shown above are front and back views of the bowl. This bowl was designed specifically so that no matter how you look at it everything is visible. . . whether you look at the bowl from the inside out or from the outside in, all of the detail shows! The Spring Watch Bowl is limited to 195 pieces and features Kelsey's and Robert's special inscribed signatures on the bottom.
Cameo carving is a painstaking process. After the glass has been annealed, a special mask is taped to the surface of the glass. Using an advanced vignetting technique, each piece is carefully sandcarved, by hand, using aluminum oxide crystal under pressure to take away some of the surface. Great individual skill and experience are needed to control this operation, as distinct stages of successive cameo carving are required to create the remarkable depth and the intricate details. To learn more about Kelsey Murphy and Robert Bomkamp and their magnificent cameo carved works of art, click here. Click on the image for details or check with your local Fenton dealer for availability. To locate a Fenton dealer near you, click here. To view other Spring 2010 Fenton USA items currently available, click here.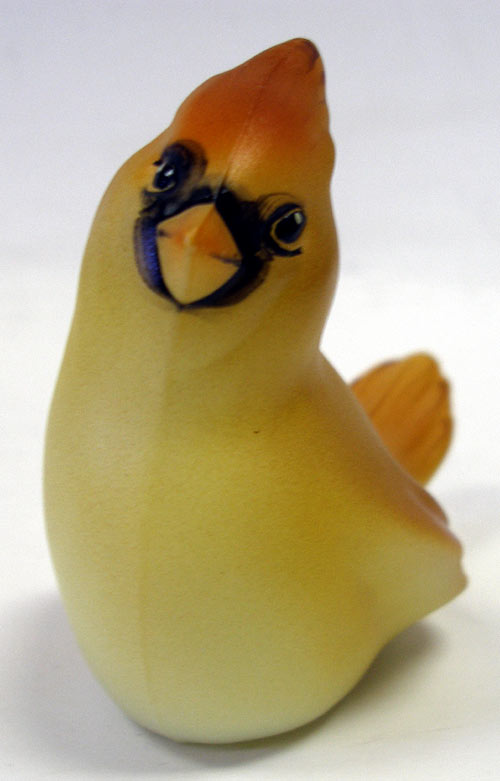 "Shelley's Keepsakes" Collection for QVC
Shelley's Keepsakes is a special collection of limited edition handpainted items chosen by Shelley Fenton Ash, granddaughter of company founder Frank L. Fenton, for QVC.com. Shelley has been involved in the development of items for QVC.com since 2003 and also has appeared on QVC as a guest host for Fenton USA products.
The bird figurine shown at right is limited to 250 numbered pieces. This delightful figurine features a soft satin finish and handpainted design by Michelle Kibbe in vibrant shades of orange-red, muted gold and yellow with black accents and eyes. Handcrafted with pride in Williamstown, West Virginia, each piece is signed by the talented Fenton artist who completed it. Click on the image for details or go to QVC.com and enter either Shelley's Keepsakes or C210718 in the Search window. To view all Fenton Art Glass items currently available from QVC, click here.
Fenton eBay Auctions
Own a unique Fenton creation, including one-of-a-kind pieces, through our weekly eBay Auctions! Items featured this week...
---

221886
Blue Burmese Vase
Feline in the Flowers
$575.00, A/P


221878
Blue Overlay Vase
The Falls at Swan Lake
$2100.00, A/P

Call and become a
Fenton Cameo Club
member today!


*Offer valid on all Fenton Artisan Originals including one-of-a-kind Artist Proofs (AP) and Limited Editions!

Cameo Club members will be notified first of new releases through exclusive email newsletters provided a valid email address is registered at the Fenton Gift Shop in Williamstown, WV.

All qualifying Cameo Club purchases must be made and registered at the Fenton Gift Shop or by calling our Customer Service Dept. at 800-319-7793 (ext. 327 or
ext. 383).


222020
Blue Lagoon w/Milk Glass Overlay Vase Vining Glory, $675.00, A/P


222021
Burmese Flip Vase
Hailey's Rose
$250.00, A/P





Click here to download a pdf file
of more stunning Cameo Artist
and Development Proofs!