FENTON GIFT SHOP
SPECIAL OFFERINGS

Z5186ZW
5'' Indigo Blue Hen on a Nest
$55.75, Buy Now!

Don't miss adding this Indigo Blue Hen on the Nest to your collection, produced as a Gift Shop Exclusive. Indigo Blue is a timely color with global appeal, and this deep, natural blue can be seen worldwide in beautifully handmade fabrics. Translated into lustrous Fenton glass, Indigo Blue imparts a lively personality.
Z5145HPD
3-3/4'' Opal Iridized Rooster Egg
$41.25, Buy Now!
The handpainted folk art rooster scene on this Opal Iridized Egg
is reminiscent of simple country moments. Produced as a new Gift Shop Exclusive, this Egg will add a colorful display accent.
Z82846O
5-3/4'' Indigo Blue Footed
Leaf Bowl $49.50, Buy Now!
This Indigo Blue Stretch Footed Leaf Bowl has a beautiful center butterfly design. Stretch glass was first made in 1917 and has always been a collector favorite. The effect is breathtaking, due
to the striations created that catch the light and shimmer.
Z5318HPE
3-1/4'' Opal Iridized Birthstone Kitten with Green Eyes
$29.50, Buy Now!

This adorable Opal iridized Birthstone Kitten figurine with handpainted green eyes makes a perfect birthday gift! Produced as a Gift Shop Exclusive with YOUR CHOICE of birthstone necklace. Please be sure to note the birth month you wish in the comment box upon checkout.
Fenton USA Presents. . . Rooster Covered Boxes & Figurines!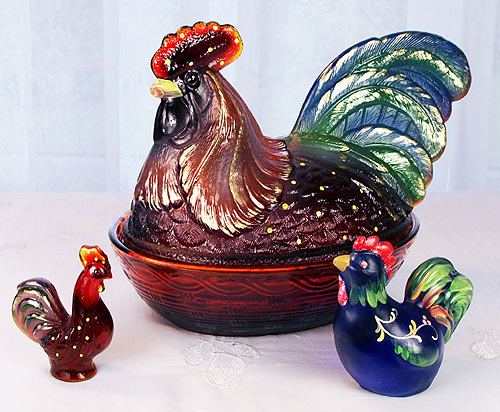 Our new Rooster grouping for Spring 2010 includes something to crow about. . . several collector favorites! During the 1880-1910 period, glass factories making pressed ware in America competed vigorously to catch the public's fancy with pattern glass sets and individual novelty items. Among the novelties was a variety of covered animal dishes. These covered animal dishes have remained a popular item for collectors. Our 4680 Rooster Covered Box was first produced in the early 1990s from a mould acquired from the Westmoreland Glass Company. The 2-3/4'' companion Rooster figurine joined the Fenton line in 1999, along with a 5-1/2'' Rooster figurine and an
8-1/2'' Standing Rooster.
For Spring 2010, our 2-3/4'' Ruby mini-Rooster sports
a polka dot design by Kim Barley. Ruby glass lends a majestic air to our 8-1/2'' Rooster Covered Box which features a handpainted design by Kim Barley. The
3-1/2'' Rooster figurine and 8-1/2'' Standing Rooster in Cobalt have a handpainted country folk art design by Stacy Williams. Each handpainted piece is signed by the talented artist who completed it. All of our handpainted Roosters are also available undecorated. Click on each image for details or, to view more Fenton Roosters, click here. To view all new Spring 2010 Fenton USA items currently available, click here. To locate a Fenton dealer near you, click here.

---
Fenton USA Exclusives on QVC
We're finalizing plans for our next QVC show, scheduled for May. Watch this newsletter for the latest details! To view Fenton Art Glass items currently available from QVC, click here. Shown at right is our 7'' Oval Vase in Blue Burmese. Made with pure Gold in the formula, no two pieces are alike! Kim Barley's handpainted Cherry Blossoms and mountain range scene adds to the beauty of this vase. George Fenton's signature is inscribed on the bottom. This vase is the first in our Great American Glass Collection series offered on QVC. Click on the image for details or enter C27452 in the Search Box.
Fenton eBay Auctions
Own a unique Fenton creation, including one-of-a-kind pieces, through our weekly eBay Auctions! Items featured this week...
---
Be sure and watch for this Thursday's eNewsletter..
we'll have something to really crow about!