FENTON GIFT SHOP
SPECIAL OFFERINGS

These lovely handpainted Burmese lamps will add function and beauty to any home decor. They make perfect nightstand or
mantel accessories.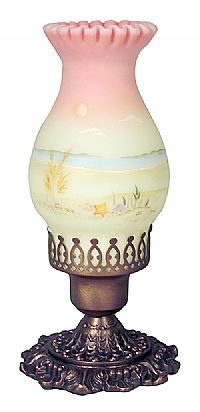 210002
10'' Burmese Hurricane Lamp with Beach Scene
$125.00
Buy Now!

This lamp features a tranquil beach scene.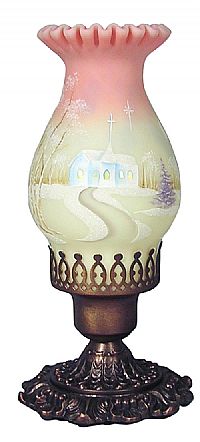 210003
10'' Burmese Hurricane Lamp with Winter Church Scene
$160.00
Buy Now!



This Burmese Hurricane Lamp features a winter church scene.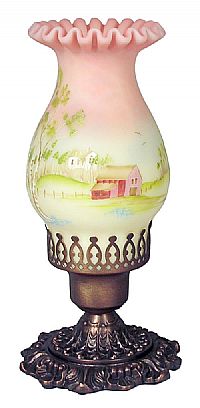 210005
10'' Burmese Hurricane Lamp with Farm Design
$135.00
Buy Now!

Our lovely 10" Burmese Hurricane Lamp features a charming farm motif.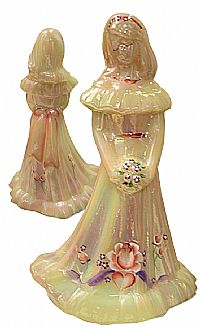 Z5228HPIE
7'' Handpainted Burmese Bridesmaid Doll
$76.50, Buy Now!

Don't miss adding this Fenton Gift Shop Exclusive iridized Burmese Bridesmaid Doll to your collection! Delicate roses and hearts and a flowing ribbon adorn her skirt. Proudly handcrafted by the artisans at Fenton.
Fenton USA Presents. . . Spring Song on Robin's Egg Blue!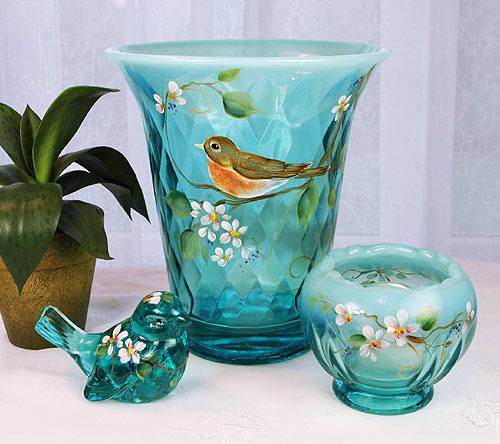 Welcome Spring with our refreshing Spring Song on Robin's Egg Blue. Kim Barley's handpainted design captures one of the sure signs of Spring in our part of the country, one we've been longing to see, the American Robin. The bird is shown perched on a tree branch filled with newly opened Spring buds!
The newest addition to our family of blue glass hues, Robin's Egg Blue will add just the right touch of color to any area of your home. Group Kim Barley's handpainted Spring Song on Robin's Egg Blue design with unadorned pieces for a Spring display that will delight one and all. All items shown above are handcrafted with pride by the skilled craftsmen at Fenton Art Glass in Williamstown, WV. Each piece is signed by the artist who completed the piece. Click on each image to order, or to view our new Spring 2010 Fenton USA items currently available, click here. To locate a Fenton dealer near you, click here.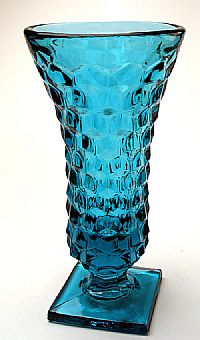 The American Vase
in Robin's Egg Blue from Fenton USA
This 10'' American Vase is handcrafted in Robin's Egg Blue.
The American vase is made with a Fostoria Glass Company mould. The American line was introduced about 1915 and was one of their most successful patterns. The American pattern and Fenton's rich glass colors combine to create beautiful pieces for today's styles in home decor. Click on the image to order. This vase is also available in our regal Aubergine color.
Fenton eBay Auctions
Own a unique Fenton creation, including one-of-a-kind pieces, through our weekly eBay Auctions! Items featured this week...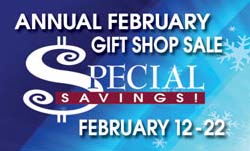 FINAL DAYS!
Fenton Gift Shop
February Sale
Click image at left
for details about the Annual
February Fenton Gift Shop Sale!
---
For questions or comments, please do not reply to this email. Instead, email: askfenton@fentonartglass.com. This email has been sent to you because you have agreed to receive offers and information from the Fenton Art Glass Company. We respect your privacy and do not sell your personal information. For details, please review our privacy policy.

How to unsubscribe: If you prefer not to receive offers or information from Fenton Art Glass, please use this page.

If you use a Challenge-Response system for email, please make certain that you can receive our email by adding askfentononline@fentonartglass.com to your Allow List. For specific instructions for major ISPs, click here.

The sender of this email is the Fenton Art Glass Co., 700 Elizabeth St., Williamstown, WV, 26187