FENTON GIFT SHOP
SPECIAL OFFERINGS
CV771UZ
4 1/2'' Stars and Stripes
on Ruby Rose Bowl
$61.50, Buy Now!
Our 4-1/2" Stars and Stripes on Ruby Rose Bowl is a sure sign of Americana. The French Opalescent design of Stars and Stripes against Ruby is complemented beautifully with the Cobalt rim. A wonderful addition to any patriotic collection.
Z5145HPC
3-3/4'' Opal Iridized
American Flag Egg
$38.50, Buy Now!
This new Gift Shop Exclusive is a lasting symbol of American pride! An American flag scene is handpainted on this Opal Iridized Egg. A perfect addition to any patriotic collection.

Z5063HPA
3'' Patriotic Hippo
$39.75, Buy Now!
Hip-Hip-Horray! It's the American Way! Handcrafted with pride in Williamstown, WV. Handpainted and signed by the artist, this adorable Fenton Gift Shop Exclusive is sure to bring a smile on the face of any proud patriotic American!
Z88387O
6-3/4'' Cobalt
Dancing Ladies Vase
$85.00, Buy Now!

Inspired by a classic Northwood motif, company founder Frank L. Fenton designed moulds for Dancing Ladies vases that became popular Fenton products in the 1930s. Sculptor Suzi Whitaker worked from Frank L. Fenton's original sketches so we could make a new mould for this Dancing Ladies vase. Fenton's skilled glassworkers produced this vase in vivid Cobalt glass with a wonderful Milk Glass edge. This vase really makes a statement!

Click image below
for Gift Shop Sale details

Fenton USA Presents. . . Red, White & Blue!
Fenton USA presents some excellent glass pieces to celebrate President's Day!
Our Red, White & Blue grouping ranges from candy boxes, figurines and ornaments, to multi-style lamps and vases. Shown above are just a sampling of the many hundreds of items to choose from in these three beautiful colors. Please note: Quantities may be limited on some items.
All items shown above are handcrafted with pride by the skilled craftsmen at Fenton Art Glass in Williamstown, WV. Handpainted glass items are signed by the artist who completed the piece. Click on each image to order, or to view our new Spring 2010 Fenton USA items currently available, click here. To locate a Fenton dealer near you, click here.

Fenton USA on QVC on Feb. 17th!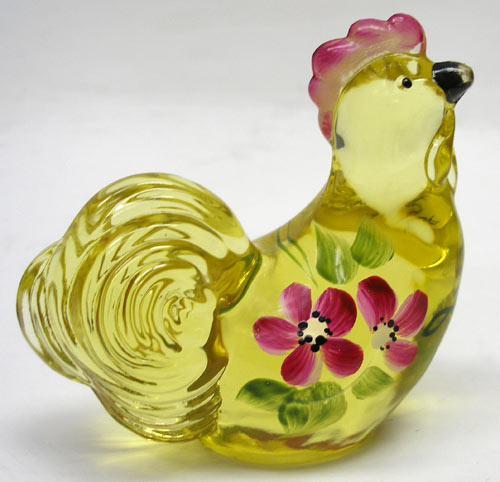 Tune in this Wednesday, February 17th, for your next opportunity to see the latest Fenton USA art glass creations on QVC! Shelley Fenton Ash and George Fenton will be appearing as co-hosts. They will each present new Fenton USA glass items made especially for QVC. Fenton designer Kim Barley will also be making an appearance during the daytime shows. Show times are 2-3 a.m. (Shelley), 10-11 a.m. (George) and 4-5 p.m. (George). All of the shows are scheduled for Eastern Time. Included in the shows will be this delightful rooster figurine, handcrafted in our new Buttercup color. Michelle Kibbe's handpainted bright floral design adds just the right touch! To view Fenton Art Glass items currently available from QVC, click here.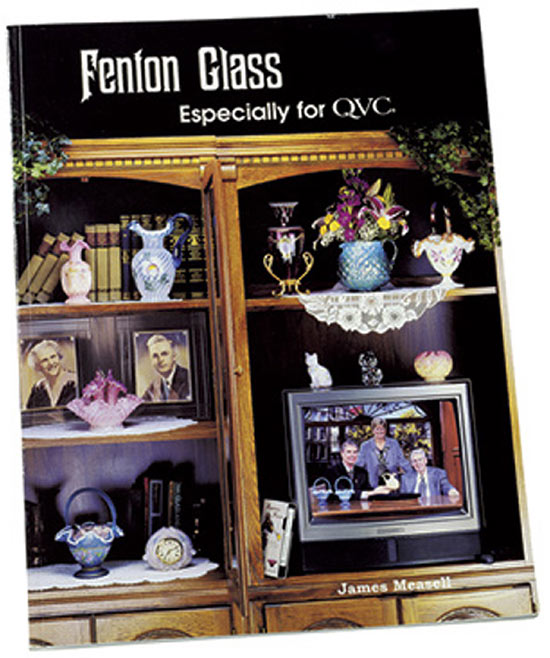 Internet Special:
Fenton Glass Especially for QVC
Want to learn more about Fenton and QVC? We have an excellent reference book for you! Fenton Glass Especially for QVC illustrates items sold on QVC from 1988 through August 2002. More than 1,350 items are shown in this 176-page book which has 96 pages in color. Click on the image or title to order online. Originally $36.95, now $24.95 postage paid!
Fenton eBay Auctions
Own a unique Fenton creation, including one-of-a-kind pieces, through our weekly eBay Auctions! Items featured this week...
---