FENTON GIFT SHOP
SPECIAL OFFERINGS
Z5065HPD
5'' Hyacinth Stylized Cat, $39.75
Perfect for gift giving or as an addition to an established collection. This new Gift Shop Exclusive Hyacinth Stylized Cat has a lovely handpainted floral design. Proudly handcrafted by the artisans at Fenton.
Z5065HPPJ
5'' Madras Pink Stylized Cat, $41.25
We're proud to support research toward a cure for breast cancer. This handpainted stylized Madras Pink Cat is a great way to show your support and the purr-fect gift for that special survivor in your life! Fenton, a proud Relay for Life sponsor, will donate a portion of all proceeds of this special Gift Shop Exclusive to our local Williamstown event.

200016
8-1/2'' Milk Glass Heart Dish
$38.25, Buy Now!
Preferred Second. This White Milk Glass Bon Bon Dish features a Hyacinth crest and handle. . . perfect for storing life's little treasures.
C730022
5-1/2'' Handpainted
Chick Fairy Light
$59.75, Buy Now!

Our 5-1/2" Fairy Light features a whimsical painting of two chicks hatching from their eggs. It will bring joy to the person receiving this charming fairy light.

Click image below
for Gift Shop Sale details
Fenton USA Presents. . . Light Up Your Spring!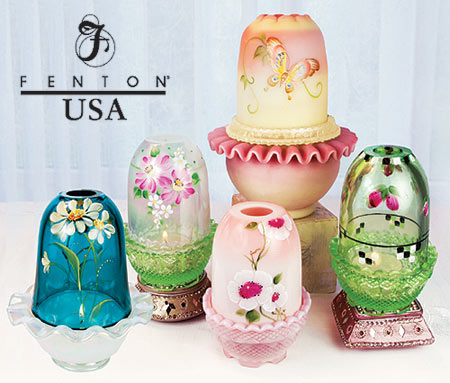 Fairy Lights have been popular since the Victorian era. These charming little
lamps emit a soft glow on a nightstand or foyer table, freshen a powder room
or add a little romance to your table setting.
For Spring 2010, we offer five new exciting designs in our Fairy Light grouping.
Glass colors ranging from Burmese and Key Lime to Rosalene and Turquoise provide ideal backgrounds for Michelle Kibbe's delightful new designs. Each Fairy Light comes with a tea light candle inside. NOTE: The Burmese three-piece Fairy Light has not been shipped. Please check with your local Fenton dealer or online for availability. Click on each image to for details or, to view all Spring 2010 Fenton USA products currently available, click here. To locate a Fenton dealer near you, click here.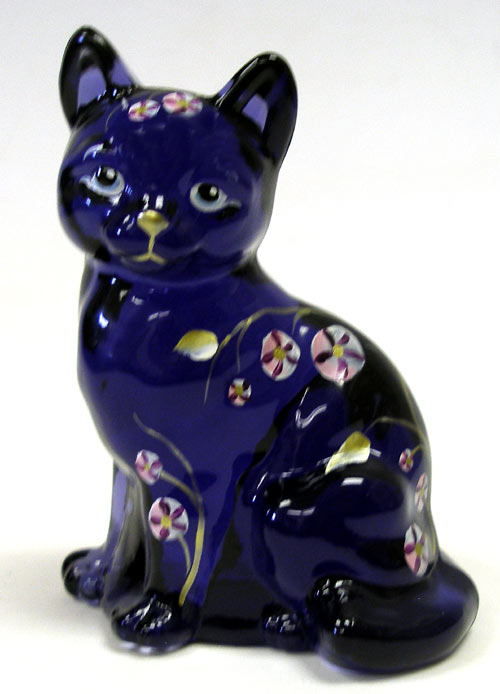 Fenton USA on QVC on Feb. 17th!
Tune in on Wednesday, February 17th for your next opportunity to see our latest art glass creations on QVC! George Fenton will appear as co-host and present new
Fenton USA glass items made especially for QVC. Show
times are 2-3 a.m., 10-11 a.m. and 4-5 p.m. (Eastern Time). Included in the shows will be this adorable cat figurine in Hyacinth featuring a geometric design by Michelle Kibbe.
To view Fenton Art Glass items currently available
from QVC, click here.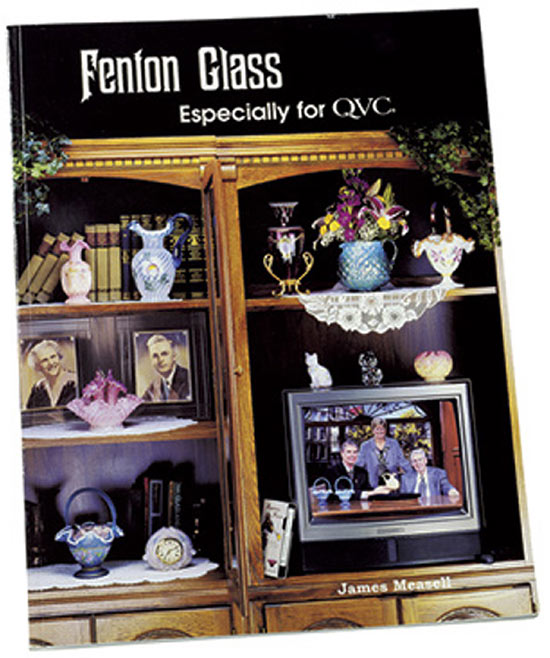 Internet Special:
Fenton Glass Especially for QVC
Want to learn more about Fenton and QVC? We have an excellent reference book for you! Fenton Glass Especially
for QVC illustrates items sold on QVC from 1988 through August 2002. More than 1,350 items are shown in this 176-page book which has 96 pages in color. Click on the image or title to order online. Originally $36.95, now $24.95 postage paid!

Upcoming Auction News
Auctioneer Randy Clark's sales on Feb. 12-13 feature a wide variety of glassware, including some non-Fenton items from our museum storage area. For information and photos, click here or visit www.auctionzip.com and type in ID#2109.
Fenton eBay Auctions
Own a unique Fenton creation, including one-of-a-kind pieces, through our weekly eBay Auctions! Items featured this week...
---