FENTON GIFT SHOP
SPECIAL OFFERINGS

160010
5-3/4'' Featured Artist Exclusive Limited Edition Smoky Mountain Morning Ruby Vase, $225.00
This limited and numbered edition of only 25 pieces was designed and handpainted by Gift Shop Featured Artist Susan Bryan. Entitled Smoky Mountain Morning, the vase features a meticulously handpainted design of winter white trees and frosty mountains on a lovely Ruby Vase.
218229
5-1/2'' Pansy Fairy Light
$42.50, Buy Now!
The delicate handpainted pansies on Milk Glass are the perfect complement to the soft pink hue of the Rosalene bottom. Produced as a Gift Shop Exclusive, this fairy light will add a warm touch to your home and a delightful welcome for guests.
200020
3-3/4'' Madras Pink Cat
$11.25 , Buy Now!
Preferred Second. This Madras Pink Cat is perfect for gift giving or as an addition to an established collection.
202202
4-1/2'' Cranberry Pitcher
$44.00, Buy Now!

Preferred Second. This
4-1/2" Cranberry Pitcher with crystal handle will be a perfect accompaniment to any Cranberry glass collection.

Click image below
for Gift Shop Sale details
Fenton USA Presents. . . New Blush Rose Arrivals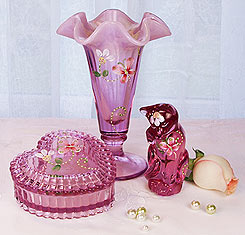 Our Spring 2010 glass items are now arriving at Fenton dealer locations around the country. The Blush Rose trio shown here is sure to brighten up your day! Kim Barley's design features a butterfly hovering near a flower.
Blush Rose is a recent addition
to the Fenton family of Oh, so pretty! pinks. Continuing the tradition that began with Rose and Velva Rose in the 1920s, our Blush Rose sparkles and shimmers. The Trumpet Vase features a delightful touch of opalescence. Our Ribbed Heart-shaped Treasure Box is perfect
to store precious keepsakes.
The Grooming Cat figurine is a great way to introduce a child to Fenton or the perfect gift for figurine collectors!
Watch this newsletter for more new items for Spring 2010 from Fenton USA!
To view the Blush Rose pieces currently available from Fenton USA, click here. For all new Fenton USA products, click here. To locate a Fenton dealer near you, click here.
Ruby Opalescent Heart Optic. . .
Only Fenton does Heart Optic, and this vase will win
the heart of anyone. Perfect for a special loved one,
our 5-1/4'' Heart Optic Vase in Ruby is covered with beautiful French Opalescent hearts. Ruby Opalescent is made with special ingredients in the glass batch. During the production process, the molten glass must be briefly chilled and then reheated in order to create the opalescent effect. Truly a triumph of the glassmaker's skill. Check with your local Fenton dealer for in-store availability for this Heart Optic Vase or click here to order online.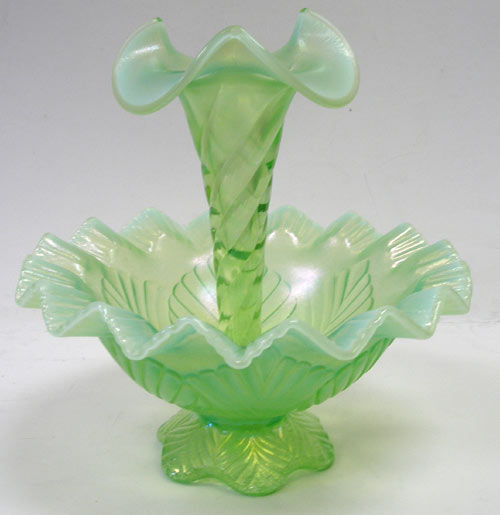 Fenton USA on QVC on Feb. 17th!
Tune in on Wednesday, February 17th for your next opportunity to see our latest art glass creations on QVC! George Fenton will appear as co-host and present new Fenton USA glass items made exclusively for QVC. Show times are 2-3 a.m., 10-11 a.m. and 4-5 p.m. (Eastern Time). Included in the shows will be this sparkling one-horn Epergne in Key Lime Opalescent Stretch! The photo does not do it justice! To view Fenton USA items currently available from QVC, click here.
Internet Special: Fenton Glass Especially for QVC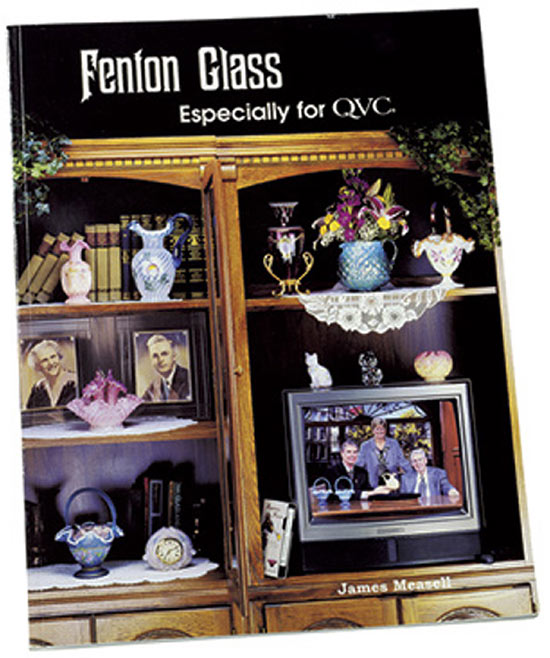 Want to learn more about Fenton and QVC? We have an excellent reference book for you! Fenton Glass Especially
for QVC illustrates items sold on QVC from 1988 through August 2002. More than 1,350 items are shown in this
176-page book which has 96 pages in color. Click on the image or title to order online.
Originally $36.95, now $24.95 postage paid!

Upcoming Auction News
Auctioneer Randy Clark's sales on Feb. 12-13 feature a wide variety of glassware, including some non-Fenton items from our museum storage area. For information and photos, click here.
Fenton eBay Auctions
Own a unique Fenton creation, including one-of-a-kind pieces, through our weekly eBay Auctions! Items featured this week...
---