FENTON GIFT SHOP
SPECIAL OFFERINGS

Z6563HPA
4-1/2'' Handpainted Burmese Mini Basket, $69.50, Buy Now!
Produced as a Fenton Gift Shop Exclusive, this lovely
4-1/2'' Burmese Mini Basket is handpainted with a beautiful rose pattern. A perfect piece for someone you treasure.

Z9499IP
4-3/4'' Plum Opal Iridized Logo
$41.75, Buy Now!

Produced as a Gift Shop Exclusive, this Plum Opalescent Iridized Fenton Logo is a perfect addition to any Fenton collection.

Z5228HPIE
7'' Handpainted Burmese Bridesmaid Doll, $76.50
Don't miss adding this Gift Shop Exclusive Burmese Bridesmaid Doll to your collection. Delicate roses and hearts and a flowing ribbon adorn her skirt. Proudly handcrafted by the artisans at Fenton.

Z8656IP
7-1/2'' Plum Opal Iridized
Daffodil Vase, $41.50

Our Daffodil Vase in Plum Opalescent is iridized to enhance the embossed Daffodil pattern. A new Gift Shop Exclusive proudly made by Fenton USA artisans.
Click image below
for Gift Shop Sale details
Fenton USA Presents. . .
Family Signature
Rosalene Vase
New for Spring 2010, this beautiful Rosalene Vase has shipped to Fenton USA dealers around the country. A limited supply is now available online. Order today to receive it in time for Valentine's Day!
Designer Michelle Kibbe created a delicate pillow flower motif that harmonizes wonderfully with the glass color. The vase is inscribed with the signature of Christine Fenton, granddaughter of company founder Frank L. Fenton.

Rosalene glass is a collector favorite. In the late 1960s Frank M. Fenton and Fenton chemist Charlie Goe wanted to duplicate a glass called Pink Slag. This heat-sensitive glass was made in the early 1900s for a brief time
by another glass company. By adding pure gold to an opaque glass batch and reheating the formed piece, the soft white glass struck a wonderful soft pink.
Frank M. Fenton named the new glass Rosalene. After some production difficulties and further experimentation, Fenton produced the first Rosalene grouping in 1976. Over the years Rosalene has adapted to a variety of shapes and treatments.
For Spring 2010 we will introduce several new pieces in Rosalene, so watch this newsletter for more new items from Fenton USA! To view other Rosalene glass currently available from Fenton USA, click here. For all new Fenton USA products, click here. To locate a Fenton dealer near you, click here.
"Pretty in Pink" Internet Exclusive
Heart Perfume Bottle
We have a very limited quantity (a Baker's Dozen!) of our unique heart-shaped perfume bottle with heart-shaped stopper. A perfect gift idea for someone special on your Valentine's Day list! Sanded Pink Chiffon provides a soft canvas for our Heart Perfume with a stopper handcrafted of sanded Opal glass. Pink Chiffon contains a rare earth element called erbium which creates the pastel pink color. The price is just $49 with FREE Shipping! Click on the image to order online. To view more Fenton USA Perfume Bottles, click here.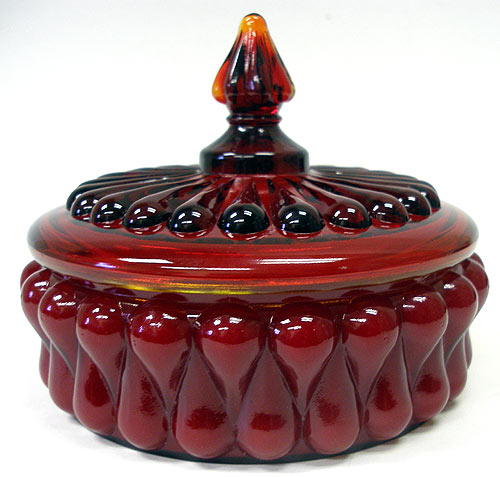 Fenton USA on QVC on Feb. 17th!
Tune in on Wednesday, February 17th for your next opportunity to see our latest art glass creations on QVC! George Fenton will appear as co-host and present new Fenton USA glass items made exclusively for QVC. Show times are 2-3 a.m., 10-11 a.m. and 4-5 p.m. (Eastern Time). You won't want to miss an opportunity to purchase this beautiful Teardrop Covered Candy Box in Ruby Overlay Glass! The photo does not do it justice! To view Fenton Art Glass items currently available from QVC, click here.
Internet Special: Fenton Glass Especially for QVC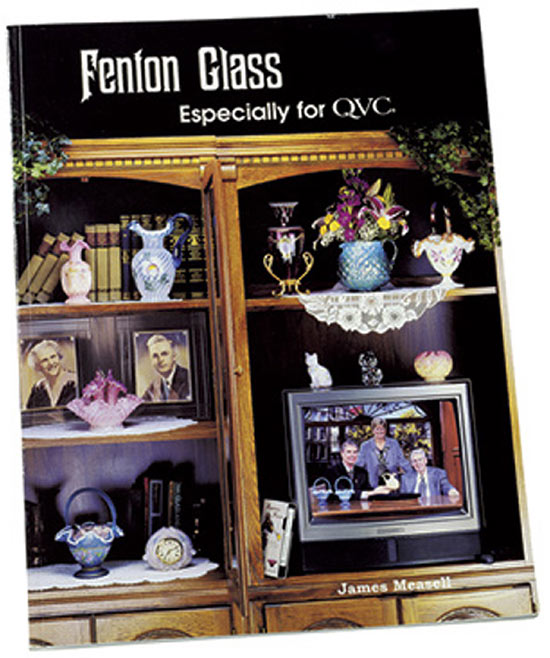 Perhaps you purchased some Fenton glass from our recent QVC shows or received a Fenton piece as a gift... if you want to learn more about Fenton and QVC, we have an excellent reference book for you! Fenton Glass Especially for QVC illustrates items sold on QVC from 1988 through August 2002. More than 1,350 items are shown in this 176-page book which has 96 pages in color. Click on the image or title to order online. Originally $36.95, now $24.95 postage paid!
Fenton eBay Auctions
Own a unique Fenton creation, including one-of-a-kind pieces, through our weekly eBay Auctions! Items featured this week...
---