FENTON GIFT SHOP
SPECIAL OFFERINGS

C6390I7
3'' Milk Glass Handpainted Shellflower Trinket Box
Originally $58.50, Now $40.00
Special price just in time for Valentine's Day! This intricate 3" Milk Glass Trinket Box is a mold acquired from Indiana Glass. The raised daisy petals entwined with handpainted daisies will make a lovely keepsake for any Fenton collector.
C578648
4'' Rosalene Handpainted Hummingbird Heart Box
Originally $56.00, Now $40.00

Special price just in time for Valentine's Day! Our beautiful 4" Rosalene Hummingbird Heart Trinket Box is blushed with pink and the hummingbirds are intricately painted with green, yellow and pink.

Z5293HPLY
3-1/2'' Hyacinth Lop-Eared Bunny with Heart Design
$34.75, Buy Now!
This adorable 3-1/2" Hyacinth Lop-Eared Bunny has been handpainted with a cute heart and polka-dot design. Produced as a Gift Shop Exclusive, this is a perfect piece to introduce a young collector to the wonder of Fenton Glass.

Z5317HPB
3-1/2'' Hyacinth Duck
with Hearts, $28.25, Buy Now!

Our Hyacinth Duck, one
of our newest colors and figurines, will brighten any home with his bright and cheery hearts and polka-dot pattern. A Fenton Gift Shop Exclusive...handpainted and signed by the artist.

Click image below
for Gift Shop Sale details


Fenton USA Presents. . . Valentine Gift Ideas
Honor your valentine with a Fenton classic. Shown above are limited quantity glass items handcrafted in the USA and currently available online. Each piece would make a perfect Anniversary, Valentine's Day or "Just Because" gift for someone special!
Our Heart Treasure Boxes are perfect for storing life's little treasures. Sheer colors are a visual delight with Kim Barley's handpainted Autumn Dragonfly on Aubergine design on the 6-1/2'' Heart Treasure Box. Blue Lagoon provides the perfect background color for our 4'' Hummingbird Heart Treasure Box. The heart-shaped Relish is like those we made a half-century ago. Kim Barley's handpainted Petite Violets look perfect on Silver Crest. You can't go wrong with Fenton's timeless Cranberry glass...made with pure gold in the formula which provides a rich depth and color that radiates warmth and beauty. Click on each image for details. To
view more Fenton USA Cranberry glass, click here. To view new items from Fenton, click here.
What's Coming for Spring 2010. . .
Our Spring 2010 Fenton USA glass begins shipping
soon to Fenton dealers. Included in this group will be Blush Rose, Rosalene, a special Heart Optic Vase as well as exquisite Limited Editions and items in our two new colors: Buttercup and Robin's Egg Blue! Shown at left is our Rosalene Vase. Designer Michelle Kibbe created the delicate "pillow flower" that harmonizes wonderfully with the glass color. The Vase will be inscribed with the signature of Christine Fenton. Check with your local Fenton dealer to see when this vase will be available. To locate a Fenton dealer near you, click here.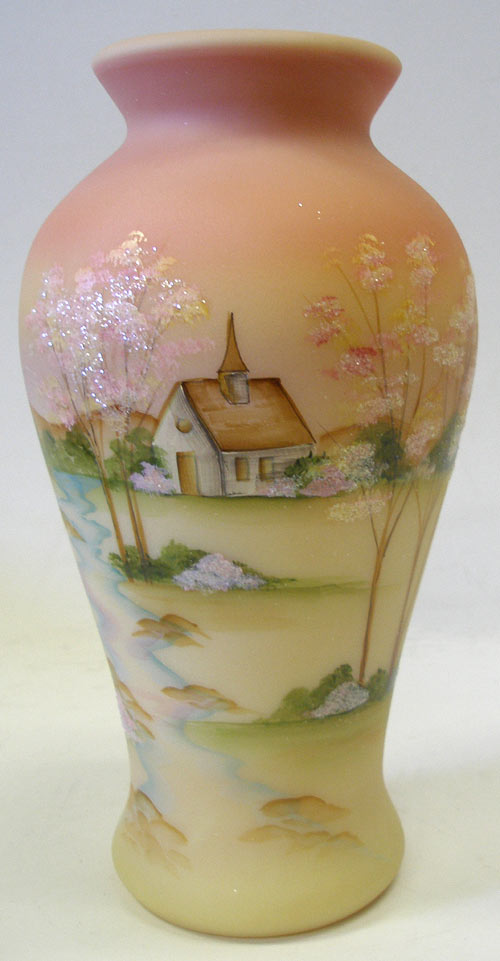 Fenton USA on QVC on February 17th!
Tune in on Wednesday, February 17th for your next opportunity
to see our latest art glass creations on QVC! George Fenton will appear as co-host and present new glass items made exclusively
for QVC. Show times are 2-3 a.m., 10-11 a.m. and 4-5 p.m.
(Eastern Time). Included in the show will be this beautiful handpainted Burmese Vase with a Louise Piper inspired Church
scene designed by Kim Barley. To view Fenton Art Glass items currently available from QVC, click here.
Internet Special: Fenton Glass Especially for QVC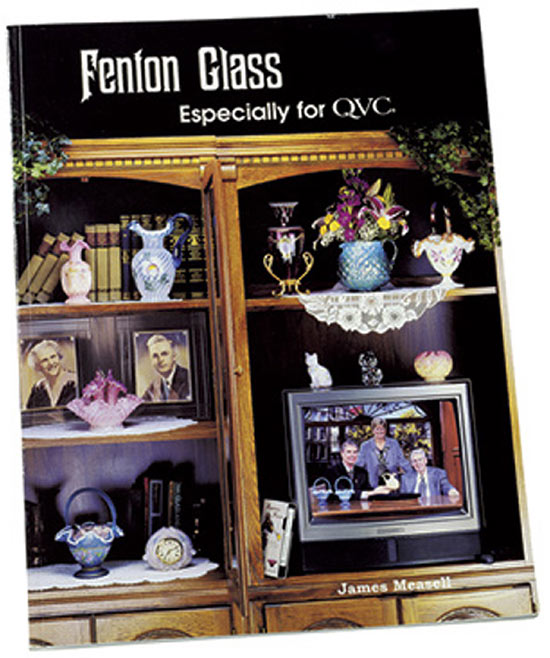 Perhaps you purchased some Fenton glass from our recent QVC shows or received a Fenton piece as a gift... if you want to learn more about Fenton and QVC, we have an excellent reference book for you! Fenton Glass Especially for QVC illustrates items sold on QVC from 1988 through August 2002. More than 1,350 items are shown in this 176-page book which has 96 pages in color. Click on the image or title to order online. Originally $36.95, now $24.95 postage paid!
Fenton eBay Auctions
Own a unique Fenton creation, including one-of-a-kind pieces, through our weekly eBay Auctions! Items featured this week...
---