FENTON GIFT SHOP
SPECIAL OFFERINGS

220015
3-1/2'' Ruby Stretch Bowl
Originally $59.50, Now $45.00 Buy Now!
Special price just in time for Valentine's Day! We've just got a few of these beautifully iridized Ruby Stretch glass bowls with a dramatic upturned crimp. The bowl is about 3-1/2'' high and 6'' in diameter at the widest point. This piece will make a great addition to your stretch glass collection ...or a perfect gift for that special someone!

U5363N3
3 1/2'' Pink Songbird Figurine
Originally $24.50, Now $15.75 Buy Now!
This cute 3-1/2" Pink Songbird figurine will make the perfect gift to give or to receive. Handcrafted with pride by the artisans of Fenton Art Glass in West Virginia.
Z05353RY
3-1/2'' Rosalene Rose Bowl
$59.50, Buy Now!
This 3-1/2" Rosalene rose bowl has been handpainted with a stylized Tulip Scroll decoration designed by Stacy Williams, numbered and inscribed with the signature of Nancy Fenton.
X5269PJ
3'' Madras Pink Butterfly
Originally $24.00, Now $20.00 Buy Now!
Let your heart take flight with pleasure! This lovely Madras pink butterfly reminds us of a perpetual springtime.

Click on the image below
for details on the Gift Shop February Sale!
Fenton USA Presents. . . Ruby Glass Specials!
Ruby remains one of our classic and timeless colors. . . a collector favorite! In the first half of the 20th century, glassmakers strived to make a uniform ruby color suitable for railroad signals, lantern globes and auto tail lights. Today, Fenton's Ruby glass is made with selenium and cadmium. This glass batch is sensitive to
heat, and interesting color variations often occur!
Our 4-1/4'' Drapery Votive and 6-3/4'' American Basket in our rich Ruby glass evoke feelings of warmth and happiness. The cozy glow of a tea light in the votive is sure to set the mood for Valentine's Day...or fill the votive with someone's favorite chocolates or jewelry! The American Basket is perfect for a floral arrangement, potpourri or candies to create a unique gift or a lovely tabletop display.
For a limited time, the votive and basket are being offered as an Internet Exclusive Valentine's Special with FREE shipping! Order either of the two pieces shown above or both and you'll receive free shipping on each piece. This offer applies only to online orders for the two items shown above. To view more Fenton USA Ruby glass, click here. For additional Internet Exclusives, click here.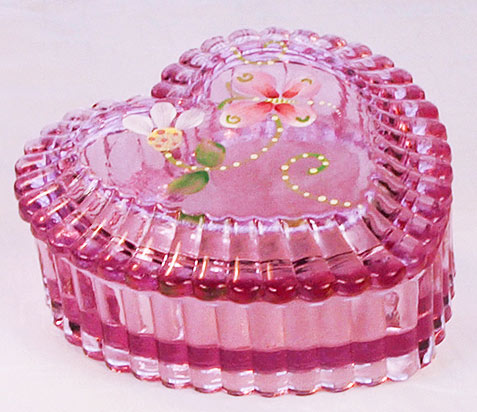 What's Coming for Spring 2010. . .
Our Spring 2010 Fenton USA glass will begin shipping soon. Included in this grouping will be Blush Rose, Rosalene and a special Heart Optic Vase as well as exquisite Limited Editions and items in our two new colors: Buttercup and Robin's Egg Blue! A perfect gift for yourself or someone special is our Ribbed Heart Treasure Box that features a handpainted Hummingbirds on Blush Rose design by Kim Barley. Check with your local Fenton dealer to see when this item becomes available. To locate a Fenton dealer near you, click here.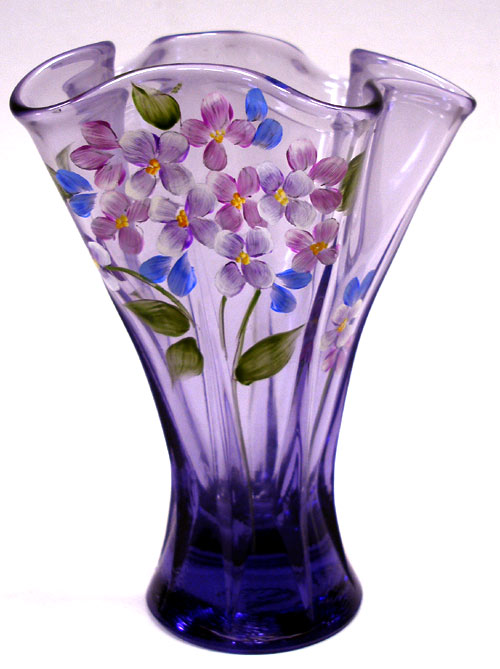 Fenton USA on QVC on February 17th!
Tune in on Wednesday, February 17th for your next opportunity to see our latest art glass creations on QVC! George Fenton will appear as co-host and present new glass items made exclusively for QVC. Show times are 2-3 a.m., 10-11 a.m. and 4-5 p.m. (Eastern Time). Included in the show will be this lovely Swung Vase in Violet handpainted in a floral design by Kim Barley. To view Fenton Art Glass items currently available from QVC, click here.
Internet Special: Fenton Glass Especially for QVC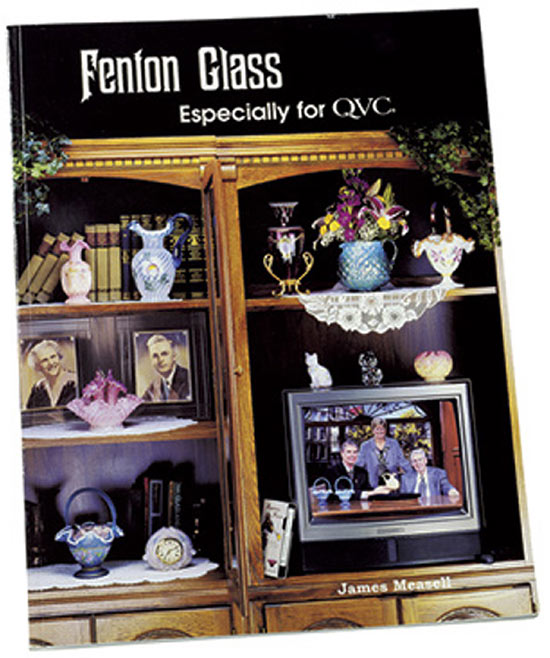 Perhaps you purchased some Fenton glass from our recent
QVC shows or received a Fenton piece as a gift... if you want to learn more about Fenton and QVC, we have an excellent reference book for you! Fenton Glass Especially for QVC illustrates items sold on QVC from 1988 through August 2002. More than 1,350 items are shown in this 176-page book which has 96 pages in color. Click on the image to order
Originally $36.95, now $24.95 postage paid!
Fenton eBay Auctions
Own a unique Fenton creation, including one-of-a-kind pieces, through our weekly eBay Auctions! Items featured this week...
---