FENTON GIFT SHOP
SPECIAL OFFERINGS

Z5151HPD
3-1/2'' Hyacinth Bear
$35.75, Buy Now!
Perfect for gift giving or as an addition to an established collection. This new Gift Shop Exclusive Hyacinth Bear features a lovely floral design. Proudly handcrafted and handpainted by the artisans at Fenton USA.
Z5165HPJ
3-3/4'' Hyacinth Sitting Cat
$35.75, Buy Now!
Perfect for gift giving or as
an addition to an established collection. A new Gift Shop Exclusive, this Hyacinth Sitting Cat is handpainted with a floral design to complement the bear! Proudly handcrafted by the artisans at Fenton USA.

Z5165HPB
3-3/4'' Lotus Mist Burmese
Cat with Flower, $41.75
Buy Now!
MEOW! Upbeat, whimsical florals are handpainted on this precious Lotus Mist Burmese collectible cat. This Fenton Gift Shop Exclusive is a purr-fect gift for that special collector!
Z5056HP
3-1/2'' Lotus Mist Burmese Dinosaur, $41.75, Buy Now!

This collectible and oh-h so cute Lotus Mist Burmese 3-1/2'' dinosaur is enhanced with an upbeat, fun floral design. This Fenton Gift Shop Exclusive makes a dyno-mite gift or addition to your Fenton figurine collection!

Fenton eBay Auctions
Own a unique Fenton creation, including one-of-a-kind pieces, through our weekly eBay Auctions! Items featured this week...
Fenton USA Presents. . . Lamp Specials!
Nobody does lamps like Fenton! The lamps shown above are excellent examples of the skill and craftsmanship required to create a true heirloom collectible. The decorated shades are handpainted by talented Fenton artists who proudly sign each completed piece.
Our 23'' Gone with the Wind Lamp in Opal glass features a handpainted design of soft florals in pink and violet created by Stacy Williams. Our 20-1/2'' Student Lamp in Blush Rose Satin features a handpainted design of flower blossoms with a gold accent ring and polka dots around the bottom of the lamp shade. Click on each image to order online. Throughout the past several decades, we have had a large variety of lamp styles in our product line. To view more Fenton USA lamps offered at special prices, click here. To locate a Fenton dealer near you, click here.
Internet Special: Fenton Glass Especially for QVC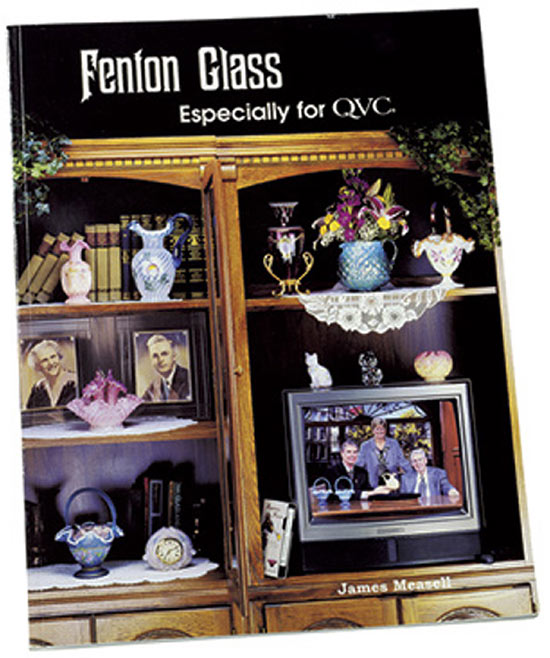 Perhaps you purchased some Fenton glass from our recent
QVC shows or received a piece of Fenton as a gift... if you want to learn more about Fenton and QVC, we have an excellent reference book for you! Fenton Glass Especially
for QVC illustrates items sold on QVC from 1988 through August 2002. More than 1,350 items are shown in this 176-page book which has 96 pages in color. Click on the image to order. Originally $36.95, now $24.95 postage paid!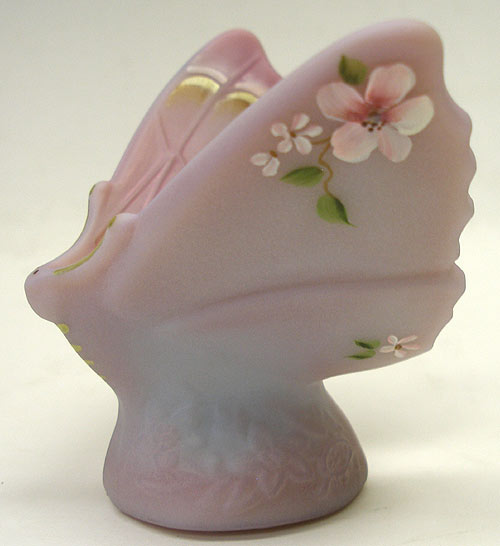 Fenton USA on QVC on Feb. 17th!
Remember to mark your calendar for Wednesday, February 17th for your next opportunity to see our latest art glass creations on QVC! George Fenton will appear as co-host and present new glass items made exclusively for QVC. Show times are 2-3 a.m., 10-11 a.m. and 4-5 p.m. (Eastern Time). Included in the show will be this lovely handcrafted Blue Burmese Butterfly figurine with handpainted Cherry Blossom design by Kim Barley. To view Fenton Art Glass items currently available from QVC, click here.
Fenton USA Robin's Egg Blue Alley Cat

Fenton Art Glass was featured on the Discovery Channel show Dirty Jobs in November. Show host Mike Rowe gained a new appreciation for glassmaking when he tried his hand at several jobs, including decorating, gathering, and ladling or cleaning out the tank. Click here to watch a clip from the show! We have made some Fenton USA products which will appeal to fans of Mike Rowe as well as to Fenton collectors. These products are handcrafted in the USA by the skilled glassworkers at Fenton Art Glass. Shown at right is the 11'' Alley Cat in our new Robin's Egg Blue Iridized. Click here to see how the Alley Cat is made! Click on the cat for ordering details or click here to see all available items.
Please note: These items can only be ordered online and are not available through Fenton dealers nor the Fenton Gift Shop.
---