FENTON GIFT SHOP
SPECIAL OFFERINGS

Z5148HPP
3'' Handpainted Madras Pink Heart Mouse, $32.00, Buy Now!
This lovable Madras Pink Mouse is handpainted with a scrolling heart design. Produced as a Gift Shop Exclusive, this little guy will be a heartfelt keepsake for that someone special.
Z5148PJ
3'' Madras Pink Mouse
$20.75, Buy Now!
A high quality glass figurine with a whimsical touch. . . only from Fenton! Produced as a new Gift Shop Exclusive, this adorable Madras Pink Mouse will make the perfect gift for the young and young-at-heart.

Z5148HPD
3'' Rosalene Natural Mouse
$36.00, Buy Now!
Produced as a Gift Shop Exclusive, this 3" Rosalene Mouse has handpainted details for a natural look.
His expressive blue eyes
will make this little guy
the perfect keepsake for someone special.
Z5148HPE
3'' Rosalene Mouse with
Handpainted Poodle Skirt
$38.00, Buy Now!

Produced as a new Gift Shop Exclusive, this 3" Rosalene Satin Mouse is a blast from the past in her handpainted poodle skirt and saddle shoes! Handcrafted with pride by the artisans at Fenton.

Fenton eBay Auctions
Own a unique Fenton creation, including one-of-a-kind pieces, through our weekly eBay Auctions! Items featured this week...
Fenton USA Presents. . . Twilight Tulips on Cobalt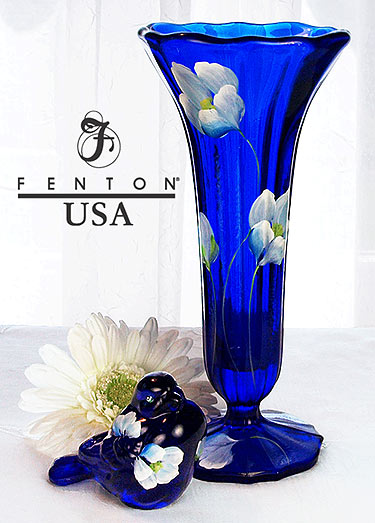 Cobalt glass, a decorating favorite, returns with a lovely floral motif by designer Kim Barley called Twilight Tulips on Cobalt. The white flower petals look as if they are gently swaying in a breeze. This 9-1/4'' Aurora vase will make a striking tabletop display in your home!
Our 4'' bird figurine is a perfect
piece for a beginner or as an
addition to an established collection.


There are more than 60 different Blues in the Fenton product history. Cobalt creates a dark blue and copper imparts a light blue. In combination with each other or with additional coloring agents, cobalt and copper are used for almost all of our blue colors.
These Fenton USA products are handcrafted in Williamstown, West Virginia, by our skilled glassworkers. Click on each image to order online or click here to view new more items from Fenton USA. To locate a Fenton dealer near you, click here.
Fenton International Gold Ruby
Fill this 7'' heart-shaped Gold Ruby Bowl with chocolates to create the perfect gift for Valentine's Day, an Anniversary or any time you want to say "I love you." Handblown, using pure gold in the formula, each Gold Ruby piece is stamped with the Fenton International logo.
Click on image to order or click here to see
more Gold Ruby and other glass from Fenton International.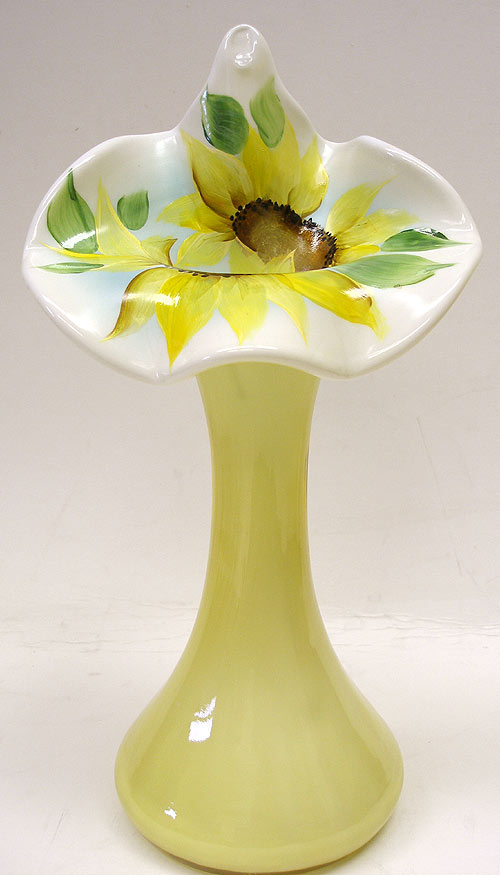 Fenton Art Glass on QVC
on Wednesday, February 17th!
Remember to mark your calendar for Wednesday, February 17th for your opportunity to see our latest art glass creations on QVC! George Fenton will appear as co-host and present new glass items made exclusively for QVC. Show times are 2-3 a.m., 10-11 a.m. and 4-5 p.m. (Eastern Time). Included in the show will be this lovely handcrafted Tulip Vase in our new Buttercup Overlay. The vase features a bright handpainted design of sunflowers by Kim Barley and will have Shelley Fenton's signature inscribed on the bottom. To view Fenton Art Glass items currently available from QVC, click here.
Fenton USA Robin's Egg Blue Alley Cat

Fenton Art Glass was featured on the Discovery Channel show Dirty Jobs in November. Show host Mike Rowe gained a new appreciation for glassmaking when he tried his hand at several jobs, including decorating, gathering, and ladling or cleaning out the tank. Click here to watch a clip from the show! We have made some Fenton USA products which will appeal to fans of Mike Rowe as well as to Fenton collectors. These products are handcrafted in the USA by the skilled glassworkers at Fenton Art Glass. Shown at right is the 11'' Alley Cat in our new Robin's Egg Blue Iridized. Click here to see how the Alley Cat is made! Click on the cat for ordering details or click here to see all available items.
Please note: These items can only be ordered online and are not available through Fenton dealers nor the Fenton Gift Shop.

---