FENTON GIFT SHOP
SPECIAL OFFERINGS

A5165HP2
3-1/4'' Black Cat
with Purple Floral Design
$31.75, Buy Now!
Stunning black glass is handpainted with a purple floral design to make this cat figurine a real beauty. Don't miss adding this Gift Shop Exclusive Cat to your collection.
220018
3-3/4'' Dave Fetty Hanging Heart Window Paperweight
$145.00, Buy Now!
This splendid Paperweight, by Master Glass Artisan Dave Fetty, combines Hanging Hearts with windows. Note the beautiful red, yellow and orange swirls and applied hanging hearts. Embossed with Dave's personal stamp and signed "Dave Fetty 09".

260050
4-3/4'' Dave Fetty Favrene Hanging Hearts Egg
$200.00, Buy Now!
Fabulous Favrene Egg! Master glass artisan Dave Fetty has created vivid Favrene Hanging Hearts and random threading on this Egg (sizes vary somewhat but average about 4.5" tall). Each is personally signed by Dave Fetty. Limited quantities, so act quickly!
Z5151IP
3-1/2'' Plum Opal Iridized
Bear, $32.00, Buy Now!

Produced as a new Gift Shop Exclusive, our Plum Iridized Bear will be a plum perfect addition to any figurine collection! Proudly handmade by the artisans at Fenton.

Fenton eBay Auctions
Own a unique Fenton creation, including one-of-a-kind pieces, through our weekly eBay Auctions! Items featured this week...
Fenton USA Presents. . .
American Pattern in Aubergine
One of our most popular colors returns with new items perfect for tabletop displays. The 10'' American vase and 8'' American Bowl are from Fostoria Glass Company moulds. The American line was introduced about 1915 and was one of their most successful patterns. The American pattern and Fenton's Aubergine glass combine to create beautiful pieces for today's styles in home decor.
Aubergine was inspired by fashion and quickly embraced by home decorators. The rich purple tones add a note of elegance to any room. Since its introduction in 2006, Aubergine has quickly emerged as a new favorite color among many of those who love Fenton glass. These Fenton USA products are handcrafted in Williamstown, West Virginia, by our skilled glassworkers. Click on each image to order online or click here to view more items in elegant Aubergine. To locate a Fenton dealer near you, click here.
Great Impulse Gift from Fenton USA!
Fenton USA's Cobalt glass, a decorating favorite, returns with this 3'' Ringholder - a great inexpensive impulse gift for someone special or yourself! Under $15! Ideal as a gift from a child to a mother or grandmother! For an extra special Valentine's Day
gift, add a piece of jewelry!

There are more than 60 different Blues in the Fenton product history. Cobalt creates a dark blue and copper imparts a light blue. In combination with each other or with additional coloring agents, cobalt and copper are used for almost all of our blue colors. Click on image to order or click here to see other available ringholder colors.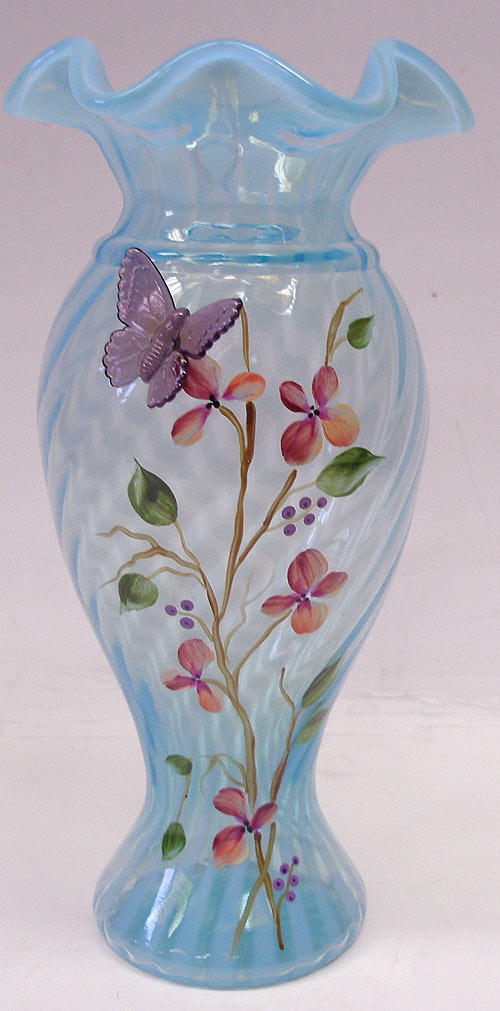 Fenton Art Glass on QVC
on Wednesday, February 17th!
Remember to mark your calendar for Wednesday, February 17th for your opportunity to see our latest art glass creations on QVC! George Fenton will appear as co-host and present new glass items made exclusively for QVC. Show times are
2-3 a.m., 10-11 a.m. and 4-5 p.m. (Eastern Time).
Included in the show will be this elegant spiral optic vase handcrafted in our new Robin's Egg Blue Opalescent. The vase features a handpainted floral and spongy leaf design by Michelle Kibbe and a purple glass butterfly accent. To view Fenton Art Glass items currently available from QVC, click here.
Fenton USA Robin's Egg Blue Alley Cat
Fenton Art Glass was featured on the Discovery Channel show Dirty Jobs in November. Show host Mike Rowe gained
a new appreciation for glassmaking when he tried his hand at several jobs, including decorating, gathering, and ladling or cleaning out the tank. Click here to watch a clip from the show! We have made some Fenton USA products which will appeal to fans of Mike Rowe as well as to Fenton collectors. These products are handcrafted in the USA by the skilled glassworkers at Fenton Art Glass. Shown at right is the 11'' Alley Cat in our new Robin's Egg Blue Iridized. Click here to see how the Alley Cat is made! Click on the cat for ordering details or click here to see all available items. Please note: These items can only be ordered online and are not available through Fenton dealers nor the Fenton Gift Shop.
---