FENTON GIFT SHOP
SPECIAL OFFERINGS

C89708P
7-1/2'' French Opal
Handpainted Vase
$99.75, Buy Now!
This lovely vase is handpainted to look like stained glass. It will add beauty and charm to your home decor.
C3200AO
8'' Autumn Gold Opalescent Tumble Up, $84.00, Buy Now!
Lovely and refreshing by your bedside! Our 8" Tumble Up in Autumn Gold Opalescent features a straight rib optic pattern and is inscribed with the signature of Shelley Fenton.
U5238HP1
4'' Handpainted Rosalene
Bird on a Log
$25.00, Buy Now!
Preferred Second. This Rosalene Bird on a Log with a handpainted pastel floral design makes a wonderful addition to your Fenton figurine collection.
06142AO
7'' Silken Sand Pitcher
Original Price $95, Now $61.75
Buy Now!

Silken Sand is a neutral hue destined for home decor - part of the pale gold and robin's egg blue story so popular today.

Fenton eBay Auctions
Own a unique Fenton creation, including one-of-a-kind pieces, through our weekly eBay Auctions! Items featured this week...
Fenton USA Presents. . . Handcrafted Glass Perfumes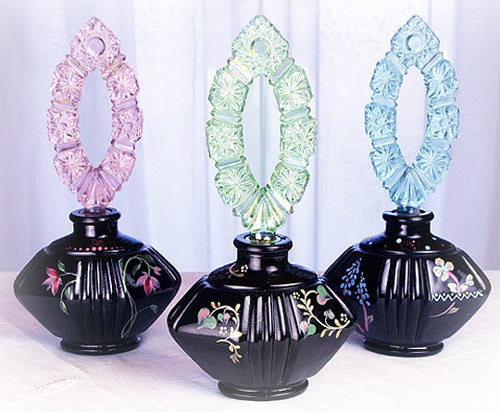 With Valentine's Day fast approaching, it's time to start thinking of a gift for someone special. Fenton USA has the perfect sentiment gift. . .perfume bottles! Perfumes are also highly collectible with collectors clubs all over the world.
Early perfume scents were used to ward off evil spirits, please the gods and to disguise body odors. However, the bottles were a true symbol of luxury. Glass perfume bottles were kept as adornments by the noble and wealthy as far back as 1500 BC. Perfume manufacturers today still appreciate the bottle as an important
factor in selling a scent, and top bottle designers remain in high demand.
Our current perfume bottle line includes three ribbed glass perfumes (shown above), each with a handpainted design by Michelle Kibbe. Her lovely designs complement the different color glass stopper on each bottle. Our perfume in Blush Rose with a heart-shaped stopper would make a unique Valentine's Day gift! Fenton USA perfumes are handcrafted in Williamstown, West Virginia, by our skilled glassworkers. Click on each image to order online or click here to view more perfume bottles in a variety of styles and colors. To locate a Fenton dealer near you, click here.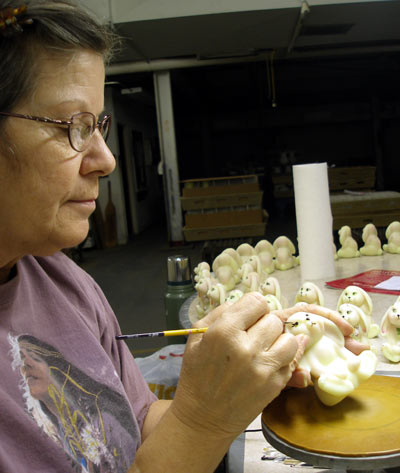 Fenton Art Glass on QVC
on February 17th!
George Fenton will appear as guest host on our next QVC shows to air on February 17, 2010. Show times will be 2-3 a.m., 10-11 a.m. and 4-5 p.m. (Eastern Time). Included in the show will be a Burmese Sanded Lop Ear Bunny figurine. Shown at right is Fenton decorator Julia Powell handpainting some of the figurines. To view Fenton Art Glass items currently available from QVC, click here.
Fenton USA Robin's Egg Blue Alley Cat
Fenton Art Glass was featured on the Discovery Channel show Dirty Jobs in November. Show host Mike Rowe gained a new appreciation for glassmaking when he tried his hand at several jobs, including decorating, gathering, and ladling or cleaning out the tank. Click here to watch a clip from the show! We have made some Fenton USA products which will appeal to fans of Mike Rowe as well as to Fenton collectors. These products are handcrafted in the USA by the skilled glassworkers at Fenton Art Glass. Shown at right is the 11'' Alley Cat in our new Robin's Egg Blue Iridized. Click here to see how the Alley Cat is made! Click on the cat for ordering details or click here to see all available items. Please note: These items can only be ordered online and are not available through Fenton dealers nor the Fenton Gift Shop.
---