FENTON GIFT SHOP
SPECIAL OFFERINGS

The items below are in our Periwinkle Blue color. Periwinkle Blue is a vivid opaque blue, an original Fenton color developed by Paul Rosenthal during the 1930s. The heat-sensitive glass ranges from light to dark blue to create the beautiful gradations of color. Periwinkle Blue is a true art glass treatment.
300037
8'' Periwinkle Blue Plume Vase
Special Price! Only $25.00!
Buy Now!
04252P2
8-1/4'' Periwinkle Blue Urn
Original price $89.50, Now $58.00 Buy Now!

07513P2
5-1/2'' Periwinkle Blue
Dolphin Comport
Original Price $49.50, Now $32.00 Buy Now!
I5142HPP2
3-1/2'' Periwinkle Blue Raccoon
$30.75, Buy Now!

This playful 3-1/2" Raccoon is a Fenton Gift Shop exclusive. The vivid Periwinkle blue color was reintroduced in 2004 and has become very popular with collectors. Proudly signed by the artist who handpainted it.
Happy New Year
to our loyal friends and customers.
Thank you for your support throughout 2009.
We look forward to bringing you exciting
new art glass offerings in 2010.
Watch our newsletters for upcoming 2010 offerings. We'll have new shapes and designs in our two new colors: Buttercup and Robin's Egg Blue; special Valentine's Day, Mother's Day and Father's Day selections; Baskets, Eggs, and Figurines for Easter and Spring; more of our popular Marigold Carnival; Little Treasures (mini-baskets); Salt & Pepper Sets; the 2010 Connoisseur Collection; Studio Art Glass and more Limited Editions. Click here for our latest 2009 glass from Fenton USA. To locate a Fenton dealer near you, click here.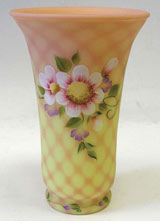 Fenton Art Glass on QVC
on Thursday, December 31st!
Depending on when you received this email newsletter, there may still be time to watch Fenton Art Glass on QVC on December 31st! Guest host is George Fenton. Show times are 1-2 a.m., 10-11 a.m. and 4-5 p.m. (Eastern Time). This exquisite Burmese Diamond Optic vase with handpainted decoration designed by Stacy Williams is from our new Milestone Collection. Each piece reflects a bit of Fenton history, has a family signature, and is limited to 1750. All four pieces in this continuity series will be available for ordering on the show, so tune in to see them and to learn about the Milestone Collection and the special premium for those who purchase all four pieces. Click here for a preview of all of the Fenton USA items to be featured during the shows. To view Fenton Art Glass items currently available from QVC, click here.
Fenton USA Robin's Egg Blue Alley Cat
Fenton Art Glass was featured on the Discovery Channel show Dirty Jobs in November. Show host Mike Rowe gained a new appreciation for glassmaking when he tried his hand at several jobs, including decorating, gathering, and ladling or cleaning out the tank. Click here to watch a clip from the show! We have made some Fenton USA products which will appeal to fans of Mike Rowe as well as to Fenton collectors. These products are handcrafted in the USA by the skilled glassworkers at Fenton Art Glass. Shown at right is the 11'' Alley Cat in our new Robin's Egg Blue Iridized. Click here to see how the Alley Cat is born at Fenton USA! Click on the cat for ordering details or click here to see all available items. Please note: These items can only be ordered online and are not available through Fenton dealers nor the Fenton Gift Shop.
---
Fenton eBay Auctions
Own a unique creation through our weekly eBay Auctions! This week, we're featuring six interesting items made by other glass companies! Items featured this week...
For questions or comments, please do not reply to this email. Instead, email: askfenton@fentonartglass.com. This email has been sent to you because you have agreed to receive offers and information from the Fenton Art Glass Company. We respect your privacy and do not sell your personal information. For details, please review our privacy policy.

How to unsubscribe: If you prefer not to receive offers or information from Fenton Art Glass, please use this page.

If you use a Challenge-Response system for email, please make certain that you can receive our email by adding askfentononline@fentonartglass.com to your Allow List. For specific instructions for major ISPs, click here.

The sender of this email is the Fenton Art Glass Co., 700 Elizabeth St., Williamstown, WV, 26187