FENTON GIFT SHOP
SPECIAL OFFERINGS
Z5365HPC
3'' Chocolate Natural Kitten
$29.50, Buy Now!
This Gift Shop Exclusive 3'' Chocolate Kitten figurine is handpainted to look like a natural kitten. Proudly handcrafted by the artisans at Fenton USA.
Z4807CK
4'' Chocolate Epergne
Original Price $75.00, Now $60.00 Buy Now!
Our pleasantly petite 4" tall Chocolate Epergne, produced as a Fenton Gift Shop Exclusive for our 100th Anniversary, bears the FGS 2005 Centennial Exclusive logo. This Diamond Lace pattern was designed by Frank L. Fenton in 1948 and has been popular ever since.

C4106Q0
5'' Chocolate Double Heart
Trinket Box, $58.50, Buy Now!
Traditional and elegant in appeal, this 5" Chocolate double heart trinket box is handpainted with a blue floral design and is proudly signed by the talented Fenton artist who completes it.


Z1909CK
7-1/2'' Limited Edition Founder's Chocolate Water Set
$195.00, Buy Now!

No Chocolate collection is complete without our Limited Edition Founder's Water Set. This Gift Shop 2005 Centennial Exclusive was strictly limited and individually numbered to 500 sets. The 7-1/2" pitcher bears the stamp "F.L. Fenton - Founder 1905" as well as the signatures of his son, Frank M. Fenton, and his grandson, George Fenton. Four 4" tumblers are included. This water set is sure to be sought after for many years to come.
Fenton USA Presents. . .
Cobalt Diamond Dot Comport and Basket
There are more than 60 different Blues in the Fenton product history. Cobalt,
a longtime decorating favorite, returns with new shapes in the Diamond Dot pattern. Cobalt creates a dark blue and copper imparts a light blue. When combined, or with additional coloring agents, cobalt and copper are used for almost all of our blue colors. The 5-1/4" Basket and 6-1/8'' Comport shown above are from an Imperial Glass Company Cape Cod mould which originated in the 1930s. These glass items are handcrafted at Fenton USA in Williamstown, West Virginia by the skilled glassworkers of the Fenton Art Glass Company. Click on each image to order online. Click here for more of our latest Fall 2009 glass from Fenton USA. To locate a Fenton dealer near you, click here.

Fenton Art Glass on QVC on December 31st!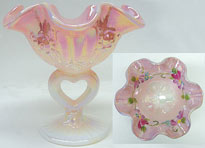 Don't forget to watch
Fenton Art Glass on QVC on December 31, 2009! Set your alarm and end 2009 with Fenton and QVC! Guest host will be George Fenton. Show times are 1-2 a.m., 10-11 a.m. and 4-5 p.m. (Eastern Time). Included in the show will be this Rosalene Iridized Heart Comport with floral design by Stacy Williams. Click here for a preview of the Fenton USA items to be featured during the shows. To view Fenton Art Glass items currently available from QVC, click here.
Fenton USA Robin's Egg Blue Alley Cat
Fenton Art Glass was featured on the Discovery Channel show Dirty Jobs in November. Show host Mike Rowe gained a new appreciation for glassmaking when he tried his hand at several jobs, including decorating, gathering, and ladling or cleaning out the tank. Click here to watch a clip from the show! We have made some Fenton USA products which will appeal to fans of Mike Rowe as well as to Fenton collectors. These products are handcrafted in the USA by the skilled glassworkers at Fenton Art Glass. Shown at right is the 11'' Alley Cat in our new Robin's Egg Blue Iridized. Click here to see an up close and personal step-by-step look at how the Alley Cat is born at Fenton USA! Click on the cat for ordering details or click here to see all available items. Please note: These items can only be ordered online and are not available through Fenton dealers nor the Fenton Gift Shop.
---
Fenton eBay Auctions
Own a unique Fenton creation, including one-of-a-kind pieces, through our weekly eBay Auctions! Items featured this week...