FENTON GIFT SHOP
SPECIAL OFFERINGS
DS866HP3
2-3/4'' Opal Satin
Green Hat Elf Mini Bear
$35.00, Buy Now!
Free Shipping on this item! This Opal Satin handpainted Green Elf Mini Bear is ready for the holidays! Proudly signed by the artist and inscribed with the Collectors' Showcase logo on the bottom.
DS866HP4
2-3/4'' Opal Satin
Red Hat Elf Mini Bear
$35.00, Buy Now!
Free Shipping on this item! This Opal Satin handpainted Mini Bear is the same as above only in Red! Signed by the artist and inscribed with the Collectors' Showcase logo on the bottom.

Z5014HP
6-1/2'' Handpainted Opal Satin Angel, $95.00, Buy Now!
Our Gift Shop Featured Artist, Susan Bryan, designed and handpainted this precious Opal Satin angel...inspired by our 2006 Winter Wonderland Collection.
C5299ZJ
8'' Sea Mist Green
Handpainted Santa
$70.00, Buy Now!

Our ever popular Santa mould in Sea Mist Green
is handpainted with a traditional decoration. This piece is a perfect addition to any Christmas collection!

Fenton eBay Auctions
Own a unique Fenton creation, including one-of-a-kind pieces, through our weekly eBay Auctions! Items featured this week...
Fenton USA Presents. . . New Items in Cobalt Glass!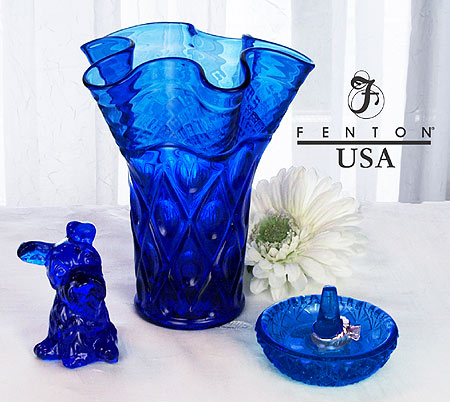 Cobalt, long a decorating favorite, returns with several new shapes! There are more than 60 different Blues in the Fenton product history.
Cobalt creates a dark blue and copper imparts a light blue. When combined, or with additional coloring agents, cobalt and copper are used for almost all of our blue colors.
Our 3'' Scottie dog figurine makes a perfect gift for dog lovers or figurine collectors. The Swung Diamond Dot Vase shown above is handcrafted from an Imperial Glass Company Cape Cod mould originating in the 1930s, varies in size from 6-1/2'' to 7'' tall. The Fine Cut and Block 3'' Ringholder is a great impulse gift for someone special or yourself and retails for under $15! Mix and match with our other available colors. These glass items are handcrafted at Fenton USA in Williamstown, West Virginia by the skilled glassworkers of the Fenton Art Glass Company. Click on each image to order online. Click here for more of our latest Fall 2009 glass from Fenton USA. To locate a Fenton dealer near you, click here.
Fenton Art Glass on QVC on December 31st!
Don't forget to watch Fenton Art Glass on QVC on December 31, 2009. Set your alarm and end 2009 with Fenton and QVC! Guest host will be George Fenton. Show times are 1-2 a.m., 10-11 a.m. and 4-5 p.m. (Eastern Time). Included in the show will be this magnificent swung bowl designed by glass artisan Nathan Sheafor. As you can see, the exterior and the interior are very different! A preview of the Fenton USA items to be featured during the shows will be coming soon! To view Fenton Art Glass items currently available from QVC, click here.
Fenton "Treasure Hunt" Winners Announced!
During the 2009 Fall Fenton Family Signing Events we sought entries for our Great American Fenton Glass Treasure Hunt. Fenton dealers and Fenton family members helped identify glass items at each Fenton family signing event. Prizes were awarded for rare, old or particularly interesting Fenton pieces as determined by each dealer and Fenton family member. Winners from each dealer were then entered into the national contest for a chance to win one of two $500 shopping sprees at any Fenton dealer in America. And the winners are Ruth Stice of Kentucky and John Byer of Ohio. We thank them for sharing their "treasures" with us and offer them our congratulations!
Fenton USA Robin's Egg Blue Alley Cat
Fenton Art Glass was featured on the Discovery Channel show Dirty Jobs in November. Show host Mike Rowe gained a new appreciation for glassmaking when he tried his hand at several jobs, including decorating, gathering, and ladling or cleaning out the tank. Click here to watch a clip from the show! We have made some Fenton USA products which will appeal to fans of Mike Rowe as well as to Fenton collectors. These products are handcrafted in the USA by the skilled glassworkers at Fenton Art Glass. Shown at right is the 11'' Alley Cat in our new Robin's Egg Blue Iridized. Click here to see how the Alley Cat is made! Click on the cat for ordering details or click here to see all available items. Please note: These items can only be ordered online and are not available through Fenton dealers nor the Fenton Gift Shop.
---