FENTON GIFT SHOP
SPECIAL OFFERINGS
Z5135RU
2-3/4'' Ruby Amberina Hobby Horse
$22.00, Buy Now!
This 3" Ruby Amberina hobby horse will make the perfect keepsake for all ages. Ruby is a heat-sensitive glass and the result is a wonderful Amberina effect. Color may vary.
Z5151HPRU
3-1/2'' Handpainted Ruby
Amberina Bear
$38.00, Buy Now!
This adorable 3 1/2" Ruby Amberina Bear is decked out with a gold bowtie and cuffs. A perfect stocking stuffer or a great addition to your bear collection!

Z5245RU
5'' Ruby Amberina Cardinal
$26.25, Buy Now!
This 5" Ruby Amberina Cardinal figurine will make a lovely gift to give or receive. Color may vary.
Z9144RU
3'' Ruby Amberina Ring Holder
$13.50, Buy Now!
Our 3" Ruby Amberina ringholder is a perfect thank you or You're Special gift. Color may vary.

Fenton eBay Auctions
Own a unique Fenton creation, including one-of-a-kind pieces, through our weekly eBay Auctions! Items featured this week...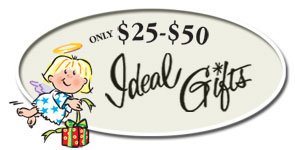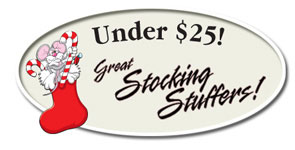 Fenton USA Presents. . .
Included in our 2009 Horizons Collection, both this Ginger Jar in Persimmon and an elegant Ruby sanded Vase feature handpainted motifs created by Fenton designer Kim Barley. Persimmon, one of our newest colors, provides the perfect canvas for Kim's stylized Melon Bloom floral design our 8-1/2'' Ginger Jar. A glossy autumn orange colored glass covers white milk glass to create this rich new color. The Ginger Jar is handcrafted from a 1930s era Fenton mould. Set includes base, lid and jar.
The Asian Evening Vase features handpainted vining flowers. Sanded Ruby glass is the perfect canvas for Kim Barley's elegant floral motif. This majestic vase stands 10 inches tall, and will really make a statement in any decor. Click on each image to order online. Click here for more of our latest Fall 2009 glass from Fenton USA. To locate a Fenton dealer near you, click here.
Fenton Art Glass on QVC on December 31st!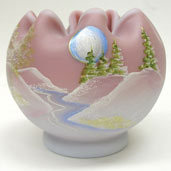 Set your alarm and end 2009 with Fenton and QVC! Fenton Art Glass will be featured on QVC
on December 31, 2009. Guest host will be George Fenton. Show times are 1-2 a.m., 10-11 a.m.
and 4-5 p.m. (Eastern Time). Included in the show is this lovely Blue Burmese Rose Bowl with a handpainted wintry scene. Check back for a preview of Fenton USA glass items to be featured during the shows. To view Fenton Art Glass items currently available from QVC, click here.

Fenton Art Glass "Dirty Jobs" Products
Fenton Art Glass was featured on the Discovery Channel show Dirty Jobs in November. Show host Mike Rowe gained a new appreciation for glassmaking when he tried his hand at several jobs, including decorating, gathering, and ladling or cleaning out the tank. The Fenton episode was filmed in November 2008. Click here to watch a clip from the show!
I8754CJBK
Get Ready to Get Dirty
T-Shirt Glass Logo
3-1/2'' Paperweight $39.75

I8749CJBK
mikeroweWORKS
Black Glass Logo Paperweight, 3-3/8'' dia. $29.75

I5177TJ
11'' Alley Cat in
Robin's Egg Blue Iridized $65.00
Shown above are new Fenton USA products which will appeal to Mike Rowe fans as well as to Fenton collectors. These products are handcrafted in the USA by the skilled glassworkers at Fenton Art Glass. Click here to see how the Alley Cat is created! Click on each image for details or click here to see all available items. Please note: These items can only be ordered online and are not available through Fenton dealers nor the Fenton Gift Shop.
---