FENTON GIFT SHOP
SPECIAL OFFERINGS
Z3995KF
6'' Aubergine Hobnail Slipper
$17.50, Buy Now!
Prince Charming awaits with the royal slipper! This classic Hobnail Cat Slipper in Aubergine transforms a girl into a princess, with each sparkling piece truly one of a kind. This Gift Shop Exclusive is an enchanting collectible and a charming gift. Treat yourself. . .
you deserve it!
Z5344HPA
7'' Robin's Egg Blue Seahorse Vase
$105.00, Buy Now!
The mystery and majesty of the ocean's depths are captured in the handpainting on this beautiful vase. Produced as a Gift Shop Exclusive in our new Robin's Egg Blue color. This vase can be proudly displayed in your home for years to come.
DP058XE
2'' x 4-1/2'' Chameleon Green Nut Dish
$25.00, Buy Now!
Made the old-fashioned way, by hand, with an historic Fenton mould that originated in the 1930s, this darling nut dish is in Chameleon Green. Why call it chameleon, you ask? Because it changes from piece to piece, depending upon the glass temperature and other factors. We never cease to be amazed at the variety of hues!
218229
5-1/2'' Pansy Fairy Light
$42.50, Buy Now!

Delicate handpainted pansies
on Milk Glass is the perfect complement to the soft pink hue
of the Rosalene base. Produced as a Gift Shop Exclusive, this fairy light will add a warm touch to your home and a delightful welcome for guests.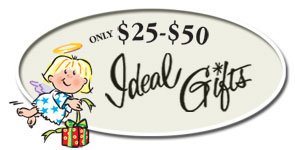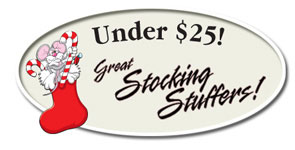 Fenton USA Presents. . . Gifts for under $50!
Still searching for that perfect holiday gift? Now at many Fenton dealers are our new Fenton USA 2009 items priced at $49.50 and under in popular Aubergine and in Cobalt, a decorating favorite. Shipping and handling fees are in addition to product prices. For delivery by Christmas, we suggest you place your online order no later than December 15 for ground delivery via UPS or USPS. Or you may choose expedited shipping (next day or two-day delivery). Check with your Fenton dealer for other delivery options. To locate a Fenton dealer near you, click here. Click on each image to order online. Click here for more of our latest Fall 2009 glass from Fenton USA.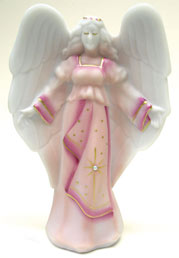 Fenton Art Glass to be featured
on QVC New Year's Eve!
Fenton Art Glass will be featured on QVC on December 31, 2009. Set your alarm and end 2009 with Fenton and QVC! Guest host will be George Fenton. Show times are 1-2 a.m., 10-11 a.m. and 4-5 p.m. (Eastern Time). Included in the show will be this beautiful handpainted Blue Burmese Angel figurine as part of our Good Fortune Collection. Check back for a preview of Fenton USA glass to be featured during the shows. To view Fenton Art Glass items currently available from QVC, click here.
Fenton Art Glass "Dirty Jobs" Products
Fenton Art Glass was featured on the Discovery Channel show Dirty Jobs in November. Show host Mike Rowe gained a new appreciation for glassmaking when he tried his hand at several jobs, including decorating, gathering, and ladling or cleaning out the tank. The Fenton episode was filmed in November 2008. Click here to watch a clip from the show!
I8754CJBK
Get Ready to Get Dirty
T-Shirt Glass Logo
Paperweight
3-1/2'' x 2-1/2'', $39.75

I8749CJBK
mikeroweWORKS
Black Glass
Logo Paperweight
3-3/8'' dia., $29.75

I5177TJ
11'' Alley Cat in
Robin's Egg Blue Iridized, $65.00
Click here to see how
the Alley Cat is created!

Shown above are some new Fenton USA products which will appeal to Mike Rowe fans as well as to Fenton collectors. These products are handcrafted in the USA by the skilled glassworkers at Fenton Art Glass. Click each image for details or click here to see all available items. Please note: These items can only be ordered online and are not available through Fenton dealers nor the Fenton Gift Shop.

Fenton eBay Auctions
Own a unique Fenton creation, including one-of-a-kind pieces, through our weekly eBay Auctions! Items featured this week...
---