FENTON GIFT SHOP
SPECIAL OFFERINGS
Z5535NE
6-1/2'' Iridized Aubergine Tree
$32.50, Buy Now!
Christmas trees are the heart of the American holiday tradition. Collect and enjoy this 6-1/2" and 4" Iridized Aubergine Trees for your holiday celebrations. Mix and match these new Gift Shop Exclusives with other Fenton trees for an attractive holiday display.
Z5556NE
4'' Iridized Aubergine Tree
$25.75, Buy Now!

160010
5-3/4'' Featured Artist Exclusive
Limited Edition
Smokey Mountain Morning Ruby Vase
$225.00, Buy Now!
This limited and numbered edition of only 25 pieces was designed and handpainted by our Gift Shop Featured Artist, Susan Bryan. Entitled Smokey Mountain Morning, the vase features meticulously handpainted white trees and frosty mountaintops which come to life on this lovely Ruby Vase.
Z5197HPA
6'' Key Lime Satin ''Joy'' Bird
$54.50, Buy Now!

Bring "Joy" to your home with this charming handpainted Key Lime Satin Happiness Bird. Proudly produced as a Gift Shop Exclusive from the skilled artisans at Fenton.

Fenton eBay Auctions
Own a unique Fenton creation, including one-of-a-kind pieces, through our weekly eBay Auctions! Items featured this week...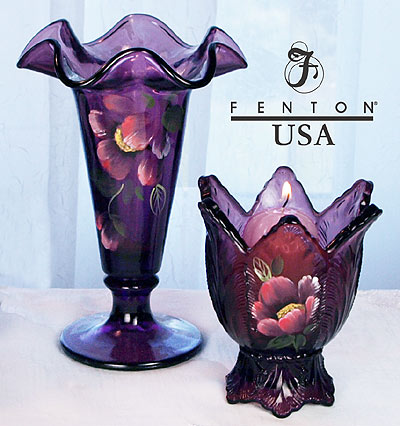 Fenton USA Presents. . .
Gentle Breeze
on Aubergine

Our regal Aubergine glass,
with the handpainted Gentle Breeze on Aubergine design by Stacy Williams, will appeal to collectors and decorators alike. The rich color is the perfect canvas for her lovely, lush flower blossoms. Each piece is signed by the artist who completes it. These pieces are also available undecorated. The Trumpet Vase is attractive for home decor with or without flowers! Our versatile Leaf Votive is a two-way candleholder...use for either a taper
or a votive candle...or add potpourri or candy to create a gift for someone special!
Click on each image to order online. These items are now shipping to stores, so check back to see what's new! Click here for more Aubergine glass from Fenton USA. To locate a Fenton dealer near you, click here.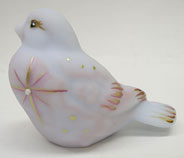 Fenton Art Glass to be featured
on QVC December 31st!
Fenton Art Glass will be featured on QVC on December 31, 2009. Set your alarm and end 2009 with Fenton and QVC! Guest host will be George Fenton. Show times are 1-2 a.m., 10-11 a.m. and 4-5 p.m. (Eastern Time). Included in the show will be this handpainted Blue Burmese Bird figurine with a pearlized stone and metallic gold accents. Check back for a preview of Fenton USA glass to be featured during the shows. To view Fenton Art Glass items currently available from QVC, click here.
Fenton Art Glass "Dirty Jobs" Products
Fenton Art Glass was featured on the Discovery Channel show Dirty Jobs in November. Show host Mike Rowe gained a new appreciation for glassmaking when he tried his hand at several jobs, including decorating, gathering, and ladling or cleaning out the tank. The Fenton episode was filmed in November 2008. Click here to watch a clip from the show!
I8754CJBK
Get Ready to Get Dirty
T-Shirt Glass Logo
Paperweight
3-1/2'' x 2-1/2'', $39.75

I8749CJBK
mikeroweWORKS
Black Glass
Logo Paperweight
3-3/8'' dia., $29.75

I5177TJ
11'' Alley Cat in
Robin's Egg Blue Iridized, $65.00
Click here to see how
the Alley Cat is created!
Shown above are some new Fenton USA products which will appeal to Mike Rowe fans as well as to Fenton collectors. These products are handcrafted in the USA by the skilled glassworkers at Fenton Art Glass. Click each image for details or click here to see all available items. Please note: These items can only be ordered online and are not available through Fenton dealers nor the Fenton Gift Shop.
---