FENTON GIFT SHOP
SPECIAL OFFERINGS
Z5145HPE
3-3/4'' Winter Aura Egg on Stand
$47.00, Buy Now!
The handpainted Winter Aura design by Michelle Kibbe continues to grace new pieces for 2009, including this Gift Shop Exclusive Egg on Stand. Fenton eggs have always been popular and this piece will be a great addition to your collection.

Z1714HPD
3-1/2'' Pink Satin Winter Floral Ornament
$35.00, Buy Now!
Our 3-1/2'' Pink Satin Ornament is dated 2009 and handpainted with a winter floral design. This new Gift Shop Exclusive will sure to become a family keepsake!

Z5269HPA
4'' Blue Burmese ''Dottie'' Snowlady
$39.50, Buy Now!
Our Blue Burmese Dottie the Snowlady is all decked out for winter with a glistening cape and cap. A 2008 Gift Shop Exclusive, a limited quantity is still available. Handpainted and personally signed by the Fenton artist who completed each piece.
Z5215HPA
2-3/4'' Chameleon Green Squirrel with Acorn, $35.25, Buy Now!

Handpainted with a tiny acorn in his paws, this enchanting Chameleon Green glass squirrel features beautiful green color variations that make each piece a one of a kind treasure. A new Gift Shop Exclusive, this would be a perfect gift for the holidays.

Fenton eBay Auctions
Own a unique Fenton creation, including one-of-a-kind pieces, through our weekly eBay Auctions! Items featured this week...
Fenton USA Presents. . . Canaan Valley on Cobalt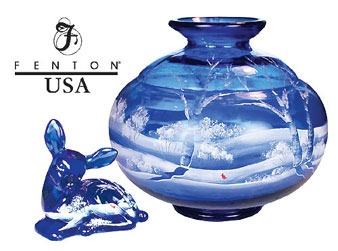 Fenton designer Robin Spindler's Canaan Valley design on Cobalt glass, which debuted in 2004, continues to captivate Fenton collectors everywhere. ''It's perfect for holiday decorating,''
a collector told us, ''but it also looks great wherever and whenever you want a strong accent piece in a room.'' For the 2009 holiday season, we offer six new pieces with updated designs by Michelle Kibbe. Shown above are our 3-1/2'' Fawn and 6-1/2'' Vase. Other items in this grouping include a basket, candy box, ornament, and a raccoon figurine. These items are also available unadorned.
Traditional Cobalt glass brings warm country charm to American homes. Our Cobalt begins with silica sand, soda ash and lime, which accounts for 95% of the batch. The remaining 5% is composed of special ingredients which impart the desired color to the glass when the batch is melted at 2500 degrees F. Click on each image to order online or click here for more Christmas items from Fenton USA! To locate a Fenton dealer near you, click here.
Fenton Art Glass Products
Fenton Art Glass was recently featured on the Discovery Channel show Dirty Jobs. Show host Mike Rowe gained a new appreciation for glassmaking when he tried his hand at several jobs, including decorating, gathering, making a swung vase, and ladling or cleaning out the tank. The Fenton episode was filmed in November 2008. Watch a clip from the show by clicking here!
I8754CJBK
Get Ready to Get Dirty
T-Shirt Glass Logo
Paperweight
3-1/2'' x 2-1/2'', $39.75

I8749CJBK
mikeroweWORKS
Black Glass
Logo Paperweight
3-3/8'' diameter, $29.75

I5177TJ
11'' Alley Cat in
Robin's Egg Blue Iridized
$65.00
Click here to see how
it's made!
Shown above are some new Fenton USA products which will appeal to fans of
Mike Rowe as well as to Fenton collectors. These products are handcrafted in the USA by the skilled glassworkers at Fenton Art Glass. Click each image for details or click here to see all available items. Please note: These items can only be ordered online and are not available through Fenton dealers nor the Fenton Gift Shop.
INTERNET EXCLUSIVE. . .
Family Signature Fairy Light!
We've located a very limited inventory (less
than a dozen) of our Four Seasons Fairy Light handcrafted in Cobalt glass. Fairy Lights have been popular since the Victorian era and are ideally suited to highlight the difficult, yet delicate
Mary Gregory paint style. This Fairy Light is handpainted in a Stacy Williams design of a girl
ice skating with her puppy on a wintry day. It is aptly named Skating Party. To make this beautiful piece even more special, Lynn Fenton has personally signed each Fairy Light. You'll also receive FREE shipping on this item! Click on the image or click here to order! Quantities are extremely limited so be sure to place your order soon!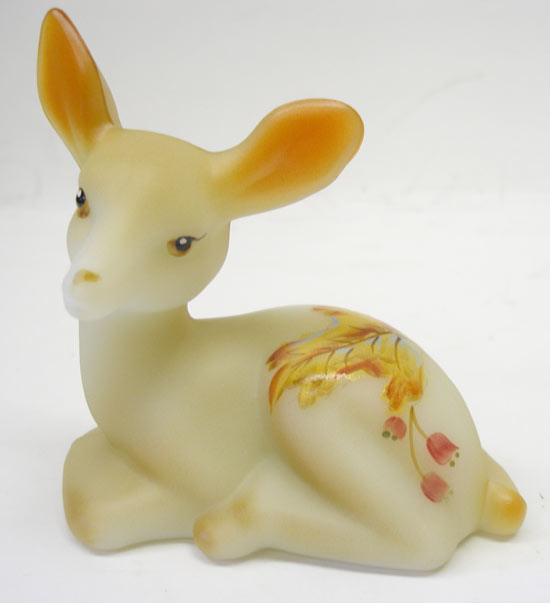 Fenton Fawn Figurine Especially for QVC!

This handcrafted 3-1/2" Fawn figurine features a colorful handpainted Autumn leaves and berries design by
Michelle Kibbe. Blushed with Persimmon to complement the Persimmon Paneled Vase (C11482) recently offered on QVC. Click on the image to order or click here for more Fenton USA products made especially for QVC.
---