FENTON GIFT SHOP
SPECIAL OFFERINGS
Z5225HPA
3-1/2'' White Satin Christmas Lights Puppy, $38.50, Buy Now!
Somebody's been caught playing in the Christmas lights! This adorable white opal satin puppy has been produced as
a Fenton Gift Shop Exclusive for 2009.
Z5145HPA
3-3/4'' Opal Iridized Snowman
Egg on Stand
$39.50, Buy Now!
A limited quantity has been produced of this Fenton Gift Shop Exclusive. The Opal Iridized Egg on stand is been handpainted with a Snowman winter scene. Fenton eggs have always been popular, and this piece will be a great addition to your collection.
Z5160HPEA
3-1/2'' Emerald Green Fawn
$35.25, Buy Now!
Give a gift that is sure to be treasured. Handcrafted in Emerald Green, this fawn features a handpainted metallic holly design. A Fenton Gift Shop Exclusive.
Z191512
Marbles with 3-3/4'' Storage Pouch
$10.50, Buy Now!

Got Marbles? We do! Handcrafted with pride in West Virginia. Set includes a generous amount of regular size marbles, two shooters and a storage pouch.

Fenton eBay Auctions
Own a unique Fenton creation, including one-of-a-kind pieces, through our weekly eBay Auctions! Items featured this week...
Fenton USA Presents. . . 2009 Limited Edition Angel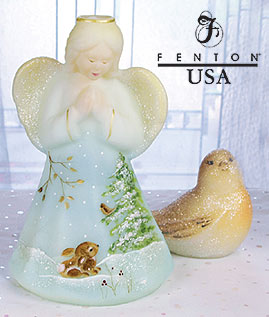 It's a Fenton tradition. . .
each year, Fenton designers, glassmakers and decorators create wonderful items to celebrate the joy and wonder
of the holiday season.
For 2009, we offer our Limited Edition Angel in Opal Satin.
The graceful Angel has a handpainted winter scene designed by Kim Barley of a bunny gazing up at a bird sitting on a snow-covered tree branch. Glitter accents add extra sparkle to this beautiful 6-1/2'' figurine. This Angel coordinates perfectly with our Glistening Woods figurine collection. To order online, click on each image or click here to view more Christmas 2009 products from Fenton USA! To locate a Fenton dealer near you, click here.
Fenton Art Glass Products
Fenton Art Glass was recently featured on the Discovery Channel show Dirty Jobs. Show host Mike Rowe gained a new appreciation for glassmaking when he tried his hand at several jobs, including decorating, gathering, making a swung vase, and ladling or cleaning out the tank. The Fenton episode was filmed in November 2008. Watch a clip from the show by clicking here!
I8754CJBK
Get Ready to Get Dirty
T-Shirt Glass Logo Paperweight
3-1/2'' x 2-1/2''
$39.75

I8749CJBK
mikeroweWORKS
Black Glass Logo Paperweight 3-3/8'' dia.
$29.75

I5177TJ
11'' Alley Cat in
Robin's Egg Blue Iridized
$65.00
Shown above are some new Fenton USA products which will appeal to fans of
Mike Rowe as well as to Fenton collectors. These products are handcrafted in the USA by the skilled glassworkers at Fenton Art Glass. Click each image for details or click here to see all available items. Please note: These items can only be ordered online and are not available through Fenton dealers nor the Fenton Gift Shop.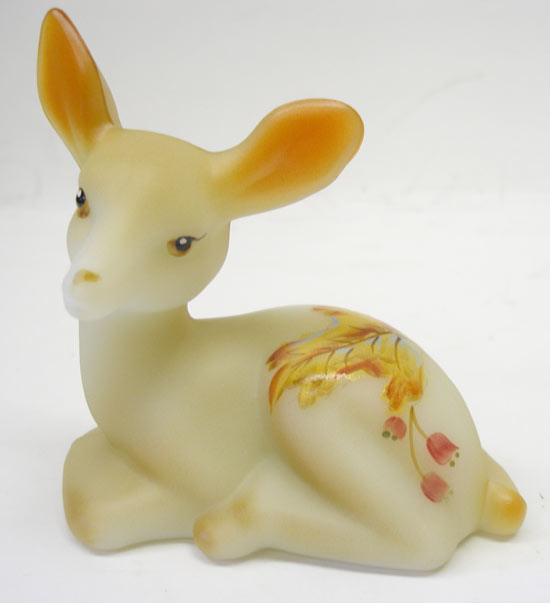 Fenton Fawn Figurine Especially for QVC!

This handcrafted 3-1/2" Fawn figurine features a colorful handpainted Autumn leaves and berries design by
Michelle Kibbe. Blushed with Persimmon to complement the Persimmon Paneled Vase (C11482) recently offered on QVC. Click on the image to order or click here for more Fenton USA products made especially for QVC.
2009 Fall Fenton Family Signing Events
Our final 2009 Fall Fenton Family Signing Events will be held on November 21
in California. Meet Scott Fenton and his father, Tom Fenton at the locations listed below where they will personally sign your Fenton purchases. Please contact each Fenton dealer for details. Click here for event schedule and details on the event exclusive basket in our new Buttercup color, available only at participating Fenton dealers during these events. Don't forget to bring your special Fenton rarity to the Fenton Glass Treasure Hunt! Click here for details!
11/21 Virginia's Gift Shop, Knott's Berry Farm, Buena Park, CA (714) 220-5323
11/21 Carousel Faire, Hesperia, CA (760) 244-2336
---