FENTON GIFT SHOP
SPECIAL OFFERINGS
Z5065HPD
5'' Hyacinth Stylized Cat
$39.75, Buy Now!
Perfect for gift giving or as an addition to an established collection. This new Gift Shop Exclusive Hyacinth Stylized Cat has a lovely handpainted floral design. Proudly handcrafted by the artisans at Fenton.
Z5165HPJ
3-3/4'' Hyacinth Sitting Cat
$35.75, Buy Now!
Produced as a new Gift Shop Exclusive, our Hyacinth Sitting Cat has a lovely handpainted floral design. Great stocking stuffer for a cat figurine collector!
Z5165HPB
3-3/4'' Lotus Mist Burmese Cat with Flower, $41.75, Buy Now!
Definitely the Cat's Meow! Upbeat, whimsical florals are handpainted on a precious Lotus Mist Burmese collectible cat figurine. This Fenton Gift Shop Exclusive is a purr-fect gift for that special collector!

Z5318HPD
3-1/4'' Opal Iridized Birthstone Kitten with Blue Eyes
$29.50, Buy Now!

How adorable is this opal iridized birthstone kitten with the handpainted blue eyes? Produced as a new Gift Shop Exclusive with YOUR CHOICE of birthstone necklace. Please be sure to note the birth month you wish in the comment box upon checkout online.

Fenton eBay Auctions
Own a unique Fenton creation, including one-of-a-kind pieces, through our weekly eBay Auctions! Items featured this week...
Fenton USA Presents. . . 2009 Frosty Friends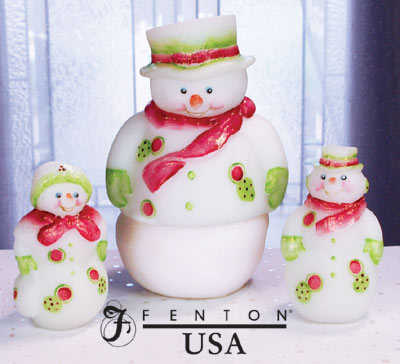 Our 2009 Frosty Friends figurines are sure to bring smiles to you and your guests this holiday season!
Whether you choose the fun and fruity red and green design by Kim Barley (shown at right) or Michelle Kibbe's cool wintry design in blue and lavender, our Frosty Friends figurines make a great addition to your holiday decor.
Dottie the Snowlady, Dimples the Snowman, and Vinny the Snowman Fairy Light are all handcrafted in our Opal Satin glass by the glass artisans at Fenton Art Glass in Williamstown, WV. Each handpainted figurine includes the signature of the artist who completed it. To order online, click on each image or click here to view more Christmas 2009 products from Fenton USA! To locate a Fenton dealer near you, click here.
Missed the Fenton Art Glass "Dirty Jobs" Episode?
Watch it on November 17!
If you missed the episode of the Discovery Channel's Dirty Jobs television show featuring Fenton Art Glass, you'll have another chance! The show airs again on November 17 at 8 p.m. and 11 p.m. ET/PT. Mike Rowe, host of the television show, certainly gained a new appreciation for glassmaking when he tried his hand at several jobs, including decorating, gathering, making a swung vase, and ladling or cleaning out the tank. It's a great inside look at how glass is made! The Fenton episode was filmed in November 2008. Watch a clip from the show by clicking here!
I8754CJBK
Get Ready to Get Dirty
T-Shirt Glass Logo Paperweight
3-1/2'' x 2-1/2''
$39.75

I8749CJBK
mikeroweWORKS
Black Glass Logo Paperweight
3-3/8'' diameter
$29.75

I5177TJ
Alley Cat in
Robin's Egg Blue Iridized, 11''
$65.00
Shown above are some new Fenton USA products which will appeal to fans of
Mike Rowe as well as to Fenton collectors. These products are handcrafted in the USA by the skilled glassworkers at Fenton Art Glass. Click each image for details or click here to see all available items. Please note: These items can only be ordered online and are not available through our Fenton dealers nor the Fenton Gift Shop.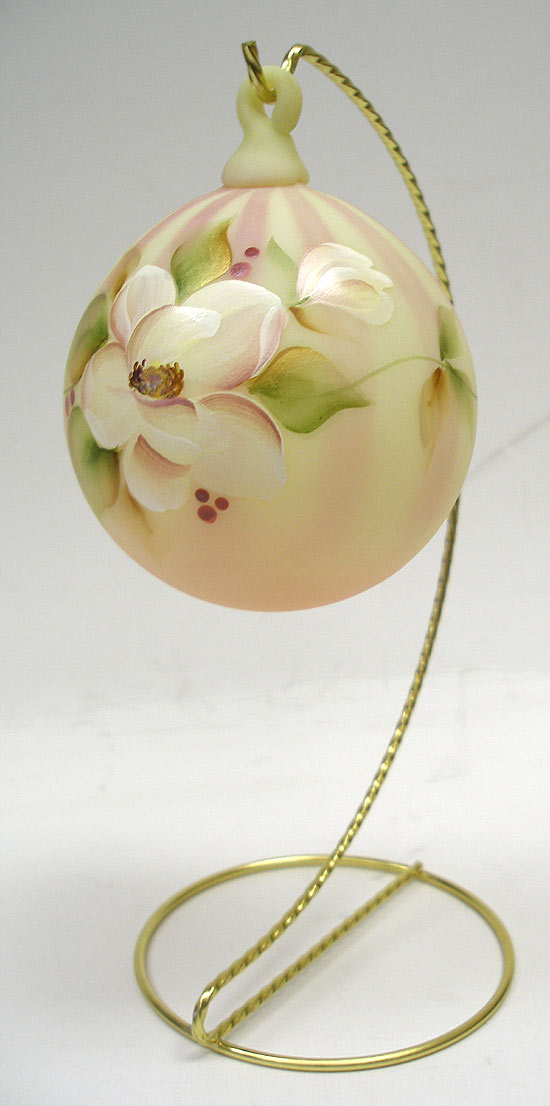 Fenton Blown Burmese Ornament
Made Especially for QVC!

This Limited Edition (750 pieces) blown Ornament is handcrafted in our classic Burmese glass for Fenton USA by West Virginia glass artisan Ron Hinkle. Burmese contains pure Gold in the formula and this 4-1/2" ornament has a rib optic. No two are alike! Fenton designer Kim Barley has added an elegant Magnolia flower design. The ornament includes a brass display stand. Display this beautiful collectible all year long! Click image to order or click here for more Fenton USA products made especially for QVC.
2009 Fall Fenton Family Signing Events
Our final 2009 Fall Fenton Family Signing Events will be held on November 21
in California. Meet Scott Fenton and his father, Tom Fenton at the locations listed below. They will personally sign your Fenton purchases. Please contact the Fenton dealer for details. Click here for the event schedule and details on the event exclusive basket in our new Buttercup color, available only at participating Fenton dealers during these events. Don't forget to bring your special Fenton rarity to the Fenton Glass Treasure Hunt held at our participating dealers! Click here for details!
11/21 Virginia's Gift Shop, Knott's Berry Farm, Buena Park, CA (714) 220-5323
11/21 Carousel Faire, Hesperia, CA (760) 244-2336
---