FENTON GIFT SHOP
SPECIAL OFFERINGS
M39227BHM
7'' dia. Sky Blue Bowl
$14.50, Buy Now!
Only $14.50! This lovely Sky Blue lotus blossom shaped bowl is 7" dia. x 2-3/4" high. The fresh new color features a translucent quality with unique striations in each piece. Perfect candy and nut dish.
A9974CJ7B
3-3/4'' Sky Blue Satin Votive
$12.00, Buy Now!
Only $12.00! Indoors or outdoors, this colorful Sky Blue Satin votive candleholder is both functional and attractive.
Z8838H7
6-3/4'' Key Lime Dancing Ladies Vase
$75.00, Buy Now!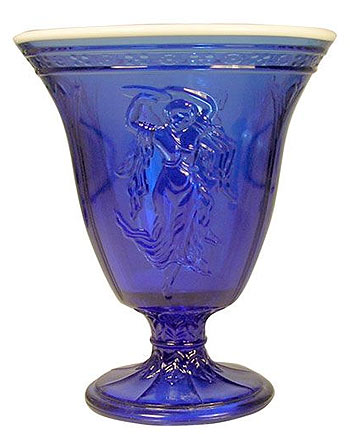 Z88387O
6-3/4'' Cobalt Dancing Ladies Vase
$85.00, Buy Now!

Inspired by a classic Northwood motif, our company's founder,
Frank L. Fenton, designed moulds for a Dancing Ladies vase that became a popular Fenton product in the 1930s. A few years ago, we searched in vain for these moulds. However, sculptor Suzi Whitaker was able to work from Frank L. Fenton's original sketches so that we could make an entirely new mould for a Dancing Ladies vase. Our skilled glassworkers have recently produced the Dancing Ladies vase in sultry Key Lime glass with a wonderful cobalt blue edge and in vivid Cobalt Blue glass with a wonderful Milk Glass edge. This vase will make a statement in any home in either color!

Fenton Gift Shop Decorating Workshops
For a great "I made it myself just for you!" gift for someone special, create your own handpainted bell, ornament or suncatcher at our Fenton Gift Shop Ornament Decorating Workshops! Held on Saturdays in 2009, click here for details!
Fenton eBay Auctions
Own a unique Fenton creation, including one-of-a-kind pieces, through our weekly eBay Auctions! Items featured this week...
Missed the Fenton Art Glass "Dirty Jobs" Episode? Watch the Rerun on November 17!

If you missed the episode of the Discovery Channel's Dirty Jobs television show featuring Fenton Art Glass, you'll have another chance to see the skill necessary to create a work of art from molten glass! The show airs again on November 17 at 8 p.m. and 11 p.m. ET/PT. Mike Rowe, host of the television show, certainly gained a new appreciation for glassmaking when he tried his hand at several jobs, including gathering, making a swung vase, and ladling
or cleaning out the tank. It's a great inside look at how glass is made! The Fenton episode was filmed in November 2008. Watch a clip from the show
by clicking here!
I8754CJBK
Get Ready to Get Dirty
T-Shirt Glass Logo Paperweight 3-1/2'' x 2-1/2''
$39.75

I8749CJBK
mikeroweWORKS
Black Glass Logo Paperweight
3-3/8'' diameter
$29.75

I5177TJ
Alley Cat in
Robin's Egg Blue Iridized
11''
$65.00
Shown above are some new Fenton USA products which will appeal to fans of
Mike Rowe as well as to Fenton collectors. These products are handcrafted in the USA by the skilled glassworkers at Fenton Art Glass. Click on each image for details or click here to see all available items.

Limited Edition Burmese Angels from Fenton USA
Through the ages, people have found great comfort in believing in angels. According to Christian belief, everyone has two guardian angels. The angel is believed to be a heavenly being, who serves as an attendant and messenger of God, or a Guardian Angel for someone on Earth. Historically, Angels typically have wings, are delicately beautiful and have an aura or glow.
Fenton's handcrafted glass angels are indeed delicately beautiful. The Christmas 2009 Limited Edition Angel Boy and Girl are made in our classic Burmese glass. Pure Gold in the formula creates the soft pink blush on each piece. These angels feature a handpainted design by Stacy Williams of a lovely floral heart with ribbon. Each piece is signed by the artist who completed it. You'll want the matching pair and they make the perfect gift for the special angels in your life!
To order online, click on each image or click here to view more 2009 Christmas products from Fenton USA! To locate a Fenton dealer near you, click here.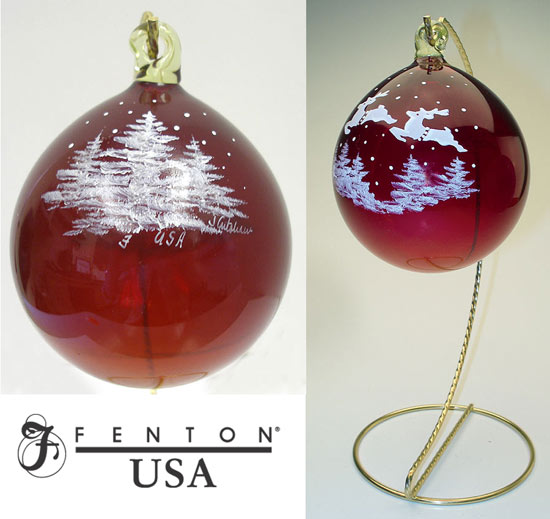 Fenton Blown Ornament Made Especially for QVC!

This blown Ornament was handcrafted in our classic rich
Ruby glass for Fenton USA by West Virginia glass artisan Ron Hinkle. The 4-1/2" ornament includes a brass display stand. The ornament shape is enhanced with a handpainted design of reindeer flying above a wintry landscape by Fenton designer Michelle Kibbe. This design complements our Reindeer on Ruby items offered in our Christmas 2009 product line. Click on image to order or click here for more Fenton products made especially for QVC from Fenton USA!
2009 Fall Fenton Family Signing Events
Our final 2009 Fall Fenton Family Signing Events will be held on November 21 in California. Meet Scott Fenton and his father, Tom Fenton. They will appear together at the locations listed below and personally sign your Fenton purchases. Please contact the Fenton dealer for details. Click here for the event schedule and details on the event exclusive basket in our new Buttercup color, available only at participating Fenton dealers during these events. Don't forget to bring your special Fenton rarity to the Fenton Glass Treasure Hunt held at our participating dealers! Click here for details!
11/21 Virginia's Gift Shop, Knott's Berry Farm, Buena Park, CA (714) 220-5323
11/21 Carousel Faire, Hesperia, CA (760) 244-2336
---