FENTON GIFT SHOP
SPECIAL OFFERINGS
C715060
5'' Madras Pink
Handpainted Covered Box
$59.75, Buy Now!
This Madras Pink 5" Covered Box has been handpainted with delicate flowers and will surely be a beautiful and useful piece to add to your collection.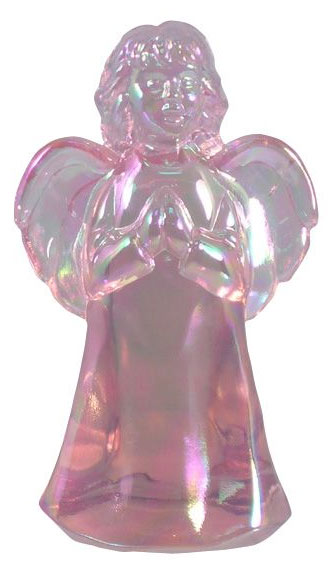 X5034NG
5'' Rosemilk Iridized Angel
Original price $26.50, Now $24.50 Buy Now!
Our charming Rosemilk Iridized Angel figurine is the perfect stocking stuffer gift for the special angel in your life.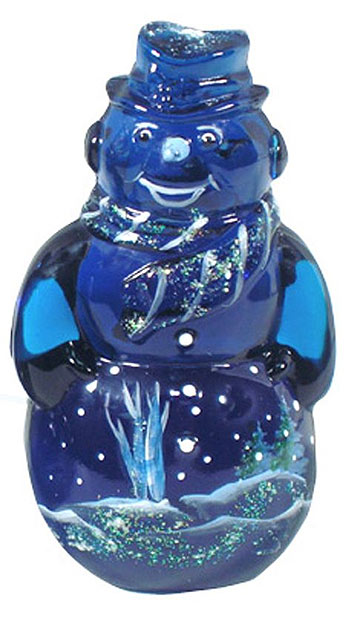 Z5268KH
4'' Indigo Blue Silver Birch Snowman, $39.50, Buy Now!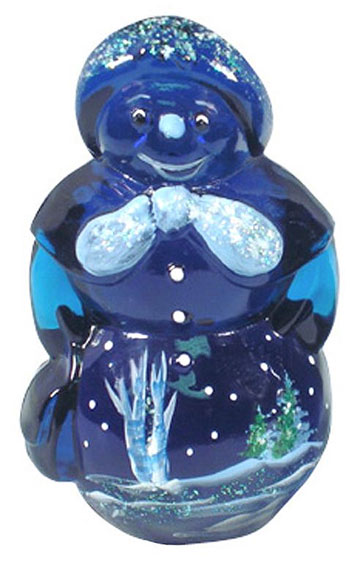 Z5269KH
4'' Indigo Blue Silver Birch Snowlady, $39.50, Buy Now!

You'll want the pair! Start your collection of our Snowman and Snowlady! Indigo Blue provides the perfect canvas for this handpainted scene of a shimmering winter wonderland. These new Gift Shop Exclusives feature a design of birch trees and newly-fallen snow glittering in the moonlight.

Fenton Gift Shop Decorating Workshops
Create your own handpainted bell, ornament or suncatcher at our Fenton Gift Shop Ornament Decorating Workshops on Saturdays in 2009! Click here for details!
Fenton eBay Auctions
Own a unique Fenton creation, including one-of-a-kind pieces, through our weekly eBay Auctions! Items featured this week...
Fenton USA Presents. . . O Christmas Tree. . .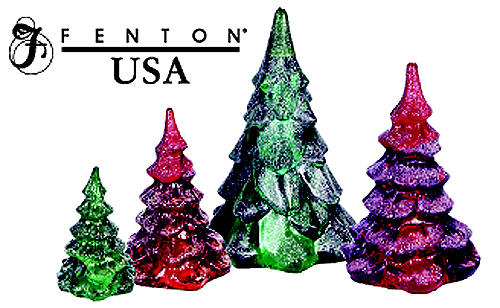 A verse to a traditional holiday song goes like this..."O Christmas tree,
O Christmas tree, forever true your color. Your boughs so green in summertime, stay bravely green in wintertime. Oh Christmas tree, Oh Christmas tree, forever true your color..."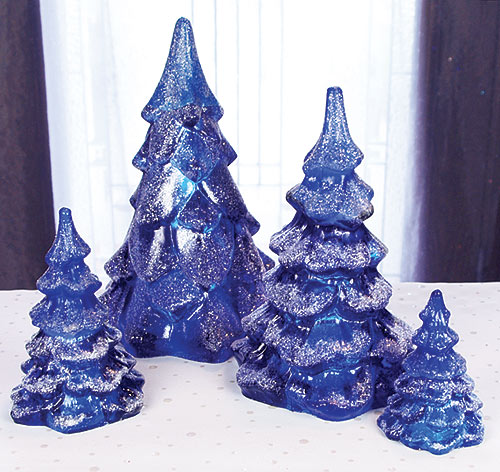 Like the song, our Christmas Trees are true to their color. For 2009, we continue the tradition
of the American Christmas Tree as a centerpiece of the holiday celebration with trees in three different colors. Our jewel-toned pines are graced with glitter to catch the festive notes of the holiday season. These rich trees, in Emerald Green, Cobalt or Ruby, create beautiful accents for home decorating and reflect the traditional warmth of the holiday season. Our trees are available in 3", 4", 6-1/2" and 7" heights. They are also available without glitter so you may mix and match styles! To order online, click on each image or click here to view more 2009 Christmas products from Fenton USA! To locate a Fenton dealer near you, click here.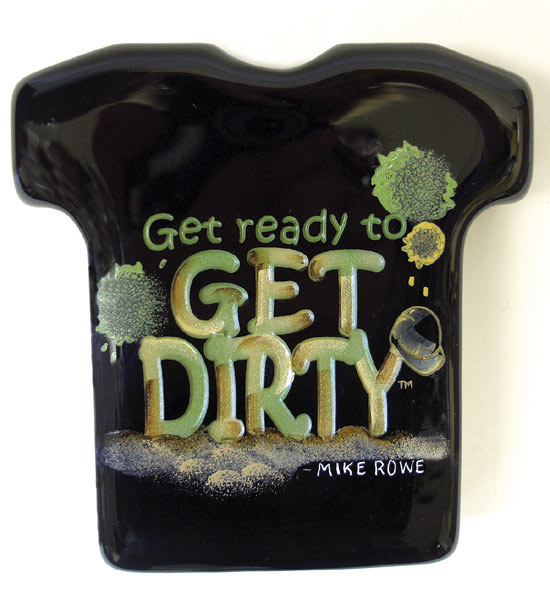 Fenton Art Glass to be featured
on "Dirty Jobs" TV Show
on Tuesday, November 10!
In November 2008, Fenton employees participated in filming an episode of the Discovery Channel television show Dirty Jobs. Our episode will air on Tuesday, November 10th at 9 p.m. ET/PT (other time zones, check local listings). We also have some new Fenton USA products, such as this Get ready to GET DIRTY t-shirt paperweight for Mike Rowe fans. Click here for details. Watch a clip from the show by clicking here! Mark your calendar! Tuesday, November 10 at 9 p.m. ET/PT on the Discovery Channel!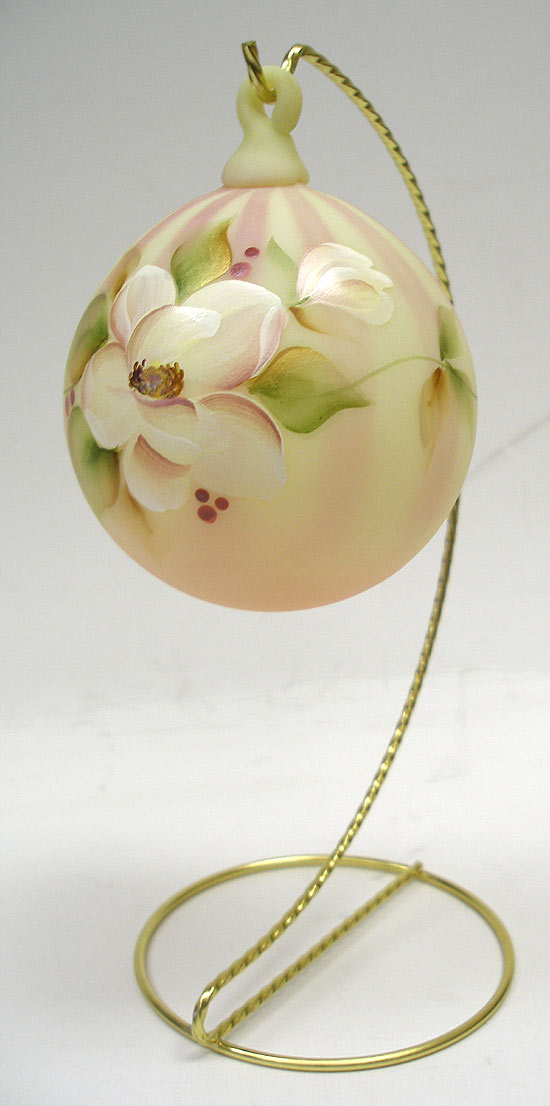 Fenton Limited Edition Ornament
Made Especially for QVC!
A must have for Burmese collectors. . .

This Limited Edition (750 pieces) blown Ornament includes a brass display stand. Handcrafted in our classic Burmese glass for Fenton USA by West Virginia glass artisan Ron Hinkle, this 4-1/2" ornament has a rib optic. No two are alike! The ornament shape is enhanced with an elegant Magnolia flower design by Fenton designer Kim Barley. You'll want to display this beautiful collectible all year long! Click on image to order or click here for more Fenton products made especially for QVC from Fenton USA!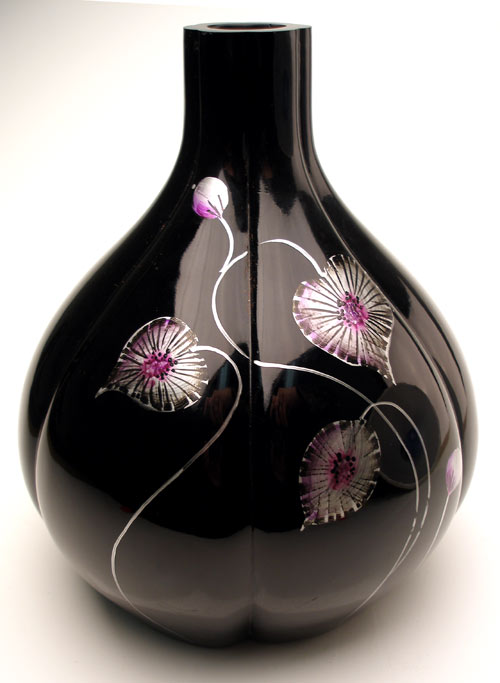 Fenton Art Glass Auction
scheduled on Sunday, November 8th
Join us on November 8th for a fabulous Fenton glass auction at our factory. There will be 225 lots will be up for bid, reflecting years of Fenton history with a variety of color and decorative treatments. Among the items included in the auction is this sample, a lustrous Black blown vase which is signed on the bottom "hand painted by K. Barley". For an auction preview, visit www.randyclarkauctions.com.
2009 Fall Fenton Family Signing Events
You still have a few chances left to meet a member of the Fenton family and have your Fenton purchases signed at the following Fenton dealer locations. Please contact the Fenton dealer for details. Click here for the event schedule and details on the event exclusive basket in our new Buttercup color, available only at participating Fenton dealers during these events. Don't forget to bring your special Fenton rarity to the Fenton Glass Treasure Hunt held at our participating dealers! Click here for details!
11/07 Collectables Unlimited, Danville, PA (877) 750-9394 (Lynn Fenton Erb)
11/07 The Treasure House, Paragould, AR (870) 239-4237 (Mike Fenton)
11/07 The Bronze Look, Princeton, WV (304) 425-5005 (Nancy Fenton)
11/08 Emerald City, Lewisville, TX (972) 219-0474 (Mike)
---