FENTON GIFT SHOP
SPECIAL OFFERINGS
Z5269HPA
4'' Blue Burmese
Dottie Snowlady
$39.50
Buy Now!
Our Blue Burmese Dottie the Snowlady is all decked out for winter with a glistening cape and cap. A Fenton Gift Shop Exclusive for 2008, a limited quantity is available. Handpainted and personally signed by the Fenton artist who completed each piece.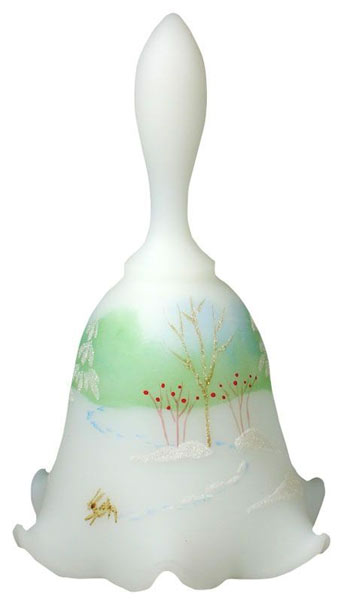 P1773HP
6'' Opal Satin Bell
Original Price $49.50,
Now $37.00, Buy Now!
Give a gift that is sure to be treasured. Designed by J. K. "Robin" Spindler, our handpainted Fenton bell is handcrafted in Opal Satin glass. Each bell features a bunny hopping through a snowy winter landscape within Robin Spindler's design. Crafted with pride by the skilled glass masters of Fenton.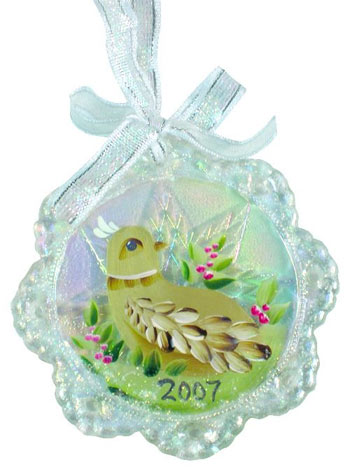 XS305HP
3-1/2'' French Opal Iridized Partridge Ornament
$23.00, Buy Now!

Iridized French Opalescent glass is the perfect canvas for this handpainted golden partridge accented with browns and tans. The bird sits among a spray of leaves and berries.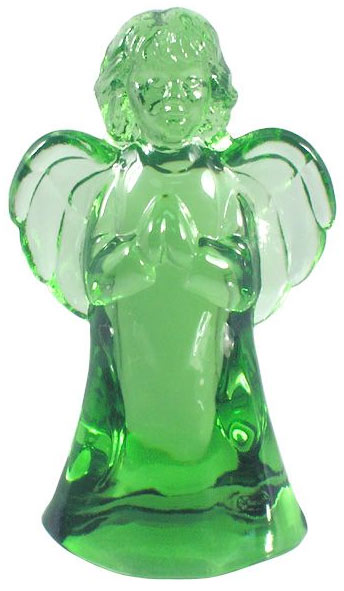 X5034ZL
5'' Fern Green Angel
Original price $26.50
Now $24.50, Buy Now!
This charming Fern Green child angel figure is the perfect gift for that special "angel" on your list.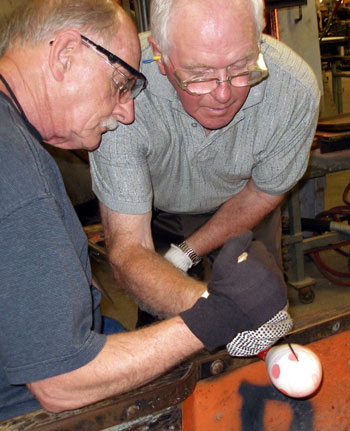 NOVEMBER 6, 2009

Create your own work
of art with a hands-on
Fenton experience!
Gain a new appreciation of the skill required to create a handcrafted work of art! You'll have wonderful memories to treasure as you learn under the guiding hands of our glass artisans Dave Fetty and Frank Workman for Glassmaking and Jena Blair for Beadmaking. Limited spots are still available for our Glassmaking and Beadmaking Schools. Click here for images from previous schools. For more info, click here. Questions? Call Jena Blair at 1-800-319-7793, x311 or email her at: jena@fentongiftshop.com
Fenton USA Presents. . . "Bethlehem" on Burmese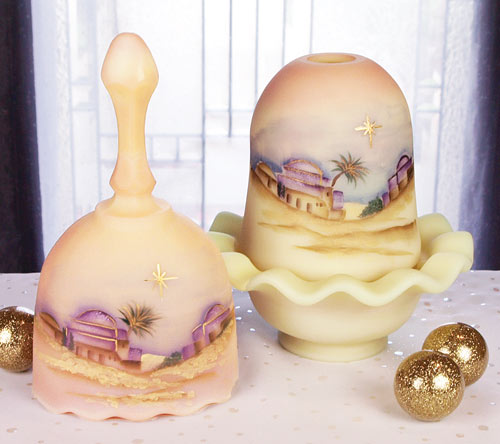 Our 2009 Christmas line includes this beautiful Bell and matching Fairy Light handcrafted in our classic Burmese. Pure gold in the formula creates the soft pink blush and provides the perfect canvas for designer
Kim Barley's handpainted scene of Bethlehem with its shining star. Each piece is signed by the artist who completed it. Also available is a Burmese Ornament handblown by West Virginia glass artisan Ron Hinkle. This ornament is handpainted with a "Silent Night" on Burmese design by Kim Barley which complements the Bell and the Fairy Light. To order online, click on each image or click here for more 2009 Christmas products from Fenton USA! To locate a Fenton dealer near you, click here.
Fenton to be featured on Discovery Channel's
"Dirty Jobs" TV Show on Tuesday, November 10!
In November 2008, Fenton employees participated in filming an episode of the Discovery Channel television show Dirty Jobs. Our episode will air on Tuesday, November 10th at 9 p.m. ET/PT (other time zones, check local listings). We will also have Fenton USA products made exclusively for mikeroweWORKS. Check back for details on how to order. Mark your calendar now. . . Tuesday, November 10 at 9 p.m. ET/PT on the Discovery Channel!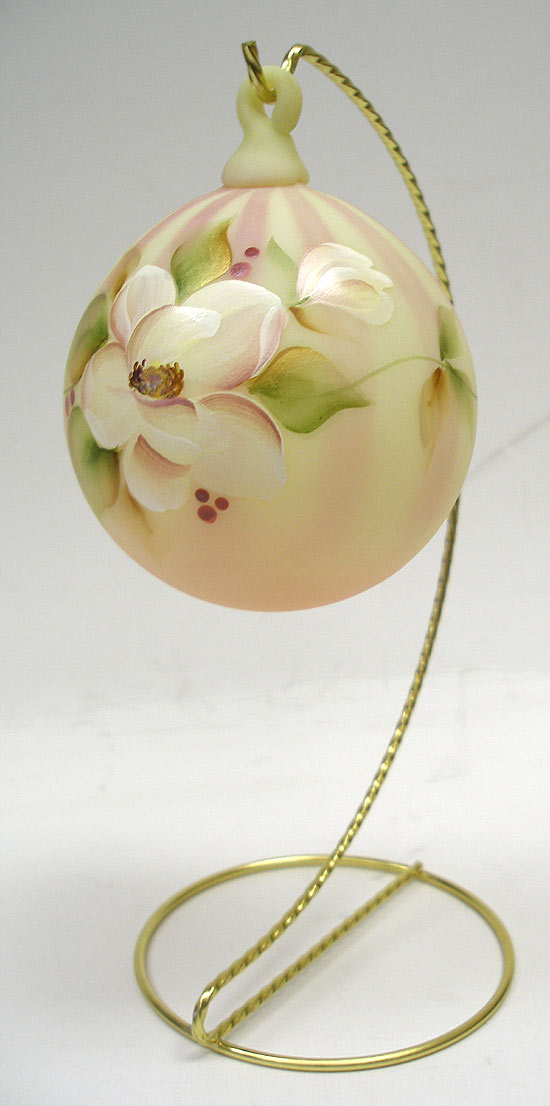 Fenton Limited Edition Ornament
Made Especially for QVC!
A must have for Burmese collectors. . .

This Limited Edition (750 pieces) blown Ornament includes a brass display stand. Handcrafted in our
classic Burmese glass for Fenton USA by West Virginia glass artisan Ron Hinkle, this 4-1/2" ornament has a rib optic. No two are alike!
The ornament shape is enhanced with an elegant Magnolia flower design by Fenton designer
Kim Barley. You'll want to display this beautiful collectible all year long! Click on image to order or click here for more Fenton products made especially for QVC from Fenton USA!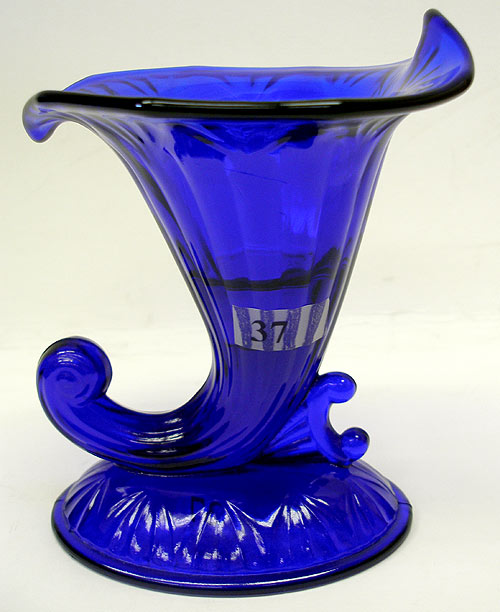 Fenton Art Glass Auction
scheduled on Sunday, November 8th
Join us on November 8th for a fabulous Fenton glass auction at our factory. There will be 225 lots will be
up for bid, reflecting years of Fenton history with a variety of color and decorative treatments. Among the items included in the auction is this circa 1930s Royal Blue No. 950 Cornucopia Candleholder. For an auction preview, visit www.randyclarkauctions.com.
2009 Fall Fenton Family Signing Events
Our 2009 Fall Fenton Family Signing Events are winding down! Meet a member
of the Fenton family and have your Fenton purchases signed at the following Fenton dealer locations. Please contact the Fenton dealer for details. Click here for the event schedule and details on the event exclusive basket in our new Buttercup color, available only at participating Fenton dealers during these events. Don't forget to bring your special Fenton rarity to the Fenton Glass Treasure Hunt held at our participating dealers! Click here for details!
11/07 Collectables Unlimited, Danville, PA (877) 750-9394 (Lynn Fenton Erb)
11/07 The Treasure House, Paragould, AR (870) 239-4237 (Mike Fenton)
11/07 The Bronze Look, Princeton, WV (304) 425-5005 (Nancy Fenton)
11/08 Emerald City, Lewisville, TX (972) 219-0474 (Mike)
Fenton eBay Auctions
Own a unique Fenton creation, including one-of-a-kind pieces, through our weekly eBay Auctions! Items featured this week...
---