FENTON GIFT SHOP
SPECIAL OFFERINGS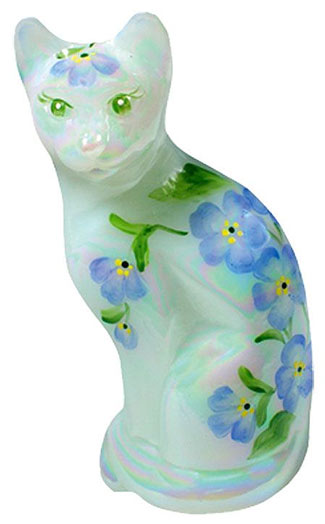 U5065HP1
5'' Opal Iridized Stylized Cat
with Blue Flowers
$25.00
Preferred Second. This handpainted Iridized Opal Cat has a blue floral design. Makes a wonderful gift for a collector of Fenton cat figurines!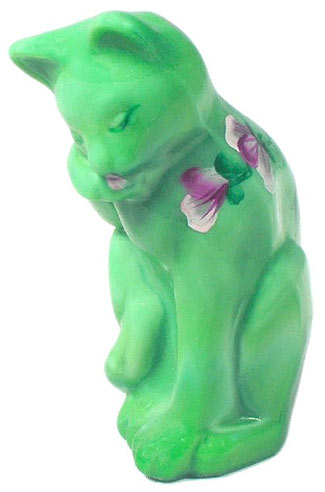 U5074HP1
4'' Chameleon Green Handpainted Grooming Cat, $25.00
Preferred Second. Our Chameleon Green Grooming Cat with handpainted purple floral design will make a wonderful addition to your Fenton Figurine collection.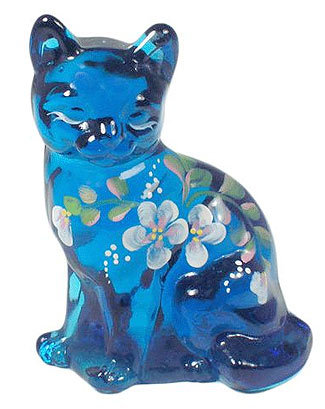 U5165HP3
3-3/4'' Indigo Blue Cat
with White Flowers
$25.00, Buy Now!

Preferred Second. You'll want to add this adorable handpainted Indigo Blue sitting cat with white handpainted flowers to your Fenton Cat collection.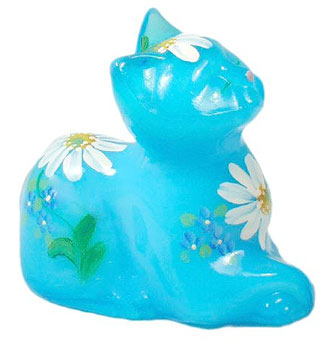 U5318HP1
3 1/4'' Sky Bue Perky Cat
with Daisies
$25.00, Buy Now!
Preferred Second. This Sky Blue Perky Cat has a handpainted daisy design sure to brighten someone's day!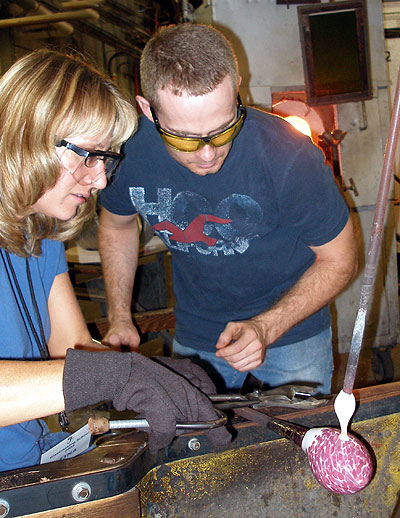 NOVEMBER 6, 2009
Create your own work
of art with a hands-on
Fenton experience!
Gain a new appreciation of the skill required to create a handcrafted work of art! You'll also have wonderful memories to treasure as you work under the guiding hands of Fenton artisans Dave Fetty and Frank Workman for Glassmaking and Jena Blair for Beadmaking. Limited spots are still available for our Glassmaking and Beadmaking Schools.
Click here to view images from previous schools. For more information, click here. Questions? Call Jena Blair at 1-800-319-7793, x311 or email: jena@fentongiftshop.com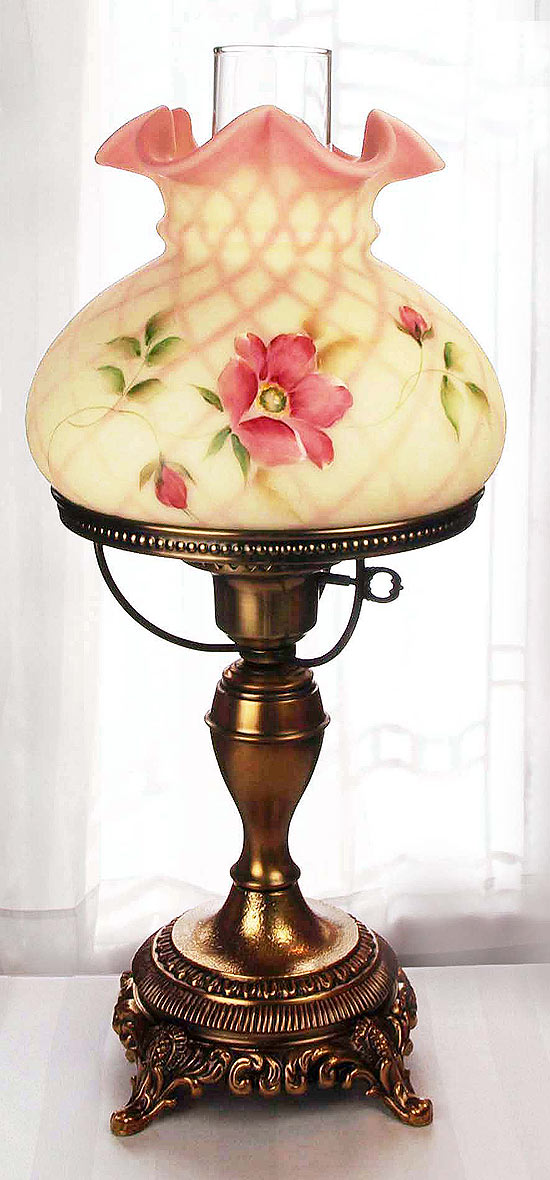 Fenton USA Presents. . .
2009 Fall Lamp Special
Our 2009 Fall Lamp Special includes this beautiful Diamond Optic Student Lamp handcrafted in our classic Burmese. Pure gold in the formula creates the soft pink blush which enhances the optic pattern. Kim Barley's lush floral design makes this lamp even more special. The lamp shade is handpainted and each one is signed by the artist who completed it.
Each handcrafted Fenton lamp is created in the fiery furnaces of our factory in Williamstown, West Virginia. Using traditional American glassmaking techniques and tools, our talented craftsmen transform sand, soda ash and lime into beautiful works of art for generations to enjoy. Each Fenton lamp reflects the history and craftsmanship inherent in its creation.
To order online, click on the image or click here for more 2009 Fall Lamp Specials from Fenton USA! To locate a Fenton dealer near you, click here.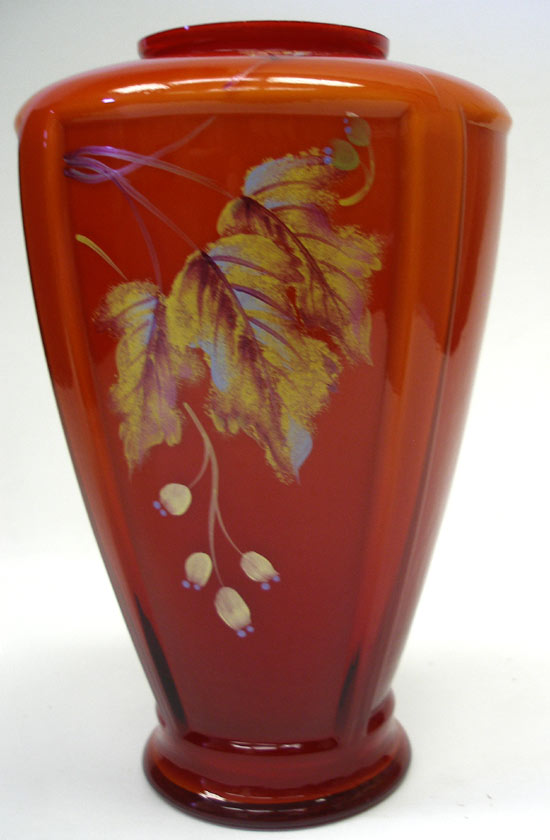 Fenton Family Signature
Persimmon Vase from QVC!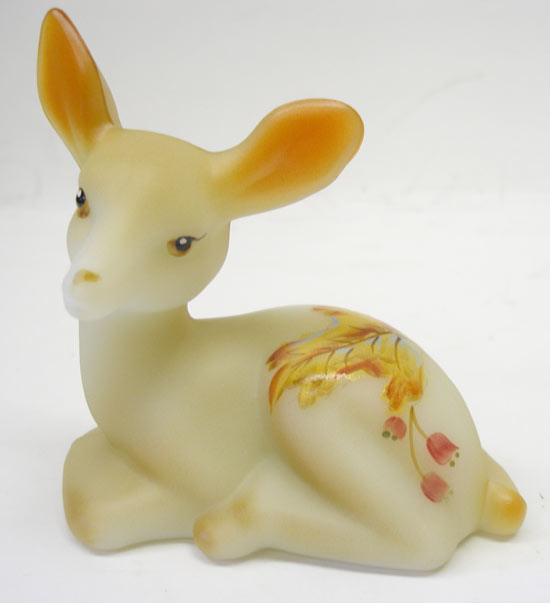 Create a beautiful tabletop display with these two pieces from Fenton USA! Persimmon glass, one of our new colors, provides the perfect canvas for Michelle Kibbe's design on this 7-1/2'' Paneled Vase. The handpainted motif features sponged autumn leaves with berry accents. Each vase is signed by the artist who handpainted it and is inscribed with signature of Nancy Fenton. Complement your display with our adorable 3-1/2'' Fawn figurine featuring Michelle Kibbe's handpainted design. The figurine is blushed with Persimmon to match the vase. Click on images to order or click here for more Fenton products made especially for QVC from Fenton USA!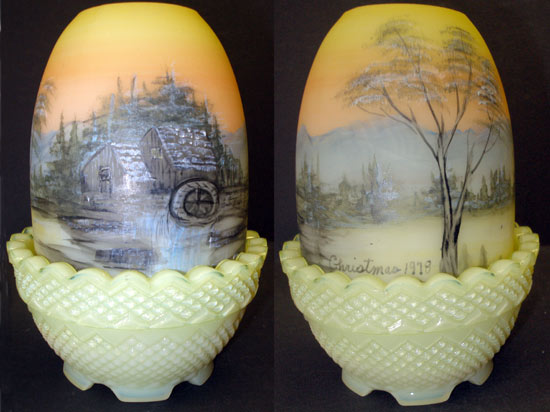 Fenton Art Glass Auction
scheduled for Sunday, November 8th
Join us on November 8th for a fabulous Fenton glass auction at our factory. 225 lots will be up for bid, reflecting years of Fenton history with a variety of color and decorative treatments. Among the items included in the auction is this Custard Satin Fairy Light with Burmese glass base. Handpainted and signed by Louise Piper. For a complete auction preview, visit www.randyclarkauctions.com.
2009 Fall Fenton Family Signing Events
Our 2009 Fall Fenton Family Signing Events are winding down! You can still meet a member of the Fenton family and have your Fenton purchases signed at the following Fenton dealer locations. Please contact each Fenton dealer for details. Click here for the event schedule and details on the event exclusive basket in our new Buttercup color, available only at participating Fenton dealers during these events. Don't forget to bring your special Fenton rarity to the Fenton Glass Treasure Hunt held at our participating dealers! Click here for details!
11/07 Collectables Unlimited, Danville, PA (877) 750-9394 (Lynn Fenton Erb)
11/07 The Treasure House, Paragould, AR (870) 239-4237 (Mike Fenton)
11/07 The Bronze Look, Princeton, WV (304) 425-5005 (Nancy Fenton)
11/08 Emerald City, Lewisville, TX (972) 219-0474 (Mike)
Fenton to be featured on "Dirty Jobs" on November 10!
Fenton Art Glass will be featured on the Discovery Channel's Dirty Jobs TV show on November 10th at 9 p.m. ET/PT. Click here to check the Discovery Channel's daily show schedule.
Fenton eBay Auctions
Own a unique Fenton creation, including one-of-a-kind pieces, through our weekly eBay Auctions! Items featured this week...
---