FENTON GIFT SHOP
SPECIAL OFFERINGS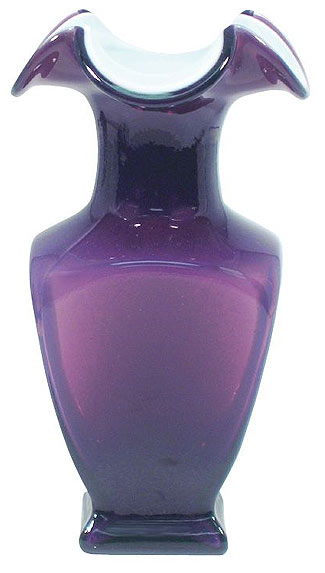 213200
7-1/2'' Aubergine Overlay Vase, $33.50, Buy Now!
Preferred Second.
This lovely 7-1/2" vase begins with a core of French Opalescent glass which is then covered in deep rich Aubergine glass to achieve a stunning overlay look.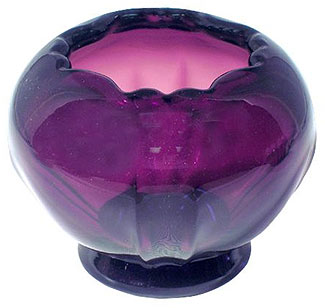 M2759KFHM
3-1/2'' Aubergine Rose Bowl
Original price $34.50
Now $22.25, Buy Now!
Deep rich Aubergine strikes an elegant note in this lovely rose bowl. This versatile piece has so many uses... insert a tea light to create the mood, fill with potpourri or candy.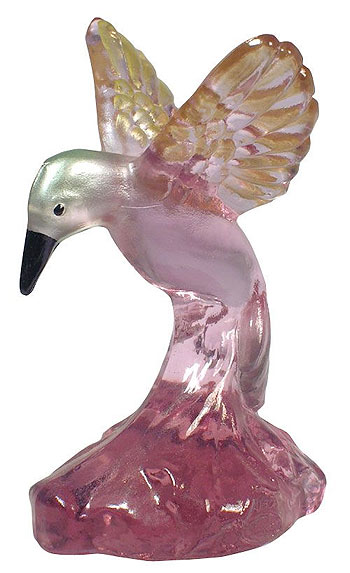 U5066HP2
4-1/4'' Handpainted
Madras Pink Hummingbird
$25.00, Buy Now!

Preferred Second. This Madras Pink Hummingbird with handpainted design
will make a wonderful addition to your Fenton Animal collection.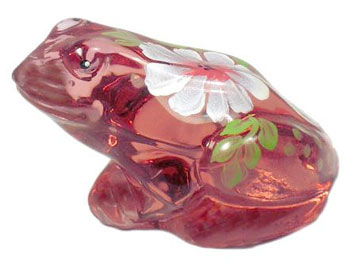 U5274HP2
2-1/2'' Handpainted
Madras Pink Frog
$25.00, Buy Now!
Preferred Second. This Madras Pink Frog with handpainted floral design
will make a wonderful gift for a collector of frog figurines or Fenton figurine collector.
Fenton eBay Auctions...
Own a unique Fenton creation, including one-of-a-kind pieces, through our weekly eBay Auctions!
Items featured this week...
Fenton USA Presents The Best of the Best . . .
Our 2009 Connoisseur Collection!
08525WZ
Beach Haven on Blue Burmese 8-1/4'' Vase
$195.00, Limited to 750 pieces

08510XC
Garden Shadows on Burmese 8-1/2'' Vase
$169.00, Limited to 750 pieces

The Fenton Art Glass Connoisseur Collection made its debut in 1983. We introduced
this collection as "a very special offering for those who love glass and desire the unique." We continue to strive for the unique by showcasing the skills of our glassworkers and the talents of our decoration designers and artists. Connoisseur Collection pieces are offered as numbered, limited editions.
Sure to become treasured family heirlooms, our 2009 Connoisseur Collection includes two special pieces handcrafted in our timeless Burmese colors. The 8-1/4'' Beach Haven on Blue Burmese Vase features a handpainted beach and seagull scene designed by Michelle Kibbe. The 8-1/2'' Garden Shadows on Burmese Vase has handpainted lush, vining flowers designed by Kim Barley. Burmese glass contains pure gold in the formula. This allows each piece to achieve the lovely rose shade during the reheating process. To order online, click on each image or click here for more Christmas 2009 items from Fenton USA!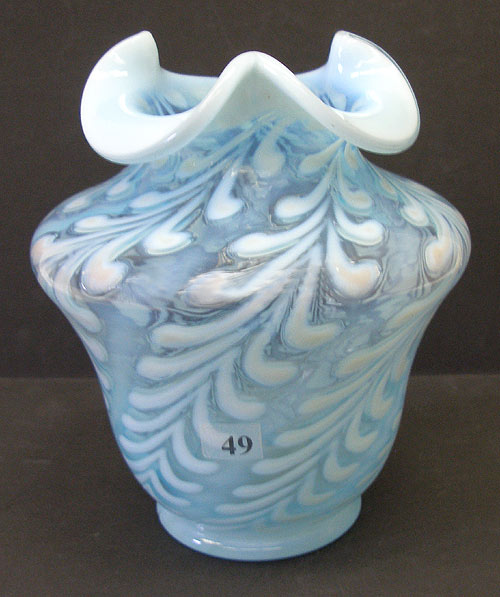 Fenton Art Glass Auction
scheduled for Sunday, November 8th
Join us on November 8th for a fabulous Fenton glass auction at our factory. Up for bid will be 225 lots, reflecting years of Fenton history with a variety of color and decorative treatments. Among the items to be included in the auction is this Blue Opalescent Swirled Feather vase with tri-crimp finish, made in the early 1950s. For an auction preview, visit www.randyclarkauctions.com.
2009 Fall Fenton Family Signing Events
Meet a member of the Fenton family at the following Fenton dealer locations during our 2009 Fall Fenton Family Signing Events. Please contact each Fenton dealer for details. Click here for the event schedule and details on the event exclusive basket in our new Buttercup color, available only at participating Fenton dealers during these events. Don't forget to bring your special Fenton rarity to the Fenton Glass Treasure Hunt held at our participating dealers! Click here for details!
10/23 Parke Place Jewelry, Foley, AL (251) 943-7225 (George Fenton)
10/23 Four Seasons Florist, Hurley, MS (228) 588-2528 (George)
10/24 Yesterday's Gifts, Lucedale, MS (601) 947-6388 (George)
10/24 Burnham Drugs, Moss Point, MS (228) 475-3411 (George)
10/25 Robert Moore & Company, Mobile, AL (251) 661-3608 (George)
11/07 Collectables Unlimited, Danville, PA (877) 750-9394 (Lynn Fenton Erb)
11/07 The Treasure House, Paragould, AR (870) 239-4237 (Mike Fenton)
11/07 The Bronze Look, Princeton, WV (304) 425-5005 (Nancy Fenton)
11/08 Emerald City, Lewisville, TX (972) 219-0474 (Mike)
Fenton to be featured on "Dirty Jobs" TV Show!
In November 2008, Fenton employees participated in filming an episode of the Discovery Channel television show Dirty Jobs. We've received word that our show will air on November 10th. We will also have Fenton USA products made exclusively for Mike Rowe's websites. Check back for details. Click here to check the Discovery Channel's full daily show schedule. New episodes air on Tuesdays at 9 p.m. ET/PT.
---