FENTON GIFT SHOP
SPECIAL OFFERINGS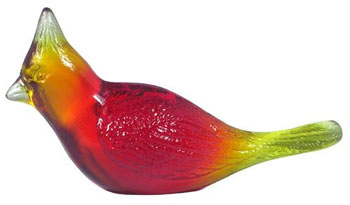 Z5245RU
5'' Ruby Amberina Cardinal
$26.25, Buy Now!
This 5" Ruby Amberina Cardinal figurine makes a lovely gift to give or to receive! Ruby is a glass very sensitive to heat which results in the wonderful Amberina effect. Color may vary.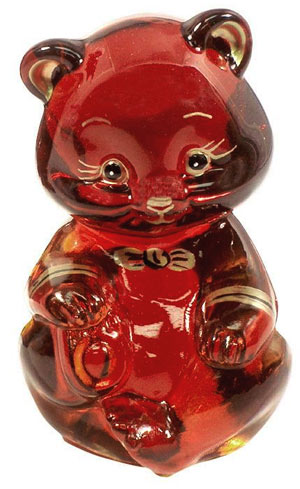 Z5151HPRU
3-1/2'' Handpainted
Ruby Amberina Bear
$38.00, Buy Now!
This adorable 3-1/2" Ruby Amberina Bear is decked out with a gold bowtie and cuffs. This bear cub will make a perfect stocking stuffer or a great addition to your bear collection.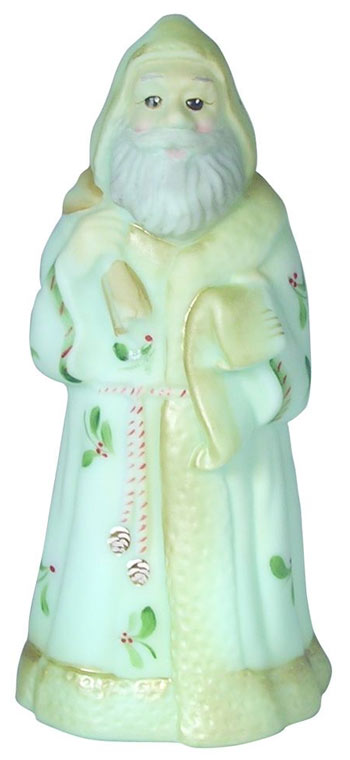 C5299ZJ
8'' Sea Mist Green
Handpainted Santa
$70.00, Buy Now!

Our ever popular Santa mould in Sea Mist Green has been handpainted with a traditional decoration. This piece is a perfect addition to any Christmas collection!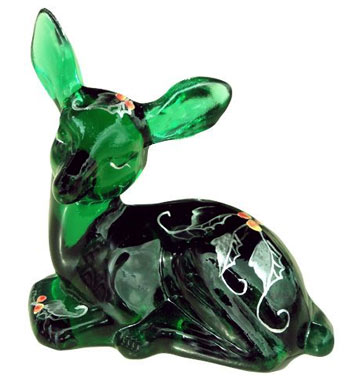 Z5160HPEA
3-1/2'' Emerald Green Fawn
$35.25, Buy Now!
Give a gift that is sure to be treasured. This Fawn is handcrafted in Emerald Green glass and handpainted with a holly design. A Fenton Gift Shop exclusive.
Fenton eBay Auctions
Own a unique Fenton creation, including one-of-a-kind pieces, through our weekly eBay Auctions!
Items featured this week...
Fenton USA Presents. . .Holiday Cardinal Limited Editions!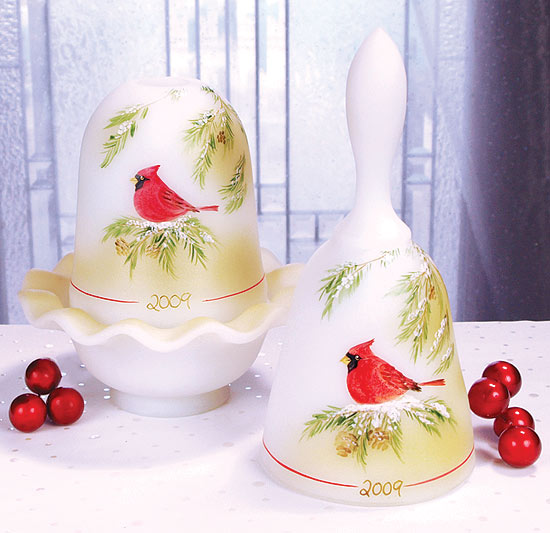 Our Fenton USA Limited Editions includes these handpainted pieces in Opal Glass for Christmas 2009. Michelle Kibbe's vibrant red Cardinal is perched on a snow-laden pine branch. Each handpainted piece is dated 2009 and signed
by the artist who completes it.
For a bit of bird trivia, this beautiful red bird is so well loved that it is the official bird of seven states! Only the male sports the bright
red plumage. However, unlike most songbirds, both the male and the female sing! We celebrate their cheerful winter presence by including this design on two popular Fenton shapes: the fairy light and the bell.
Fairy Lights, one of the most collectible forms of glass, have been popular since
the Victorian era. Our Holiday Cardinal Fairy Light is sure to become a favorite family holiday keepsake! Fenton bells... pleasing to the ear, appealing to the eye, delightful to decorate with and to enjoy! You'll want to add this to your bell collection or give as a gift to someone special! Also available in our Holiday Cardinal grouping is a 3-1/2'' Ornament (click here). To order online, click on each image or click here for more Christmas 2009 items from Fenton USA!
Fenton to be featured on "Dirty Jobs" TV Show!
In November 2008, Fenton employees participated in filming an episode of the Discovery Channel television show Dirty Jobs. We've received word that our show will air on November 10th. We will also have Fenton USA products made exclusively for Mike Rowe's websites. Check back for details. Click here to check the Discovery Channel's full daily show schedule. New episodes air on Tuesdays
at 9 p.m. ET/PT.
Fenton Art Glass Auction set for Sunday, Nov. 8th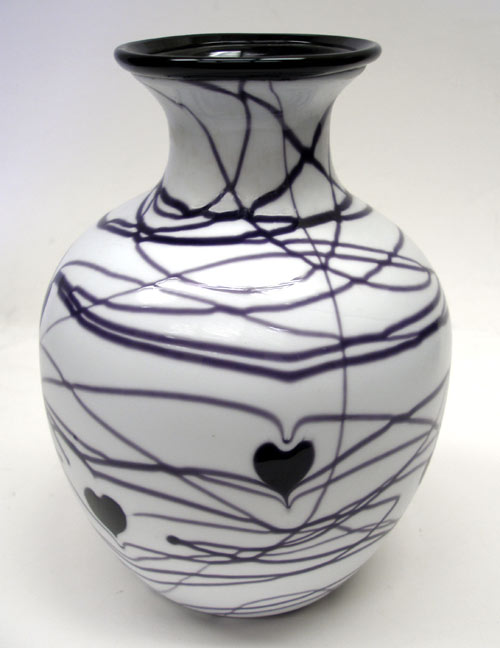 Make your travel plans to join us on November 8th for a fabulous Fenton glass auction at our factory. Up for bid will be 225 lots, reflecting years of Fenton history with a variety of color and decorative treatments. Among the items to be included in the auction is this magnificent Dave Fetty Hanging Hearts vase.
For an auction preview visit www.randyclarkauctions.com.

2009 Fall Fenton Family Signing Events
Meet a member of the Fenton family at the following Fenton dealer locations during our 2009 Fall Fenton Family Signing Events. Please contact each Fenton dealer for details. Click here for the event schedule and details on the event exclusive basket in our new Buttercup color, available only at participating Fenton dealers during these events. Don't forget to bring your special Fenton rarity to the Fenton Glass Treasure Hunt held at our participating dealers! Click here for details!
10/23 Parke Place Jewelry, Foley, AL (251) 943-7225 (George Fenton)
10/23 Four Seasons Florist, Hurley, MS (228) 588-2528 (George)
10/24 Yesterday's Gifts, Lucedale, MS (601) 947-6388 (George)
10/24 Burnham Drugs, Moss Point, MS (228) 475-3411 (George)
10/25 Robert Moore & Company, Mobile, AL (251) 661-3608 (George)
---
Fenton Glassmaking School Friday, Nov. 6, 6:30-10:00 a.m. Limited tickets! Click here to reserve your spot!
Fenton Lampwork Beadmaking Workshop Friday, Nov. 6, Noon-2:00 p.m. Limited tickets! Click here to reserve your spot!
Questions? jena@fentongiftshop.com