FENTON GIFT SHOP
SPECIAL OFFERINGS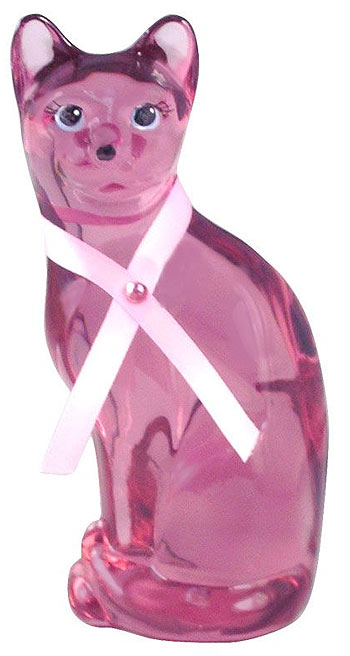 Z5065HPPJ
5'' Madras Pink Stylized Cat
$41.25, Buy Now!
A cure for breast cancer ...MEOW!! Our stylized handpainted Madras Pink Cat is a great way to show your support and the purr-fect gift for that special survivor in your life! Fenton, a proud Relay for Life sponsor, will donate a portion of the proceeds of this Gift Shop Exclusive to our local event.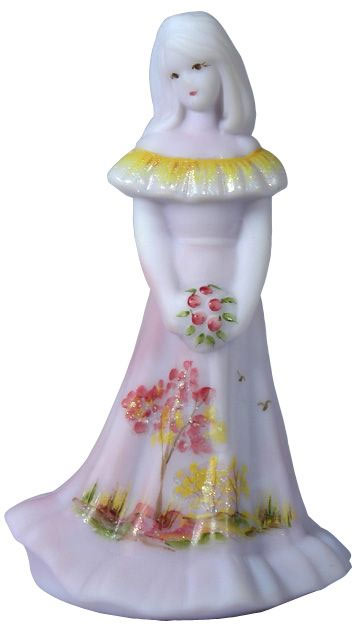 GS503HP
7'' Blue Burmese
Bridesmaid Doll
$78.00, Buy Now!
Don't miss adding this
Gift Shop Exclusive Blue Burmese Bridesmaid Doll to your collection, which was released for Fall and is the third in a series of four. Pastel shades of rose and powder blue blend beautifully to form this highly collectible glass color. Handpainted and signed by the artist, this doll is sure to be sought after!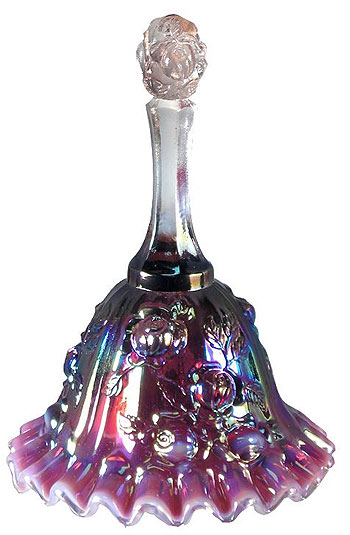 Z9262IP
6-1/4'' Plum Opalescent Iridized Rose Patterned Bell
$37.25, Buy Now!

Here's a real bell ringer piece in iridized Plum Opalescent glass! Our
Rose pattern 6-1/4" bell is beautifully crimped and iridized with a spray of metallic salts to create a most vivid effect.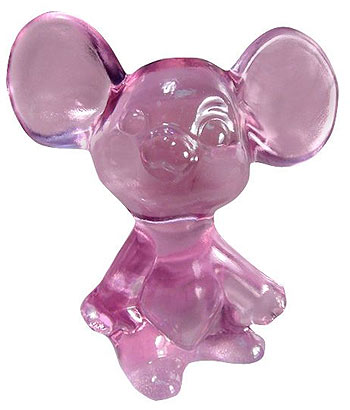 Z5148PJ
3'' Madras Pink Mouse
$20.75, Buy Now!
Produced as a Gift Shop Exclusive, this adorable Madras Pink Mouse is a perfect gift for the young and young at heart.

Fenton eBay Auctions
Own a unique Fenton creation, including
one-of-a-kind pieces,
through our weekly
eBay Auctions! Items featured this week
Fenton USA Presents. . . 2009 Holiday Chums!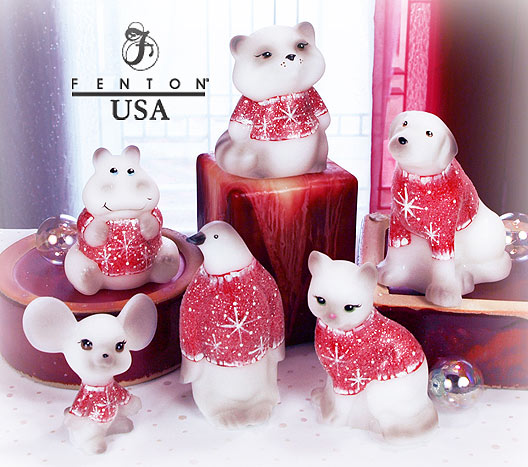 Add a touch of whimsy to your holiday decor with our delightful Holiday Chums
animal figurines in Opal Satin. These handpainted figurines return for Christmas 2009 dressed in festive red sweaters designed by Kim Barley. The sweaters are adorned
with glittery snowflakes for some extra sparkle! A must have for figurine collectors!
And...our Holiday Chums make perfect gifts for new collectors! To locate a Fenton dealer near you, click here! Click on each image to order online or click here for more Christmas 2009 from Fenton USA!

Halloween Discount Offer Ends Tomorrow!
Our Halloween
Treat Yourself Offer ends tomorrow, October 16!

If you haven't added Fenton pieces to your Halloween decor, today's the day! Receive a 15% discount on your total Halloween order of $100 or more. This offer is valid through October 16, 2009 for online Halloween orders only. To take advantage of this special offer, you must
click here to view our line of our Halloween-themed products and to place your order from this category. To receive a 15% discount on your Halloween order, type the word boo as the coupon code at online check out. Shown at left is our 4-1/2'' Halloween decorated Spiderweb shoe. Each piece is meticulously handpainted and personally signed by the artist who completed it. Click on the image for details.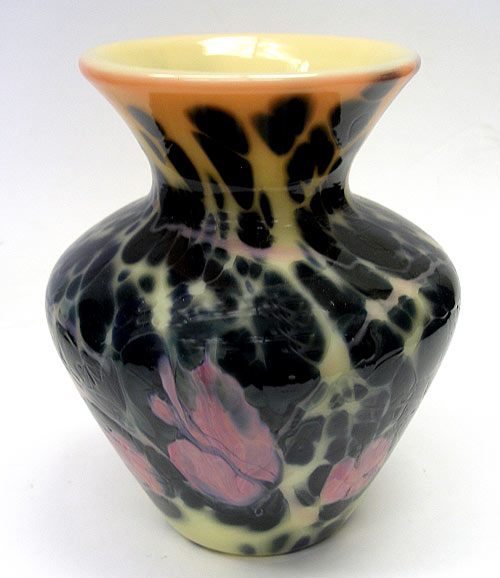 Fenton Art Glass Auction scheduled
for Sunday, November 8th
Join us November 8th for a fabulous Fenton glass auction at our factory. 225 lots will be up for bid, reflecting years of Fenton history with a variety of color and decorative treatments. Among the items to be included in the auction is this Frank Workman vase. Visit www.randyclarkauctions.com for a complete auction preview.
Fenton to be featured on "Dirty Jobs" TV Show!
In November 2008, Fenton employees participated in filming an episode of the
Discovery Channel television show Dirty Jobs. We've received word that our show will air on November 10th. We will also have Fenton USA products made exclusively for Mike Rowe's websites. Check back for details. Click here to check the Discovery Channel's full daily show schedule. New episodes air on Tuesdays at 9 p.m. ET/PT.
2009 Fall Fenton Family Signing Events
Meet a member of the Fenton family at the following Fenton dealer locations during our 2009 Fall Fenton Family Signing Events. Please contact each Fenton dealer for details. Click here for the event schedule and details on the event exclusive basket in our new Buttercup color, available only at participating Fenton dealers during these events. Don't forget to bring your special Fenton rarity to the Fenton Glass Treasure Hunt held at our participating dealers! Click here for details!
10/15 Lakeview Card & Gift Shop, 269-962-0650, Battle Creek, MI (Shelley Fenton Ash)
10/16 Don's Hallmark, 337-239-4249, Leesville, LA (Mike Fenton)
10/17 Christie's Collectibles, 903-845-2811, Gladewater, TX (Mike)
10/17 H & H Appliance, 318-776-9381, Lecompte, LA (Mike)
10/18 Curious Cargo, 337-462-2751, DeRidder, LA (Mike)
10/23 Parke Place Jewelry, Foley, AL (251) 943-7225 (George Fenton)
10/23 Four Seasons Florist, Hurley, MS (228) 588-2528 (George)
10/24 Yesterday's Gifts, Lucedale, MS (601) 947-6388 (George)
10/24 Burnham Drugs, Moss Point, MS (228) 475-3411 (George)
10/25 Robert Moore & Company, Mobile, AL (251) 661-3608 (George)
---
Make your very own piece of Fenton Art Glass during the Fenton Glassmaking School on Friday November 6, 6:30 a.m. to 10:00 a.m. Limited tickets! Click here to reserve your spot! Try your hand at the ancient art of lampwork during the Fenton Lampwork Beadmaking Workshop! Friday November 6, Noon to 2:00 p.m. Limited tickets! Click here to reserve your spot! Questions? jena@fentongiftshop.com