FENTON GIFT SHOP
SPECIAL OFFERINGS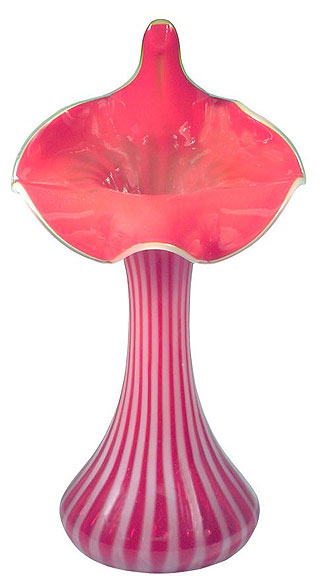 217948
11'' Ruby Optic
Jack-in- the-Pulpit Vase
$45.00, Buy Now!
Preferred Second. This Ruby Rib Optic Jack-in-the-Pulpit Vase will be the perfect accent for your home.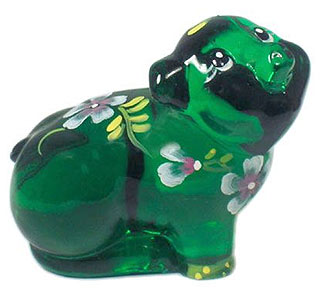 U5220HP1
2-1/2'' Handpainted
Emerald Green Pig
$25.00, Buy Now!
Preferred Second. This Emerald Green Pig with handpainted design will make a wonderful addition to your Fenton Animal collection.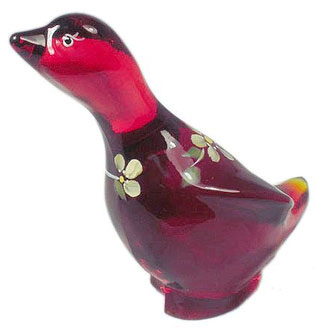 U5358HP1
3-3/4'' Handpainted
Ruby Goose
$25.00, Buy Now!

Preferred Second. You'll want to add this Ruby Goose with handpainted floral design to your Fenton Figurine collection.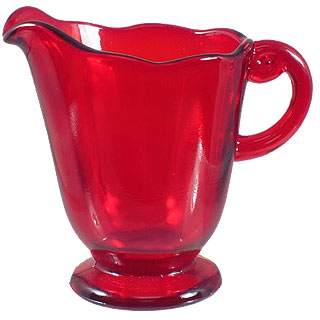 X8164RU
4-1/2'' Ruby Red Pitcher
Original price $37.00,
Now $30.00, Buy Now!
This rich Ruby Red cream pitcher will be a beautiful complement to your holiday table.
Fenton eBay Auctions...
Own a unique Fenton creation, including one-of-a-kind pieces, through our weekly eBay Auctions!
Items featured this week...
Since its introduction in 2004, Robin Spindler's Canaan Valley design on Cobalt glass continues to captivate Fenton collectors everywhere. ''It's perfect for holiday decorating,'' a collector told us, ''but it also looks great wherever and whenever
you want a strong accent piece in a room.''
This is the perfect time to add to your Canaan Valley on Cobalt collection!
For the 2009 season, we offer six new items with updated designs by Michelle Kibbe. Shown are our 4-1/2'' Candy Box and 8'' Basket. Other items in this grouping are an Ornament, Deer and Raccoon figurines and a 6-1/2'' Vase. These items are also available unadorned. Canaan Valley on Cobalt is now shipping to Fenton dealers around the country. To locate a Fenton dealer near you, click here! Click on each image to order online or click here for more Christmas items from Fenton!
There still time to treat yourself this Halloween!
Treat yourself this Halloween with Fenton! Shown is Bull's-Eye, our Halloween Pirate Pup figurine. Each piece is meticulously handpainted and personally signed by the artist who completed it. Click on the image for details. For a limited time, we're treating YOU to a special online offer on our Halloween items. Receive a 15% discount on your total Halloween order of $100 or more. This offer is valid through October 16, 2009
for online Halloween orders only. To take advantage of this special offer, you must
click here to view the complete line of our Halloween-themed products and to place your order from this category. To receive the 15% discount on your Halloween order, type the word boo as the coupon code at online check out.
---
2009 Fall Fenton Family Signing Events
In addition to Scott Fenton and Mike Fenton appearing at Fenton dealers around the country in October, company president George Fenton will be appearing at the following Fenton dealer locations on October 23-25, 2009. Please contact each Fenton dealer for details. Click on George's photo for his bio or click here for the full schedule.
10/23/2009 Parke Place Jewelry, Foley, AL (251) 943-7225
10/23/2009 Four Seasons Florist, Hurley, MS (228) 588-2528
10/24/2009 Yesterday's Gifts, Lucedale, MS (601) 947-6388
10/24/2009 Burnham Drugs, Moss Point, MS (228) 475-3411
10/25/2009 Robert Moore & Company, Mobile, AL (251) 661-3608

In addition to these events, Kelsey Murphy and Robert Bomkamp are making special appearances in New York on October 10. Click here for the complete schedule of Fall 2009 Fenton Family Signing Events and details on the Fenton Family Signing Event Exclusive basket in our new Buttercup color, available only at participating Fenton dealers during these events. Also, don't forget to bring your special Fenton rarity to the Fenton Glass Treasure Hunt at participating dealers! Click here for details!
---
GS90021
2-1/2'' Pig Glass Ornament
Original Price $12.50
Now $9.25

Click each image for details
on this week's Gift Shop Special Offer

GS90022
3-1/2'' Bluebird Glass Ornament
Original Price $12.50
Now $9.25