FENTON GIFT SHOP
SPECIAL OFFERINGS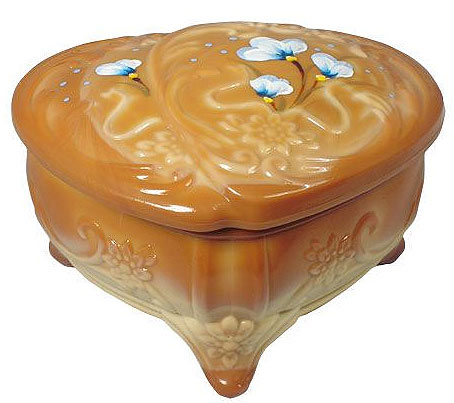 C4106Q0
5'' Chocolate Double Heart Treasure Box, $58.50, Buy Now!
Traditional and elegant, this 5" Chocolate double heart treasure box is handpainted with a blue floral design in addition to being signed by
a Fenton artist.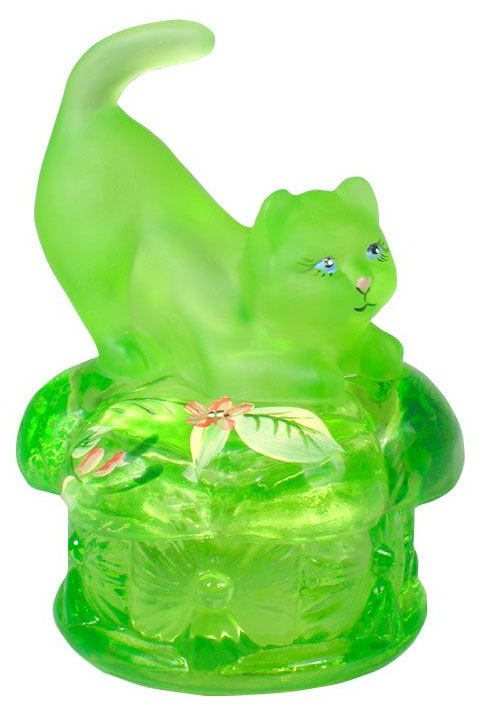 C5361UG
4-1/2'' Key Lime Cat Ringholder Treasure Box, $49.50, Buy Now!

Our adorable 4-1/2" Cat Ringholder treasure box in refreshing Key Lime is perfect for storing keepsakes.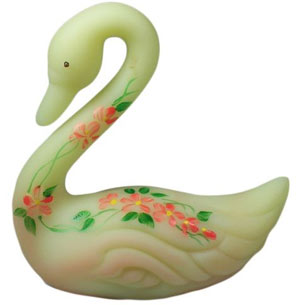 U5161HP1
4'' Handpainted Burmese Swan
$30.00, Buy Now!

Preferred Second. This Burmese Swan with a handpainted floral design
will make a wonderful addition to your Fenton figurine collection.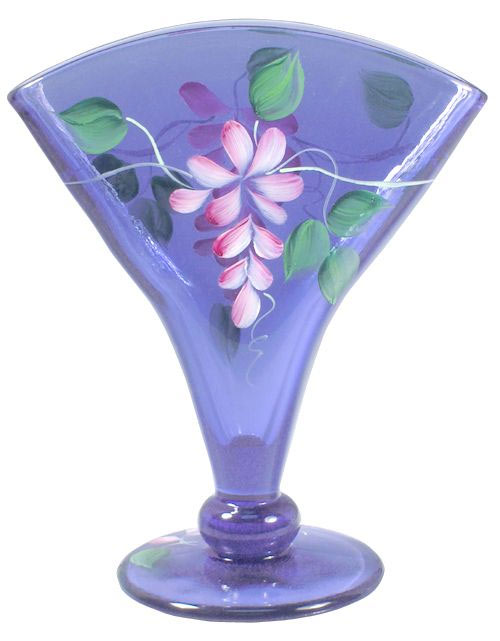 U9550HP1
7-1/2'' Handpainted
Hyacinth Fan Vase
$43.00, Buy Now!
Preferred Second. Our Hyacinth Fan Vase has a lovely handpainted pink
and green floral design.
Fenton eBay Auctions...
Own a unique Fenton creation, including one-of-a-kind pieces, through our weekly eBay Auctions!
Items featured this week...
Fenton USA Presents. . . Ruby Opalescent Snowflake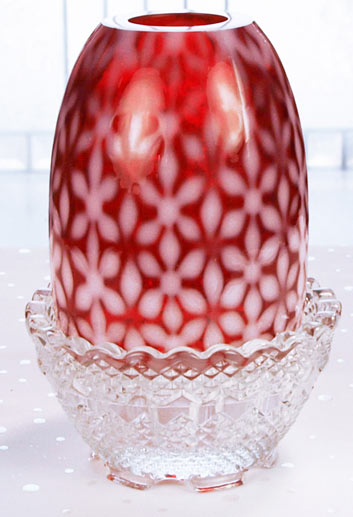 Fairy Lights, one of the most collectible forms of glass, have been popular since the Victorian era. Fenton first made fairy lights in the early 1950s, and collectors eagerly await our new ones! For Christmas 2009, we present our Ruby Opalescent Snowflake Fairy Light. The snowflake design is achieved through the use of a spot mould, and great skill is needed to get the design just right.
Ruby Opalescent is made with special ingredients in the glass batch. During the production process, the molten glass must be briefly chilled and then reheated in order to create the opalescent effect. Truly a triumph of the glassmaker's skill!
To locate a Fenton dealer, click here! Click on the image to order or click here for more Christmas 2009 Fenton USA products!
Treat Yourself this Halloween!
Treat yourself this Halloween with Fenton! Shown is our Night Owls Ghost figurine.
Each piece is meticulously handpainted and personally signed by the artist who completed it. Click on the image for details. For a limited time, we're treating YOU to a special online offer on our Halloween items. Receive a 15% discount on your total Halloween order of $100 or more. This offer is valid September 21 through October 16 for online orders only. To take advantage of this special offer, you must click here to view the complete line of our Halloween-themed products and to place your order. To receive the 15% discount, type the word boo as the coupon code when you check out online.

2009 Fall Fenton Family Signing Events
In addition to Scott Fenton and Mike Fenton appearing at Fenton dealers around the country in October, company president George Fenton will be appearing at the following Fenton dealer locations on October 23-25, 2009. Please contact each Fenton dealer for details. Click on George's photo for his bio or click here for the full schedule.
10/23/2009 Parke Place Jewelry, Foley, AL (251) 943-7225
10/23/2009 Four Seasons Florist, Hurley, MS (228) 588-2528
10/24/2009 Yesterday's Gifts, Lucedale, MS (601) 947-6388
10/24/2009 Burnham Drugs, Moss Point, MS (228) 475-3411
10/25/2009 Robert Moore & Company, Mobile, AL (251) 661-3608

---
In addition to these events, Kelsey Murphy and Robert Bomkamp are making special appearances in New York on October 10. Click here for the complete schedule of Fall 2009 Fenton Family Signing Events and details on the Fenton Family Signing Event Exclusive basket in our new Buttercup color, available only at participating Fenton dealers during these events. Also, don't forget to bring your special Fenton rarity to the Fenton Glass Treasure Hunt at participating dealers! Click here for details!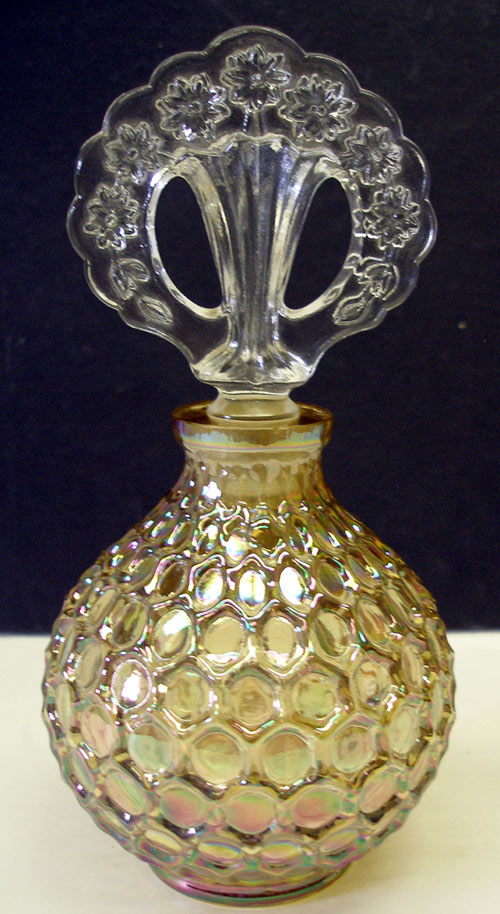 Fenton Art Glass on QVC
on Tuesday, October 6!
Be sure to watch our QVC shows tomorrow, October 6!
Shelley Fenton Ash is the guest host for the 3-4 a.m. show.
George Fenton will guest host for the 9-10 a.m. and 6-7 p.m. shows (Eastern time). Click here for a preview of the Fenton USA items to be offered on the shows.

Shown at left is our Amber Iridized Honeycomb Perfume Bottle
A new Fenton mould, it will be offered for the first time on QVC!
To view Fenton items now available from QVC, click here.
M2926K6
4-1/2" Aubergine Iridized Stretch Comport
Original Price $34.00, Now $25.50

Click each image for details
on this week's Gift Shop Special Offer

K4359HP
6-1/4" Handpainted Favrene Vase
Original Price $99.50,
Now $74.50