FENTON GIFT SHOP
SPECIAL OFFERINGS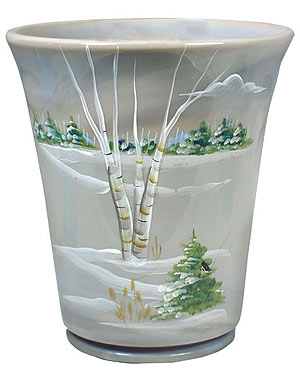 X4861HPG5
6-1/4'' Gray Flip Vase
with Winter Birch Scene
Original Price $89.50, Now $67.00
Buy Now!
This Gray Flip Vase has a wonderful winter birch scene on both the front and back of the vase. Handcrafted with pride by the artisans of Fenton Art Glass.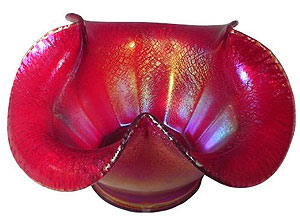 220015
3-1/2" Ruby Stretch Bowl
$59.50, Buy Now!

Limited quantities have been produced of this iridized Ruby Stretch Bowl that is approximately
3-1/2'' high by 6'' diameter. This Bowl will make a beautiful addition to your stretch glass collection.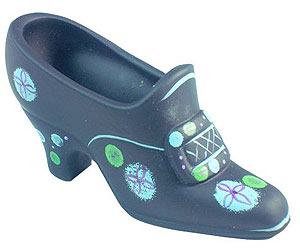 I7737HPE
4-1/2" Black Satin Handpainted Slipper, $29.50, Buy Now!
This 4-1/2" Black Satin Slipper is handpainted with a whimsical blue and green design. A charming gift for someone special or yourself!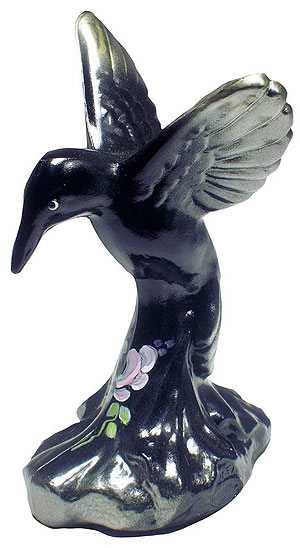 U5066HP1
4-1/4'' Handpainted Black Hummingbird, $25.00, Buy Now!

Preferred Second - This Black Hummingbird with a handpainted pink rose design will make a wonderful addition to your Fenton figurine collection.
Fenton eBay Auctions...
Own a unique Fenton creation, including one-of-a-kind pieces, through our weekly eBay Auctions! Items featured this week...

WELCOME FALL!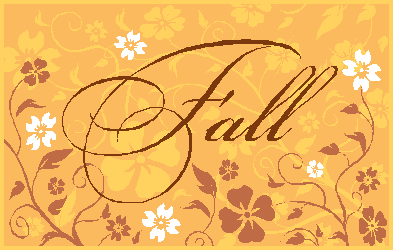 Fenton USA Presents. . . Glistening Woods 2009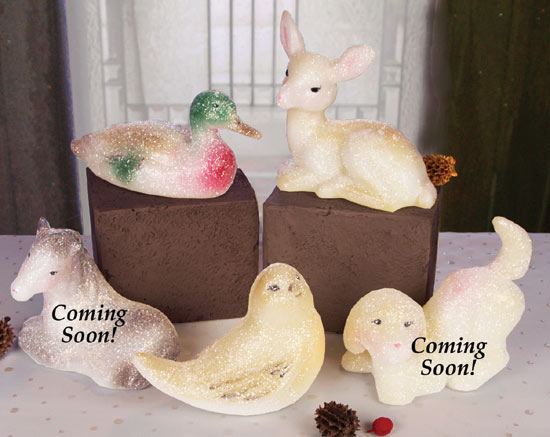 Our popular Glistening Woods series continues for 2009 with more adorable figurines in Opal Satin. Michelle Kibbe's softly shaded designs cloaked in sparkling snow will tug at your heart. We've added the following figurines to this collection for 2009: Mallard, Horse, Puppy, and a Songbird. This group is now shipping to Fenton dealers across the country. Check with your local Fenton dealer to see what's in stock and check our website for updates! To locate a Fenton dealer near you, click here! Click on each image for details or click here for more figurines from Fenton USA!

A Special Halloween Treat for YOU from Fenton!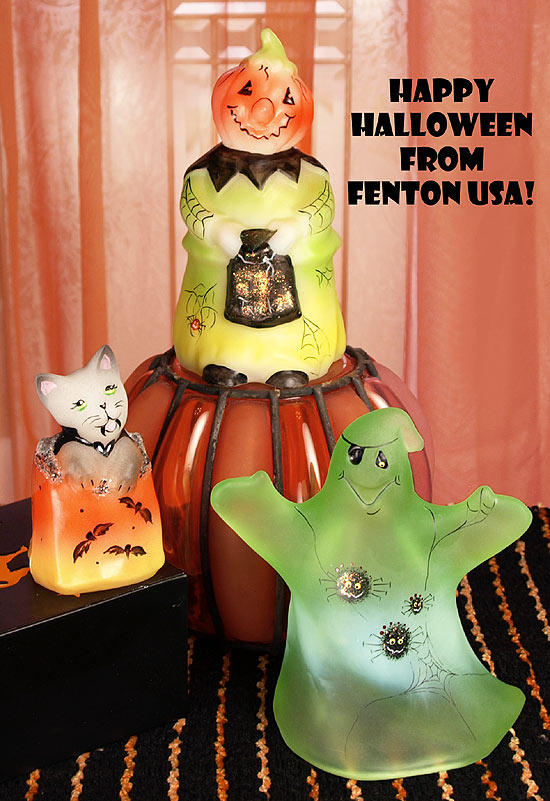 Enjoy Halloween with our whimsical group of Fenton figurines. Each piece is meticulously handpainted and personally signed by the artist who completed it. Shown at right are our 2009 figurines: Count Batula the Cat in the Bag, Webs the Pumpkinhead figurine, and Patch the Ghost.

For a limited time, we're treating YOU to a special online offer on our Halloween products. Receive a 15% discount on your total Halloween order of $100 or more. This offer is valid September 21 through October 16 for online orders only. To take advantage of this special offer, you must click here to view the complete line of our Halloween-themed products and to place your order. To receive the 15% discount, type in the word boo as the coupon code when you check out online.
2009 Fall Fenton Family Signing Events Underway!
Michael "Mike" Fenton will be appearing at the following Pennsylvania Fenton dealer locations on October 10-11, 2009. Please contact each Fenton dealer for details. Click on Mike's photo for his bio or click here for the full schedule.

The Green Cow, 717-597-4011, Greencastle, PA
Kathie's Christmas, 717-975-0505, Camp Hill, PA
TLC Antiques, 610-246-5241, Denver, PA

---

Scott Fenton will be appearing at the following Fenton dealer locations in Pennsylvania and Michigan on October 13 and 15, 2009. Please contact each Fenton dealer for details. Click on Scott's photo for his bio or click here for the full schedule.

Wood & More, 717-898-7811 or 717-244-4887
%Root's Country Market, Manheim, PA
J & B Collectibles, 717-738-1980, Ephrata, PA
Lakeview Card & Gift Shop, 269-962-0650
Battle Creek, MI
In addition to these events, Kelsey Murphy and Robert Bomkamp are making special appearances in Syracuse and in New Hartford, New York. Click here for the complete schedule of Fall 2009 Fenton Family Signing Events and details on the Fenton Family Signing Event Exclusive basket in our new Buttercup color, available only at participating Fenton dealers during these events. Also, don't forget to bring your special Fenton rarity to the Fenton Glass Treasure Hunt at participating dealers! Click here for details!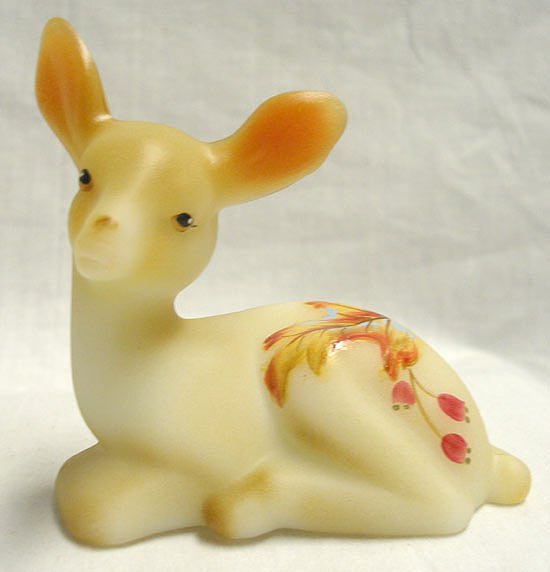 Fenton Art Glass on QVC October 6!
Our next QVC shows air on Tuesday, October 6. Shelley Fenton Ash is guest host for the 3-4 a.m. show. George Fenton will guest host the 9-10 a.m. and 6-7 p.m. shows (Eastern time). QVC is planning a special Meet and Greet with George between shows. Details will follow in upcoming newsletters. Shown at right is our Fawn figurine with a warm handpainted autumn leaves and berries design which will be offered during one of the shows. Watch for a newsletter preview of items! To view Fenton Art Glass items currently available from QVC, click here.
P4202HPMX
6-1/2'' Opal Satin Heart Box
Original Price $95.00
Now $71.25

Click each image for details
on this week's Gift Shop Special Offer

P1773HP
6" Opal Satin Bell
Original Price $49.50
Now $37.00