FENTON GIFT SHOP
SPECIAL OFFERINGS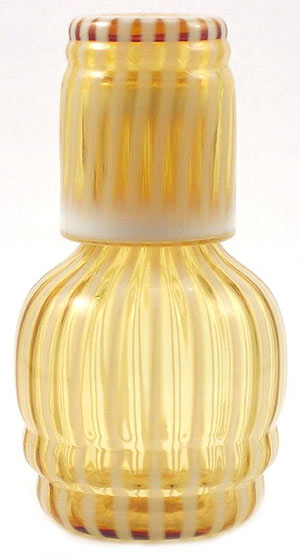 C3200AO
8'' Autumn Gold Opalescent
Tumble Up, $84.00, Buy Now!
Lovely and refreshing by your bedside! Our 8" Tumble Up in Autumn Gold Opalescent features a straight rib optic pattern and is inscribed with the signature of Shelley Fenton.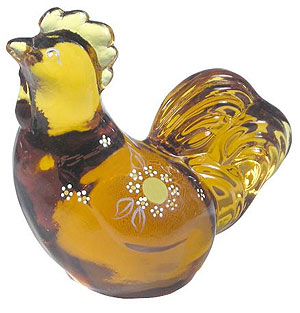 A5084HPAM
3-1/2'' Decorated Autumn Gold Rooster $23.75, Buy Now!

Our 3-1/2" Autumn Gold Rooster sports a fresh ring
of petite flowers. . . a playful figurine that would look great in any collection.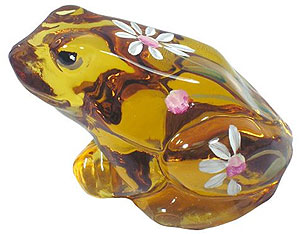 A5274HP2
2-1/2'' Autumn Gold
Handpainted Frog
$23.75, Buy Now!
Hop into the fall season with our toad-ally awesome frog. Handpainted with a pretty daisy design, this Gift Shop Exclusive will be a great addition to your collection.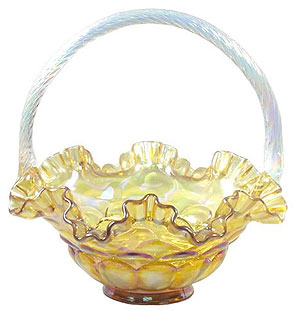 C9464AM
8-1/2'' Autumn Gold Jacqueline Basket $89.75, Buy Now!

Create a simply delightful centerpiece with an arrangement of silk flowers or gilded fruit. This classic Autumn Gold Jacqueline Basket with a double crimp and French Opalescent rib twist handle will bring lots of year-round enjoyment!
Fenton USA Presents. . . Elegant Ruby for 2009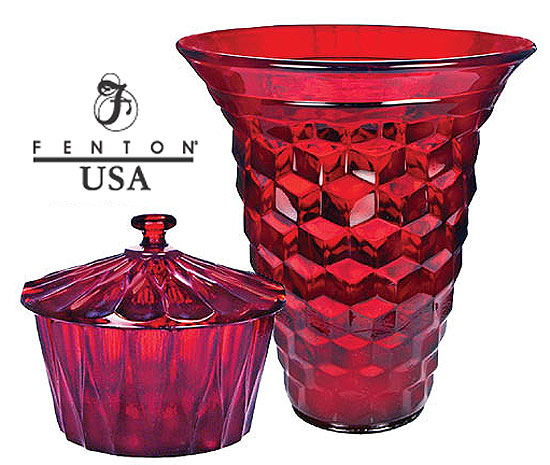 Just arrived!
We've added some wonderful new pieces to our classic Ruby glass product line for 2009. Our vivid and vibrant Ruby glass evokes feelings of warmth and happiness that will add to the excitement of the coming holiday season.
The 9" American vase sparkles like jewels caught in the sunlight! Fill our Facets Candy Box with treats to make the perfect gift for someone special! These items are now being shipped to Fenton dealers around the country, so be sure to check with your local dealer!
To locate a Fenton dealer near you, click here! Click each image for details or click here for more Fenton USA products for 2009.
2009 Fall Fenton Family Signing Events Underway!
Michael "Mike" Fenton will be appearing at the following Pennsylvania Fenton dealer locations on October 10-11, 2009. Please contact each Fenton dealer for details.
Click on Mike's photo for his bio or click here for full schedule.

The Green Cow, 717-597-4011, Greencastle, PA
Kathie's Christmas, 717-975-0505, Camp Hill, PA
TLC Antiques, 610-246-5241, Denver, PA

---


Scott Fenton will be appearing at the following Fenton dealer locations in Pennsylvania and Michigan on October 13 and 15, 2009. Please contact each Fenton dealer for details. Click on Scott's photo for his bio or click here for full schedule.

Wood & More, 717-898-7811 or 717-244-4887
%Root's Country Market, Manheim, PA
J & B Collectibles, 717-738-1980, Ephrata, PA
Lakeview Card & Gift Shop, 269-962-0650, Battle Creek, MI
In addition to these events, Kelsey Murphy and Robert Bomkamp are making special appearances in Syracuse and in New Hartford, New York. Click here for the complete schedule of Fall 2009 Fenton Family Signing Events and details on the Fenton Family Signing Event Exclusive basket in our new Buttercup color, available only at participating Fenton dealers during these events. Also, don't forget to bring your special Fenton rarity to the Fenton Glass Treasure Hunt at participating dealers! Click here for details!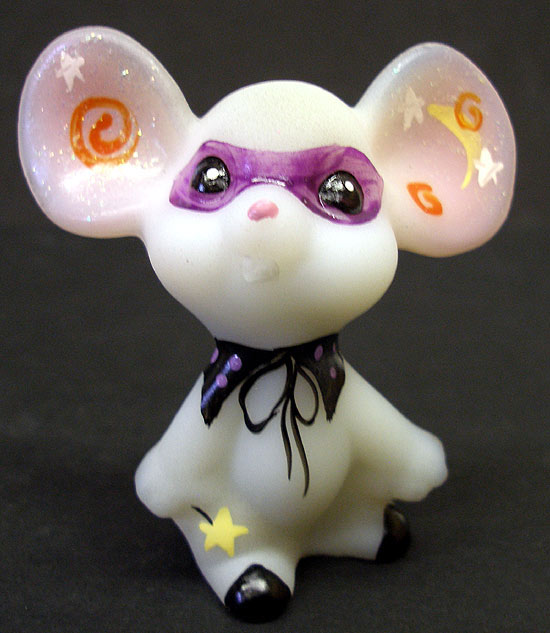 Fenton Art Glass on QVC October 6!

Our next QVC shows will air on Tuesday, October 6.
Shelley Fenton Ash is guest host for the 3-4 a.m. show. George Fenton will guest host the 9-10 a.m. and 6-7 p.m. shows (Eastern time). QVC is planning a special Meet and Greet with George between shows. Details will follow in upcoming newsletters. Shown at right is our adorable costumed Mouse figurine which will be offered during one
of the shows. Watch for a newsletter preview of items! To view Fenton Art Glass items currently available from QVC, click here.
Fenton eBay Auctions...
Own a unique Fenton creation, including one-of-a-kind pieces, through our weekly
eBay Auctions! Items featured this week...
K8311LG
8'' Pansy Basket
in Hyacinth Marigold
Original Price $85.50, Now $64.00

Click each image for details
on this week's Gift Shop Special Offer

300043
3'' Blue Lagoon Bunny
Original Price $19.50
Now $12.50