FENTON GIFT SHOP
SPECIAL OFFERINGS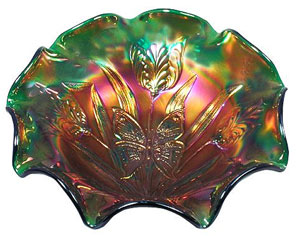 310004
12'' Emerald Green Carnival Butterfly and Tulip Bowl
$126.00, Buy Now!
This Emerald Green Carnival Bowl will add beauty and charm to your home decor. The deep shade of Emerald Green is sprayed with metallic salts while the glass is still hot. As the spray is applied, a rainbow of rich color emerges on this beautiful bowl.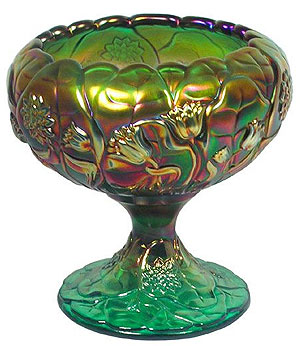 C84309E
5-1/2'' Emerald Green Carnival Waterlily Comport
$66.00, Buy Now!

This lovely 5-1/2'' Emerald Green Carnival Waterlily Comport is ideal for serving nuts and candy. You'll love the rainbow iridescence in this piece!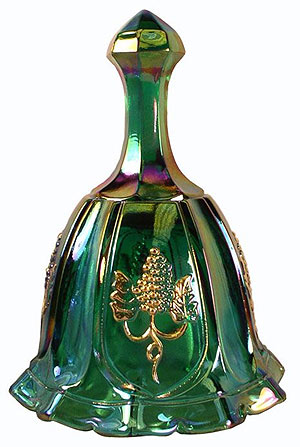 CV196OJ
6-1/4'' Emerald Green Carnival Grape Bell, $44.00, Buy Now!
Our Emerald Green Carnival Grape Bell was produced for our Centennial Anniversary and bears the Fenton 100th logo. The grapes and leaves are highlighted in gold and proudly signed by the individual artist who completes each piece.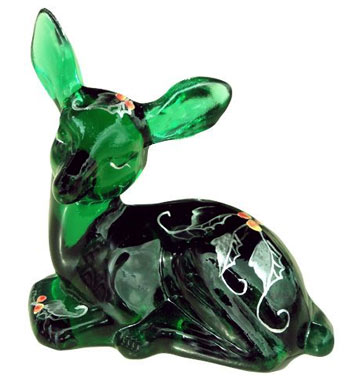 Z5160HPEA
3-1/2'' Emerald Green Fawn
$35.25, Buy Now!

Give a gift that is sure to be treasured! Our Fawn is handcrafted in Emerald Green glass and features a handpainted metallic Holly design. An exclusive produced for the Fenton Gift Shop.
Fenton eBay Auctions...
Own a unique Fenton creation, including one-of-a-kind pieces, through our weekly eBay Auctions! Items featured this week...
Fenton Carnival Glass. . . A Rainbow of Colors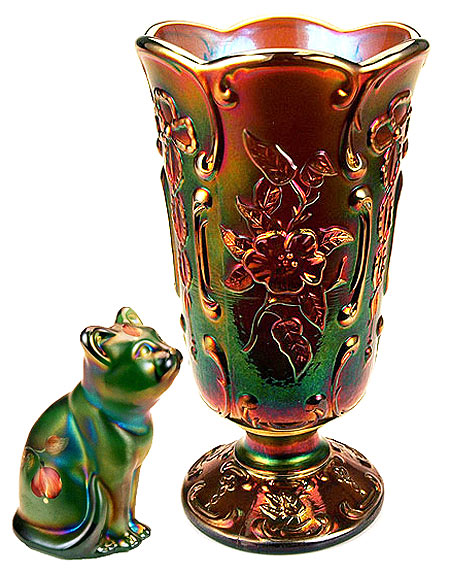 Carnival glass has been a Fenton hallmark since 1907. In fact, the excitement surrounding the inception of this rainbow of colors on glass ensured the success of the fledgling Fenton Art Glass Company.
Today, more than 100 years later, we continue to produce this signature treatment in our highly collectible colors including Black, Emerald Green and Marigold Carnival. A special spray of metallic salts creates various effects on different base glass colors. Our skilled craftsmen have slipped back in time to revive a signature iridescent treatment.
For figurine collectors, our cat figurine in Lustred Blossoms on Marigold Carnival features Kim Barley's handpainted design. The 8'' Wild Rose and Bowknot Vase in Black Carnival will add a touch of elegance to any tabletop display. This pattern originated about 1900 at McKee and Brothers, and it served to inspire Fenton moulds that were made in the 1960s. Click on each image for details or click here for more items in Carnival glass.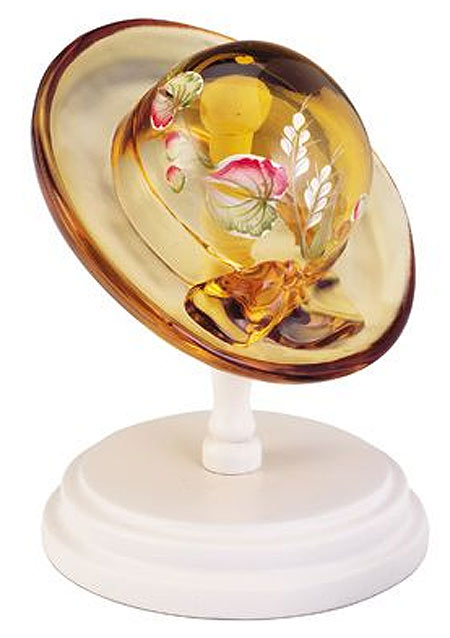 A Designer Hat for someone special!
Give a Hats Off gift to someone special with our 4-1/2'' Hat handcrafted in Autumn Gold glass. The fiery fury of Fenton's furnaces creates a liquid gold that, when cooled, is captured forever in the honeyed shades of Autumn Gold. Each hat comes with a display stand. Click on the image for details.
Frances Burton's Wheatberry on Autumn Gold design quickly became one of our "best ever" decorated patterns for Fall. Her handpainted motif combines leaves, berries and wheat in an elegant yet vibrant design. Fenton designers work diligently to create handpainted decorative motifs that will complement the glass which is to be painted. Each design is a challenge, for it must conform to the curved surfaces of the glass, and special paints are carefully blended to attain the vibrant colors that our collectors love.

Join the Fenton Glass Treasure Hunt!
Fenton is sponsoring a national Fenton Glass Treasure Hunt! We're searching for rare, old or interesting pieces of Fenton during our Fall 2009 Fenton Family Signing Events. We invite you to bring in your mystery Fenton piece to a participating Fenton dealer during the Family Signing Events. Prizes for rare, old, and particularly interesting Fenton pieces as determined by each dealer and Fenton family member will be awarded. At two recent events we had some really interesting and unique pieces! Winners from each dealer are entered in the national contest for a chance to win one of two $500 shopping sprees at any Fenton dealer in America! Click here for details. To locate a Fenton dealer near you, click here!

Make your plans now for our upcoming events scheduled for October 10-13. In Pennsylvania, Mike Fenton will be signing Fenton purchases at the Green Cow, Kathie's Christmas, and TLC Antiques, and Scott Fenton will be at Wood & Moore and J & B Collectibles. Kelsey Murphy and Robert Bomkamp are making special appearances in Syracuse and New Hartford New York. Click here for the complete schedule of Fall 2009 Fenton Family Signing Events and details on this exclusive 5'' basket, available only at participating Fenton dealers during these events.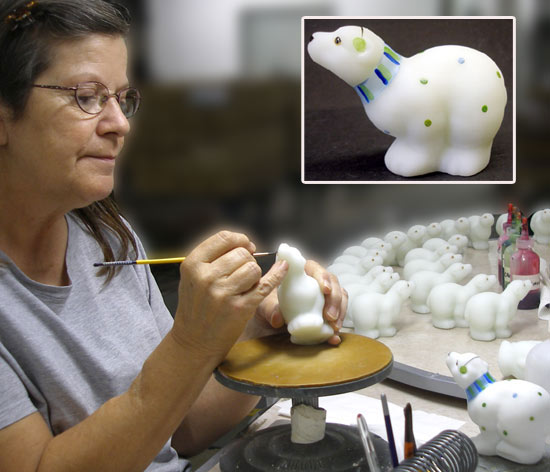 Fenton Art Glass
on QVC October 6!
Mark your calendar! There will be three one-hour QVC shows featuring Fenton Art Glass on Tuesday, October 6. George Fenton will appear as guest host for the
9-10 a.m. and the 6-7 p.m. shows. Shelley Fenton Ash will be guest host for the 3-4 a.m. show (Eastern time). Check back for a preview of items to be offered! Shown at right is Fenton decorator Julia Powell painting one of our Polar Bear figurines. It will be featured during one of the shows. To view Fenton Art Glass items currently available from QVC, click here.
Z3834XE
6-1/4'' Chameleon Green Hobnail Basket
Original Price $26.00
Now $19.50

Click each image for details
on this week's Gift Shop Special Offer

X5366HP
3'' Opal Satin Lamb with Handpainted Floral Design
Original Price $29.50
Now $22.00