FENTON GIFT SHOP
SPECIAL OFFERINGS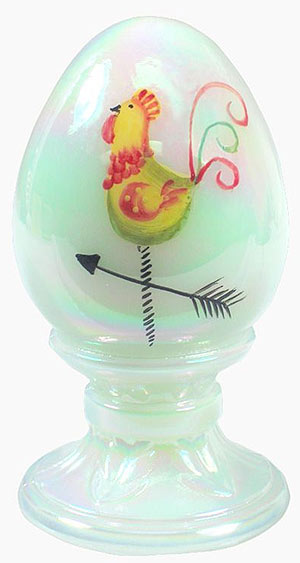 Z5145HPD
3-3/4'' Opal Iridized Rooster Egg
$41.25, Buy Now!
The handpainted folk art rooster on this Iridized Opal Egg reminds us of simple country moments. Produced as a new Gift Shop Exclusive, this piece will be a colorful accent to your home or
a collection of Fenton eggs.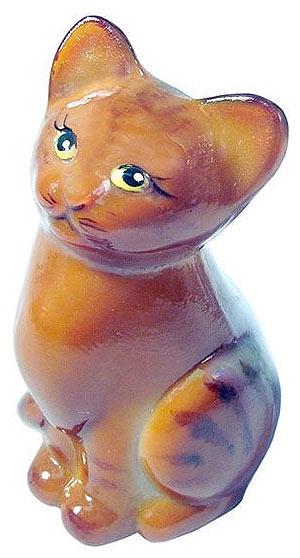 Z5365HPC
3'' Chocolate ''Natural'' Kitten
$29.50, Buy Now!

Our Gift Shop Exclusive 3'' Chocolate Kitten figurine is handpainted to look like a natural kitten. Proudly handcrafted by the artisans at Fenton.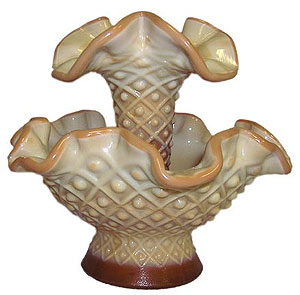 Z4807CK
4'' Chocolate Epergne
Original Price $75.00, Now $60.00 Buy Now!
This pleasantly petite 4" Chocolate Epergne was produced as a Fenton Gift Shop Exclusive for our 100th Anniversary. It bears the FGS 2005 Centennial Exclusive logo. The Diamond Lace pattern was designed by Frank
L. Fenton in 1948 and has been popular ever since.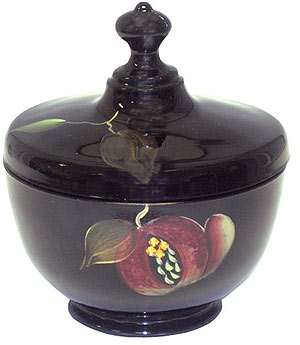 07150YM
4-1/2'' Pomegranates
on Black Candy Box
Original price $59.50, Now $44.50 Buy Now!

Kim Barley's use of Swarovski crystals add a sparkling dimension to the vivid handpainted Pomegranates. They virtually come to life on
the sleek black surface.
Fenton eBay Auctions...
Own a unique Fenton creation, including one-of-a-kind pieces, through our weekly eBay Auctions! Items featured this week...
Gilded Harvest on Ruby from Fenton USA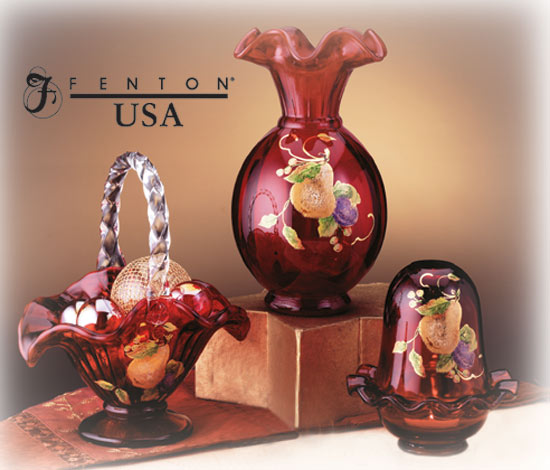 September has arrived, and the landscape will soon be changing to warm Autumn colors in some parts of our great country. We've looked into our "Fenton closet" and found a limited quantity of selections from the Gilded Harvest on Ruby collection.
The Gilded Harvest on Ruby design by Frances Burton features a golden pear and purple plum combined with autumn leaves to create a splendid still life work of art on our vibrant Ruby glass. Timeless Ruby is a classic glass color and Fenton does it best! This decoration employs textured paints over 22k gold, a technique that provides remarkable depth. Click each image for details or click here for more items in Ruby glass.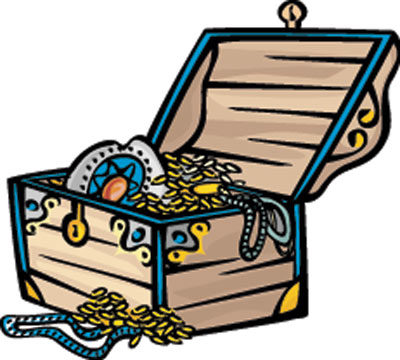 Join the Fenton Glass Treasure Hunt!
Fenton is sponsoring a national Fenton Glass Treasure Hunt! We're searching for the most rare or unique pieces of Fenton during our Fall 2009 Fenton Family Signing Events. Fenton started marking its glass in 1970. Many people have Fenton glass made between 1907 and 1970, yet may not know exactly when it was manufactured. We invite you to bring in your mystery Fenton piece to a participating Fenton dealer during the Family Signing Events. Prizes for rare, old, and particularly interesting Fenton pieces as determined by each dealer and Fenton family member will be awarded. Winners from each dealer are entered in the national contest for a chance to win one of two $500 shopping sprees at any Fenton dealer in America! Click here for details. To locate a Fenton dealer near you, click here!

Make your plans now for our upcoming events scheduled for October 10. Mike Fenton will be signing Fenton purchases at the Green Cow in Greencastle, PA and Kathie's Christmas in Camp Hill, PA. Also on the road will be Scott Fenton at Wood & Moore in Manheim, PA.
Click here for the complete schedule of Fall 2009 Fenton Family Signing Events and check back for updates. The event exclusive, available only at participating Fenton dealers during these events, is this 5'' miniature basket. This unique sparkling basket in our new Buttercup color is from a Fostoria glass mould and is being made or the first time at our Williamstown, WV factory.
Fenton Art Glass on QVC in October
Mark your calendar! There will be three one-hour QVC shows featuring Fenton Art Glass on Tuesday, October 6. George Fenton will appear as guest host. Show times will be: 3-4 a.m., 9-10 a.m. and 6-7 p.m. Eastern time. Check back for a preview of items to be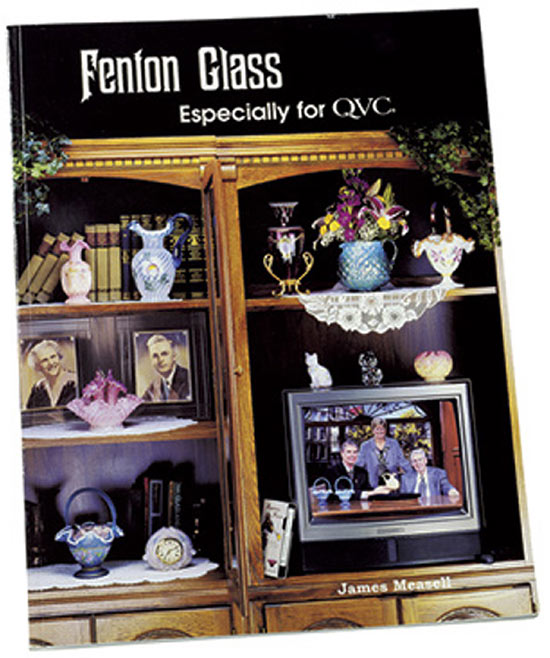 offered during these shows. To view Fenton Art Glass items currently available from QVC, click here.
Fenton Glass Especially for QVC illustrates items sold on QVC from 1988 through August 2002. More than 1,350 items are shown! Originally $36.95, buy it now as an Internet Special for only $24.95 postage paid! Click here to place your order.
Z3834XE
6-1/4'' Chameleon Green Hobnail Basket
Original Price $26.00
Now $19.50

Click each image for details
on this week's Gift Shop Special Offer

X5366HP
3'' Opal Satin Lamb with Handpainted Floral Design
Original Price $29.50
Now $22.00