FENTON GIFT SHOP
SPECIAL OFFERINGS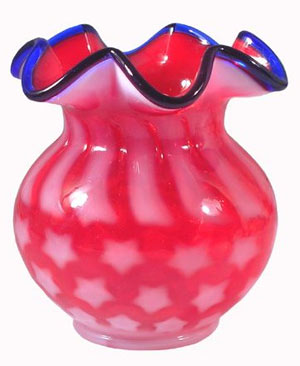 CV771UZ
4-1/2'' Stars and Stripes
on Ruby Rose Bowl
$61.50, Buy Now!
This 4-1/2" Stars and Stripes on Ruby Opalescent rose bowl is a sure sign of Americana. A design of Stars and Stripes is complemented beautifully with the Cobalt rim. A wonderful addition to any patriotic collection.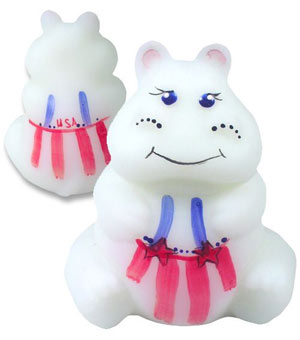 Z5063HPA
3'' Patriotic Hippo
$39.75, Buy Now!

Hip-Hip-Hooray...it's the American Way! Handcrafted with pride in Williamstown, WV. Handpainted and signed by the artist, this adorable Fenton Gift Shop Exclusive is sure to bring a smile on the face of any proud patriotic American!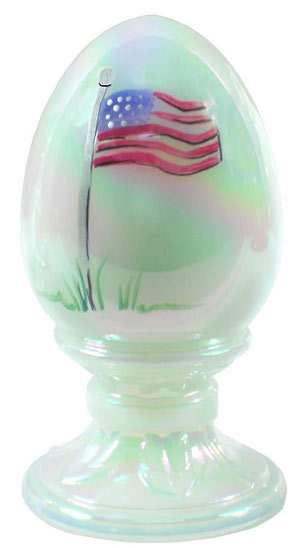 Z5145HPC
3-3/4'' Opal Iridized American Flag Egg, $38.50, Buy Now!
This new Gift Shop Exclusive
is a lasting symbol of American pride! A handpainted American flag scene on this Opal Iridized Egg is a perfect addition to any patriotic collection. Handcrafted in Williamstown by the artisans at Fenton.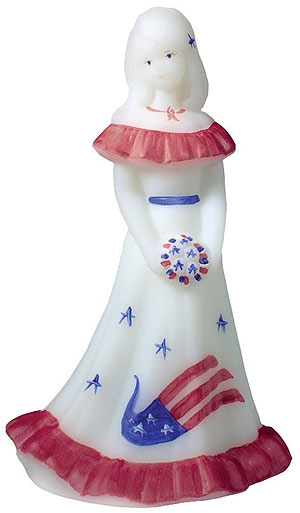 Z5228HPC
7'' Patriotic Labor Day Doll
$61.25, Buy Now!


Don't miss adding this new
Gift Shop Exclusive Patriotic Bridesmaid Doll to your collection, released for Labor Day and third in a series of four. Opal satin glass, handpainted and signed by the artist in a star spangled design will sure to be sought after for years to come.
Fenton eBay Auctions...
Own a unique Fenton creation, including one-of-a-kind pieces, through our weekly eBay Auctions! Items featured this week...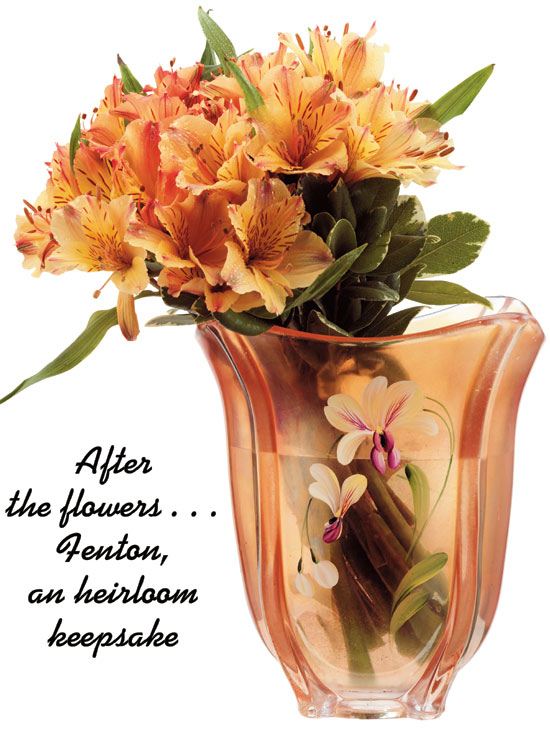 Fenton USA Presents. . .
Heirloom Keepsakes
Fenton and flowers . . .
a gift of beauty for any occasion!
Need a gift for someone special
or a truly unique table display for an upcoming event? Create a lovely floral arrangement using a Fenton keepsake that can become a family heirloom!
Fenton USA products make perfect accessories for floral arrangements ... and you have a gift that keeps its value! Choose from our line of baskets, candy boxes, rose bowls, vases or votives to create a unique gift.
Each piece is handcrafted by the skilled glassworkers at Fenton Art Glass and available with either handpainted designs or unadorned. Shown at right is our Golden Orchids on Marigold Square Vase. Below are a some examples of our footed Swung Vases. Available colors range from the honeyed shades of our Autumn Gold and jewel-toned Violet to our crisp Fern Green and deep, rich Aubergine. Click on each image for details or click here for more items from Fenton USA 2009.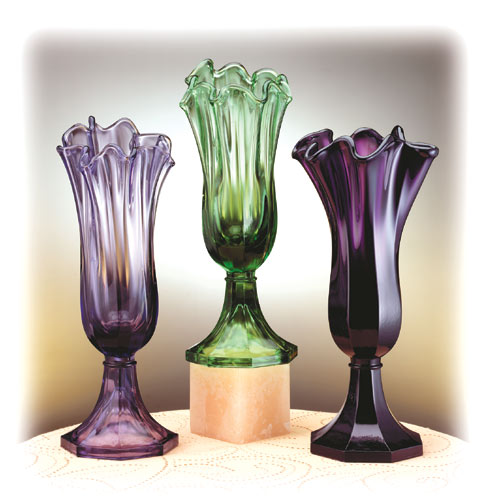 Join the Fenton Glass Treasure Hunt!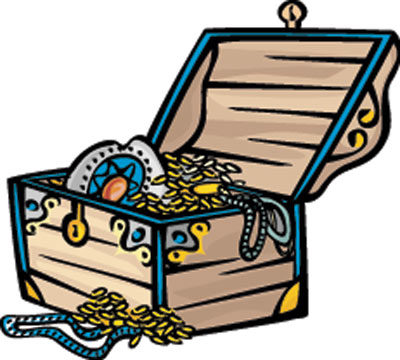 Fenton is sponsoring a national Fenton Glass Treasure Hunt! We're searching for the most rare or unique pieces of Fenton during our Fall 2009 Fenton Family Signing Events. Fenton started marking its glass in 1970. Many people have Fenton glass made between 1907 and 1970, yet may not know exactly when it was manufactured. We invite you to bring in your mystery Fenton piece to a participating Fenton dealer during the Family Signing Events. Prizes will be awarded for rare, old, and particularly interesting Fenton pieces as determined by each dealer and Fenton family member. Winners from each dealer are then entered in the national contest for a chance to win one of two $500 shopping sprees at any Fenton dealer in America! Click here for details. To locate a Fenton dealer near you, click here!
If you live in our area, check out the Fenton Gift Shop Labor Weekend Event schedule. Or, if you live near Republic, Missouri, you won't want to miss Fenton's Collectibles grand Labor Day events!
Click here for the complete schedule of Fall 2009 Fenton Family Signing Events and check back for updates. The event exclusive, available only at participating Fenton dealers during these events, is this 5'' miniature basket. This unique sparkling basket in our new Buttercup color is from a Fostoria glass mould and is being made or the first time at our Williamstown, WV factory.
Fenton Art Glass on QVC in October
Mark your calendar! There will be three one-hour QVC shows featuring Fenton Art Glass on Tuesday, October 6. George Fenton will appear as guest host. Show times will be: 3-4 a.m., 9-10 a.m. and 6-7 p.m. Eastern time. Check back for a preview of items to be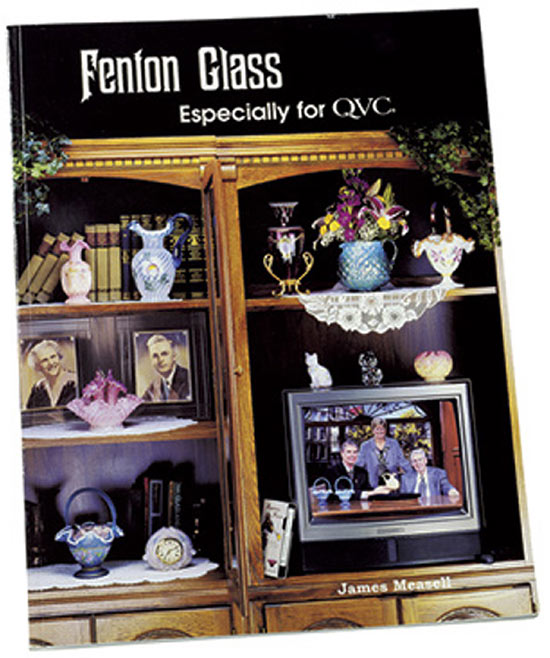 offered during these shows. To view Fenton Art Glass items currently available from QVC, click here.
Fenton Glass Especially for QVC illustrates items sold on QVC from 1988 through August 2002. More than 1,350 items are shown! Originally $36.95, buy it now as an Internet Special for only $24.95 postage paid! Click here to place your order.
X5021V6
4'' Sea Mist Green pig
with Purple Floral Design
Original Price $23.00
Now $17.25

Click each image for details
on this week's Gift Shop Special Offer

M82309E
6'' Emerald Green Carnival Butterfly Bon Bon Dish
Original Price $42.50
Now $27.50