FENTON GIFT SHOP
SPECIAL OFFERINGS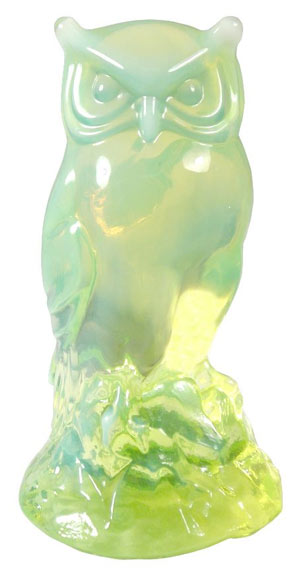 Z5258TO
6'' Yellow Topaz Owl
Original price
$47.25 Now $37.75
Buy Now!
Produced as a Fenton Gift Shop Exclusive, this 6" Topaz Opalescent Owl would love to find a "perch" in your collection. Also known as "Vaseline Glass," the addition of depleted Uranium in the glass formula gives this classic color its yellow hue and produces a fluorescent glow under a black light.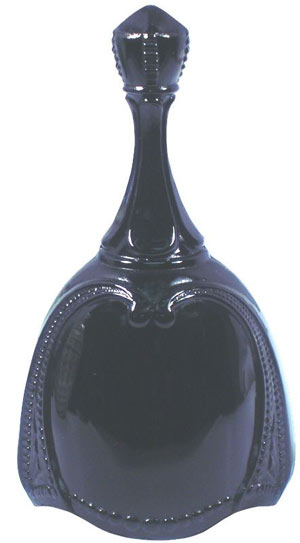 K7566BK
7'' Black Bell
Original price $19.50
Now $16.50, Buy Now!

This Black Bell will delight the owner with its beauty and enchanting sound. Handcrafted with pride by the artisans of Fenton.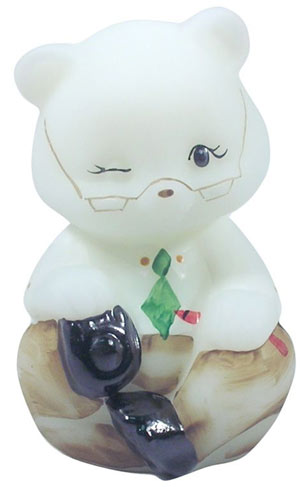 DS855HP1
3-1/2'' Opal Satin Teacher Bear, $45.00, Buy Now!
Free Shipping on this item! A+ for effort! This proud Teacher Bear Opal Satin is a smart addition to your collection. Proudly signed by the artist and inscribed with Collectors' Showcase logo on the bottom.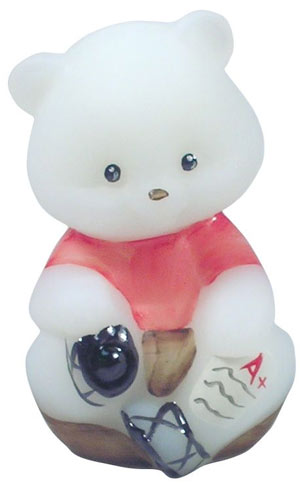 DS855HP2
2-3/4'' Opal Satin
Mini Student Bear
$35.00, Buy Now!
Free Shipping on this item! A+ for effort! This proud Mini Student Bear in Opal Satin is a smart addition to your collection. Proudly signed by the artist and inscribed with Collectors' Showcase logo on the bottom.
Fenton eBay Auctions...
Own a unique Fenton creation, including one-of-a-kind pieces, through our weekly eBay Auctions! Items featured this week...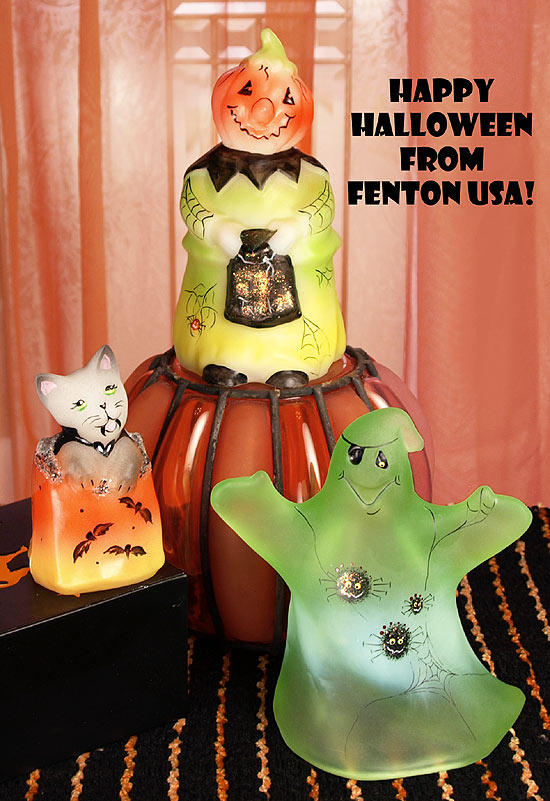 Fenton USA Presents. . .
Happy Halloween 2009

In costume and ready for a night of trick or treat, Fenton USA glass for Halloween 2009 will make you smile with memories of a childhood All Hallow's Eve.
Our collection of whimsically-named figurines sparkles with handpainted details designed by Michelle Kibbe. Sure to delight one and all, each piece is handcrafted and signed with pride by the artist who completes it.
Shown at right are: Count Batula, Webs the Pumpkinhead and Patch the Ghost. Our other Halloween figurines for 2009 include: a witch, three cats, a girl and a boy dressed in costume, and a dragon.

Click on each image for details or click here for more items from Fenton USA 2009.
Exclusive Robin Spindler Limited Edition Lamp!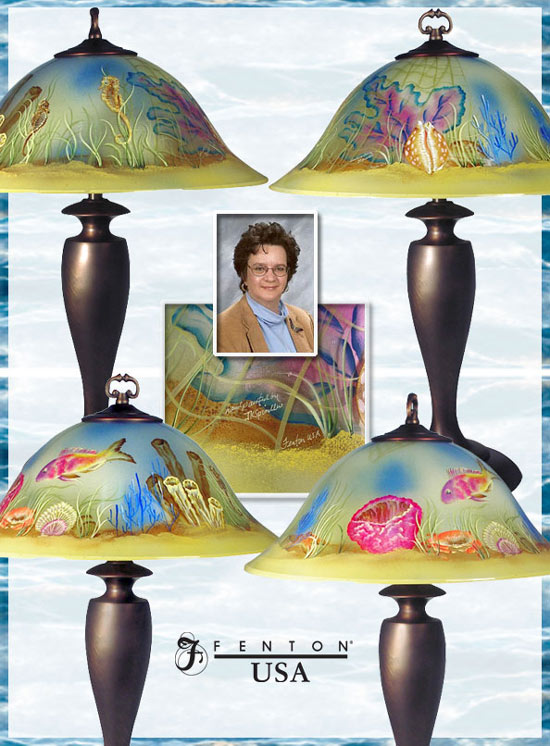 Wow! What a fantastic lamp! That's the reaction from everyone who has seen this special limited edition lamp designed and handpainted by Fenton designer J. K. "Robin" Spindler. We have a small quantity available for a limited time at a special price only through this newsletter.

The colors and details on the
shade are astounding: from the shells, coral and ocean floor to the stunning fish and gorgeous seahorses, each element is perfect! The amazing undersea scene surrounds the shade. Robin's combination of reverse handpainting with handpainting on the outer shade creates a remarkable feeling of depth. Each lamp is personally signed "handpainted by J. K. Spindler" and "Fenton USA" and also includes a letter from Fenton Company President George W. Fenton.

The shade is crystal glass, and a special manufacturing treatment allowed bubbles to develop. These bubbles became an important part of Robin's creativity and art. She used airbrushing and innovative sponge techniques to create the ocean floor near the outermost edge of the shade. Robin then selected varying hues of color for the undersea vegetation and creatures, ultimately resulting in a splendid feeling of harmony and tranquility. Because each shade is individually handpainted, no two will be exactly alike … but each is a stunning example of handmade and handpainted glass art! You will be proud to have this lamp in your home for many years to come. Click on the image or click here for price and details or, to learn more about Robin Spindler, click here.

Fall 2009 Fenton Family Signing Event Exclusive!
We're finalizing our Fall 2009 Fenton Family Signing Events schedule! Click here for the current schedule and check back for updates. The Family Signing Event Exclusive, available only at participating Fenton dealers during these events, is this 5'' miniature basket. Made in our new Buttercup color, this unique sparkling basket is from a Fostoria mould. It's being made for the first time at our factory!

Fenton is also sponsoring the Fenton Glass Treasure Hunt for old, rare and interesting pieces of Fenton during the Fall Signing Events. Click here for details. Check with those Fenton dealers hosting signing events to reserve your Family Signing Event Exclusive today! To locate a Fenton dealer near you, click here!
Fenton Art Glass on QVC in October
Mark you calendar! There will be three one-hour QVC shows featuring Fenton Art Glass on Tuesday, October 6. George Fenton will appear as guest host. Show times will be: 3-4 a.m., 9-10 a.m. and 6-7 p.m. Check back for a preview of items to be offered during these shows. To view Fenton Art Glass items currently available from QVC, click here.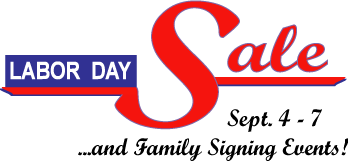 220003
3-1/2'' Jade Comport
Original Price $35.00
Now $25.00

Click on each image
for details on this week's
Gift Shop Special Offer!

300042
6'' Green Temple Jar with Lotus Mist Burmese Lid
$21.50