FENTON GIFT SHOP
SPECIAL OFFERINGS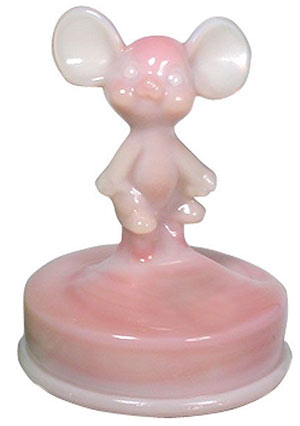 130001
5'' Rosalene Mouse on a Fount
$90.00, Buy Now!
Many collectors enjoy having animal figurines on the fount, so we've obtained a few perfect examples. It's not easy because the founts almost always have chips or cracks and must be discarded. An example like this one - perfect from top to bottom - is a real treasure!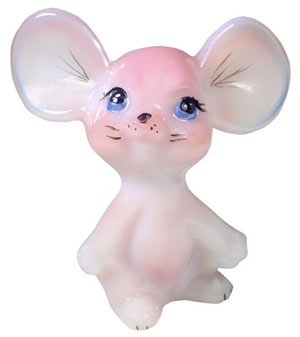 Z5148HPD
3'' Rosalene Natural Mouse
$36.00
Produced as a Gift Shop Exclusive, our 3" Rosalene Mouse has handpainted "natural look" details. His expressive blue eyes make this little guy a perfect keepsake for someone special!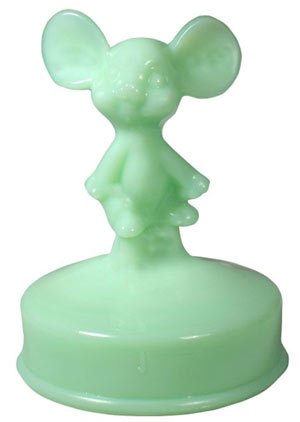 130002
5'' Sea Mist Green Mouse on a Fount
$90.00 Buy Now!
Another fine example and a perfect addition to any collection ... our Sea Mist Green mouse figurine on a fount.
Z5148HPA
3'' Sea Mist Green Lei Mouse
$35.75
Buy Now!
Produced as a Gift Shop Exclusive, this Sea Mist Mouse with a colorful lei around its neck will add a little delight to your Fenton figurine collection.
Fenton eBay Auctions...
Own a unique Fenton creation, including one-of-a-kind pieces, through our weekly eBay Auctions! Items featured this week...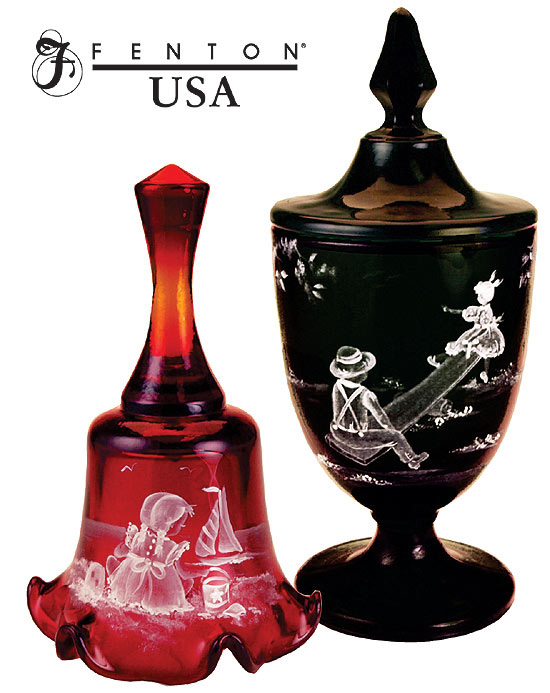 Step back in time...
Mary Gregory-style designs from Fenton USA

Our Mary Gregory-style designs continue to delight collectors who love this traditional look. Our rich Ruby glass and lustrous Black glass provide a perfect canvas for Michelle Kibbe's exquisitely
detailed designs. Her heartwarming, handpainted scenes include the Summer Sun Bell, which depicts a young girl having fun on a summer day at the beach. The Little Sister Candy Box features a boy and his sister playing on an old-fashioned see-saw.

The Mary Gregory style of painting appeared more than 100 years ago as Painted Cameo, and only the skilled artisans of Fenton continue this challenging decorating style. The phrase Mary Gregory describes glassware that has been painted with white enamel, resulting in raised details to create a splendid image. One of our designers likened it to "painting with marshmallow cream." Click on each image for details or click here for more items with Mary Gregory designs.
Fall 2009 Fenton Family Signing Event Exclusive!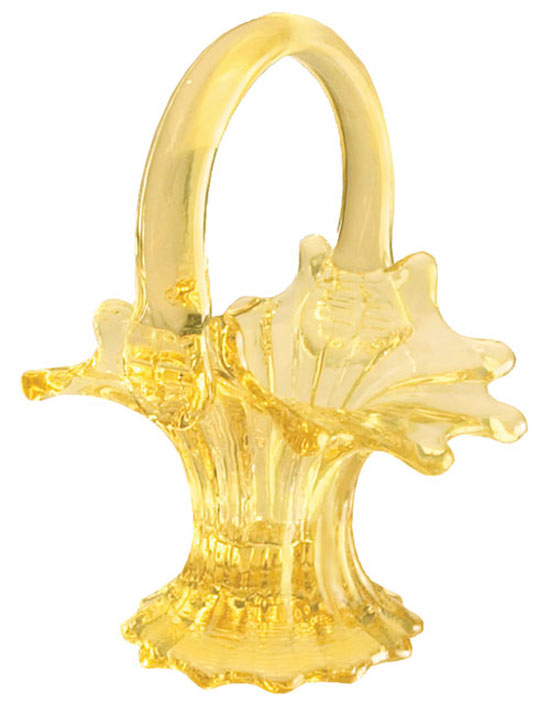 We're finalizing our Fall 2009 Fenton Family Signing Events schedule! Click here for the schedule and check back for updates. To start off the season, two events will be held during Labor Day Weekend - one at the Fenton factory in Williamstown, West Virginia, and the other at Fenton's Collectibles in Republic, Missouri. Click here for details on these two events.

The Family Signing Event Exclusive, available only at participating Fenton dealers during these events, is this 5'' miniature basket. Made in our new Buttercup color, this unique sparkling basket is from a Fostoria mould. It's being made for the first time at our factory! To locate a Fenton dealer near you, click here!
More Glassmaking School Fun...
To view more images from our recent Glassmaking School, please click here.
GS416HP
8'' d. Silver Crest Heart
BonBon Dish
Original Price $99.00
Now $74.25

Click on each image
for details on this week's
Gift Shop Special Offer!

Z7333HPSC
8'' Silver Crest Handpainted Heart BonBon Dish
Original Price $99.00
Now $74.25