FENTON GIFT SHOP
SPECIAL OFFERINGS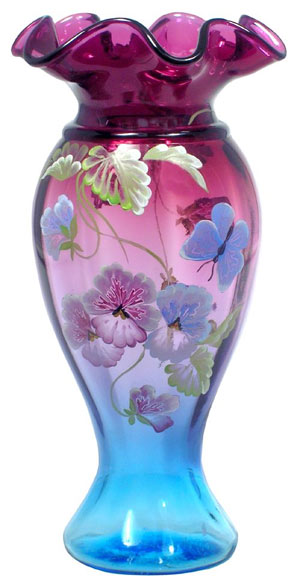 160008
8-3/4'' Susan Bryan
Passion for Pansies Mulberry Vase
$188.00
Buy Now!
2009 Fenton
Gift Shop Limited Edition Exclusive....
This beautiful Mulberry Vase titled "Passion for Pansies" by Susan Bryan is limited and numbered to 55 pieces. Place your order today as quantities are limited.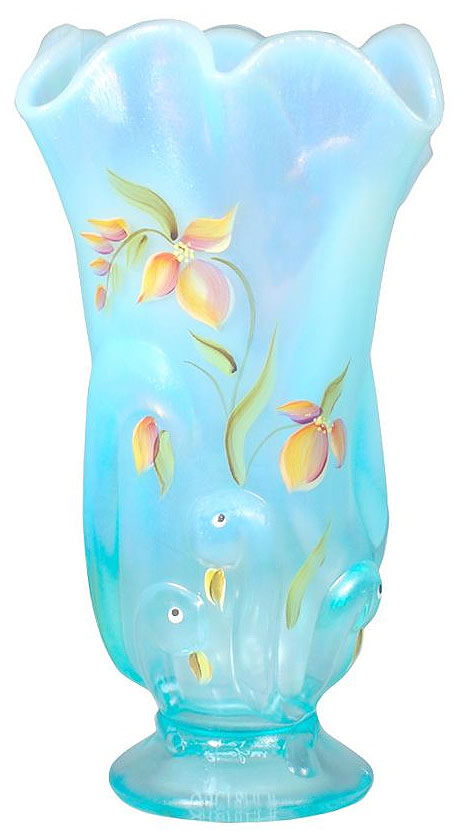 300039
9'' Aquamarine Opalescent
Stretch Swung Vase
Original price $100.00,
Now $75.00
Buy Now!
This 9" Aquamarine Opalescent Stretch Swung Vase is handpainted with a tropical floral pattern and a few birds too!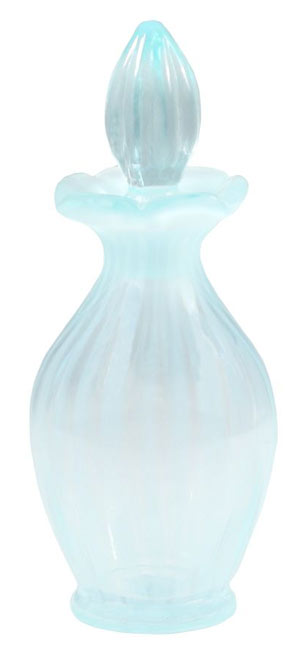 300028
5-1/2'' Aquamarine Perfume Bottle
Original Price $56.00,
Now $36.50
This blown Perfume Bottle with delicate striped optic enhances the beauty of Aquamarine glass.


300025
7'' Turquoise Perfume Bottle
Original Price $65.00,
Now $42.25
Buy Now!
This 7" Turquoise Perfume Bottle with Crystal Iridized Stopper makes a splendid accent for bedroom or bath.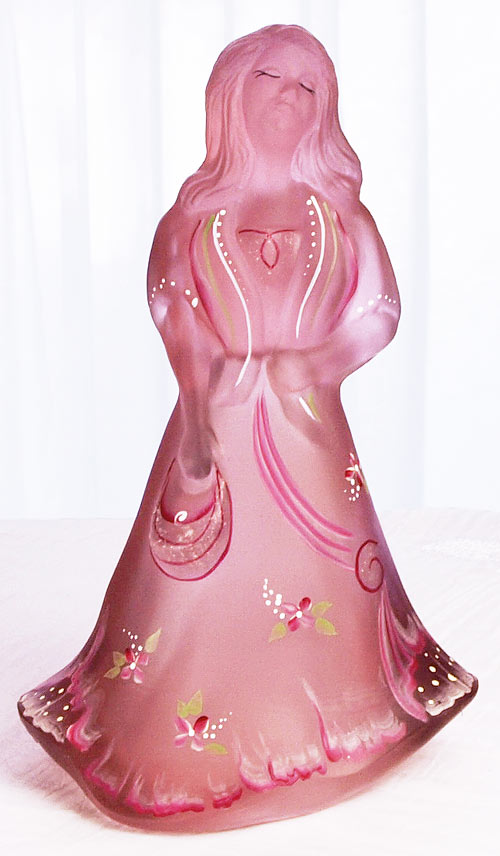 Fenton USA Introduces. . .
The "Ellie" Doll Figurine
Now available online and in stores, our
First Edition Ellie Doll figurine is named for
Ellie Ash, the great-granddaughter of company founder Frank L. Fenton and daughter of third generation family member Shelley Fenton Ash.
It's been said that the new figurine has a "daydreaming" expression...perhaps memories of a festive event! This new 7" doll figurine, designed by sculptor Suzi Whitaker, is available
in refreshing Key Lime, our new Blush Rose and Opal Satin. The three figurines feature graceful handpainted designs created by Michelle Kibbe.
Each figurine includes an Ellie card with a story about the naming of the doll. Click on the image for details or click here for more doll figurines. To locate a Fenton dealer near you, click here.
New Heart Perfume for Summer 2009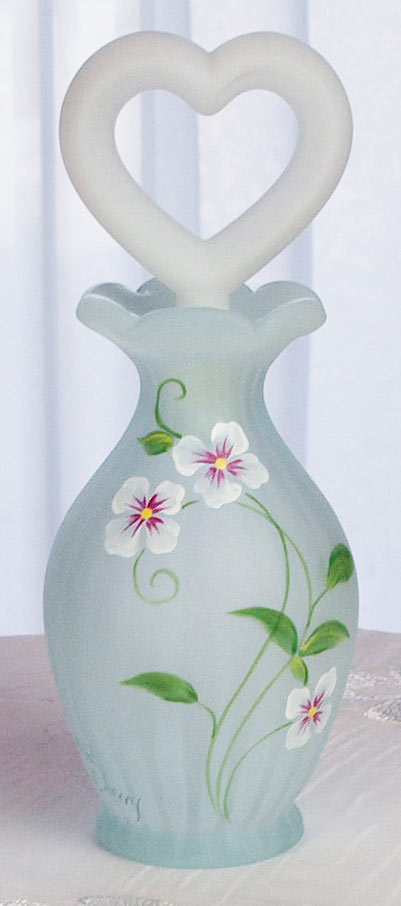 Fenton Perfume Bottles...a romantic gift for someone special...or the perfect addition to your own dressing table, boudoir or bath! Our 6" perfume in Aqua Opalescent is limited to 210 pieces.
This perfume has a heart-shaped Opal Satin stopper
and features a lovely handpainted floral design by Michelle Kibbe. Fenton's skilled glassworkers created the graceful six-point crimp on the bottle. To learn more about Fenton designer Michelle Kibbe, click here.
Click on the image for details. For more 2009 items,
click here.


Fenton eBay Auctions...
Own a unique Fenton creation, including one-of-a-kind pieces, through our weekly eBay Auctions! Items featured this week...
GS416HP
8'' d. Silver Crest Heart
BonBon Dish
Original Price $99.00
Now $74.25

Click on each image
for details on this week's
Gift Shop Special Offer!

Z7333HPSC
8'' Silver Crest Handpainted Heart BonBon Dish
Original Price $99.00
Now $74.25
For questions or comments, please do not reply to this email. Instead, email: askfenton@fentonartglass.com. This email has been sent to you because you have agreed to receive offers and information from the Fenton Art Glass Company. We respect your privacy and do not sell your personal information. For details, please review our privacy policy.

How to unsubscribe: If you prefer not to receive offers or information from Fenton Art Glass, please use this page.

If you use a Challenge-Response system for email, please make certain that you can receive our email by adding askfentononline@fentonartglass.com to your Allow List. For specific instructions for major ISPs, click here.

The sender of this email is the Fenton Art Glass Co., 700 Elizabeth St., Williamstown, WV, 26187