FENTON GIFT SHOP
SPECIAL OFFERINGS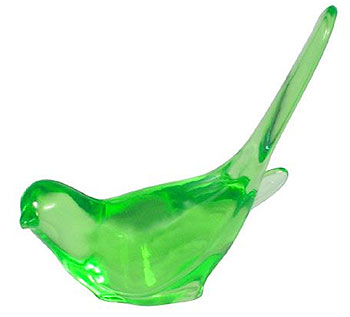 Z5197H2
6" Key Lime Happiness Bird
$29.50, Buy Now!
Produced as a new Gift Shop exclusive for 2009, our Happiness Bird in refreshing Key Lime will be a charming addition to your home or as a gift for someone special!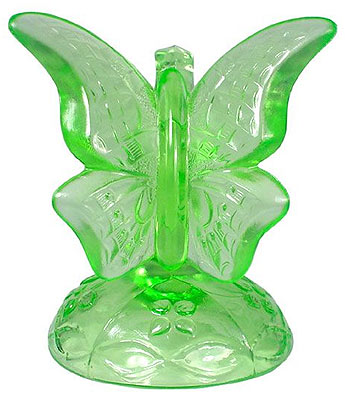 Z5171H2
4-3/4" Key Lime Butterfly
$29.50, Buy Now!
This refreshing Key Lime Butterfly on Stand will be a welcome addition to a Butterfly or figurine collection. Makes a great impulse gift for someone special! Produced as a new Gift Shop exclusive for 2009.
The Dancing Ladies Vase.
A few years ago, sculptor
Suzi Whitaker worked from
Frank L. Fenton's original sketches so that we could make a new Dancing Ladies vase mould. Our skilled glassworkers recently produced the Dancing Ladies vase in vivid cobalt blue glass with a wonderful Milk Glass edge and in sultry Key Lime glass with a wonderful cobalt blue edge.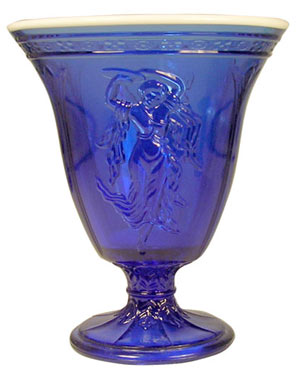 Z88387O
6-3/4" Cobalt Dancing Ladies Vase
$85.00, Buy Now!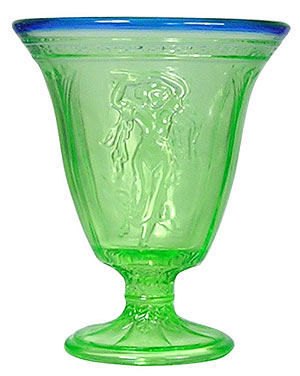 Z8838H7
6-3/4" Key Lime
Dancing Ladies Vase
$75.00, Buy Now!
Fenton eBay Auctions...
Own a unique Fenton creation, including one-of-a-kind pieces, through our weekly eBay Auctions! Items featured this week...
Fenton USA Presents. . . Summer Whispers on Hyacinth

Delicate blossoms sway in the gentle breeze. Kim Barley transports you to a wonderful place of peaceful beauty with her handpainted Summers Whispers on Hyacinth design.
Our Director of Design Nancy Fenton praises Fenton chemist Wayne King for developing this purple-toned blue that's perfect for today's decorating styles. "Hyacinth will go with pinks, yellows, and greens," Nancy notes. "It's a very versatile color. The Square Vase shown above, as well as other shapes, are available decorated and unadorned in Hyacinth. To learn more about Kim Barley, click here. Click on the vase for details or click here for more Hyacinth pieces.

A Unique Fenton Experience. . .Glassmaking School 2009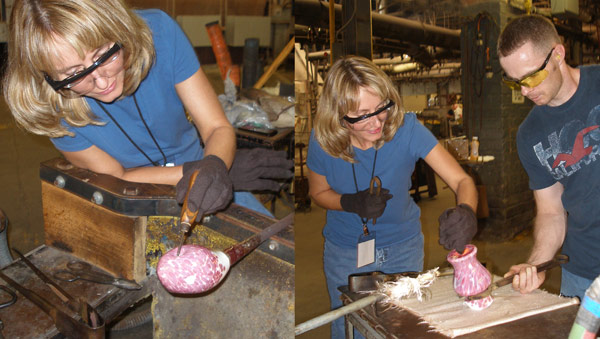 The Fenton Art Glass Gift Shop recently hosted Glassmaking Schools and Beadmaking Workshops for those interested in having a unique opportunity to create their own works of art. Shown above are a few images from the glassmaking school. Our skilled glassworkers make creating glass look so easy - but the students discovered it could be a challenging experience! Our thanks to Dave Fetty, Frank Workman, and their teams for their "guiding hands" during the school, and to Jena Blair and Charla Nutter for coordinating the events. The photo above shows Tina Rebert, a first-time glassmaking student, using an ice pick for a hanging hearts design on her vase. The second image shows Frank Workman assisting her while she applies his signature stamp to her vase before it is placed in the lehr. If you are interested in participating in our next Glassmaking School, please contact Jena Blair at jena@fentongiftshop.com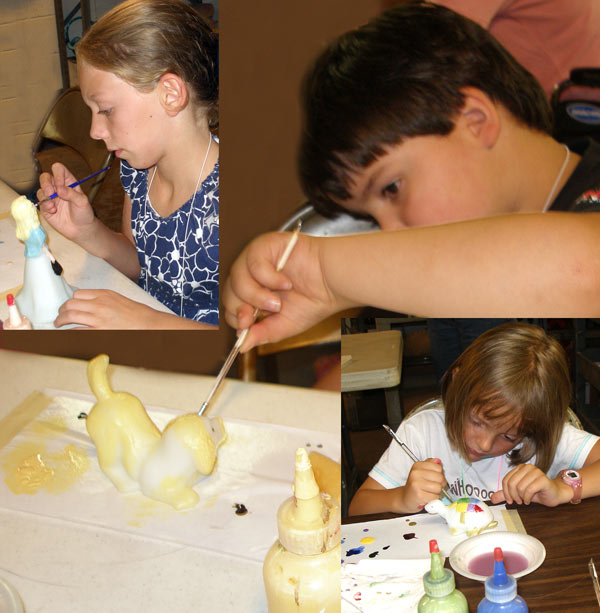 Convention Time
at Fenton!
We bid a fond farewell to attendees at the National Fenton Glass Society and Fenton Art Glass Collectors
of America conventions held
in our area last week. A good time was had by all!
While club members attended the convention meetings and events, some of their children had a true Fenton "experience" at the factory under the supervision of Fenton employee Pam Dick. Below are some "future artists" painting figurines in our decorating department. Fenton designers Kim Barley and Michelle Kibbe assisted with the decorating lesson and each child took home their work of art!
Z5317HPLY
3-1/2" Hyacinth Duck
with Floral Pattern
Original price $30.75
Now $25.00

Click on each image
for details on this week's
Gift Shop Special Offer!

Z5057HPLY
4" Hyacinth Foal
Original price $38.50
Now $25.00