FENTON GIFT SHOP
SPECIAL OFFERINGS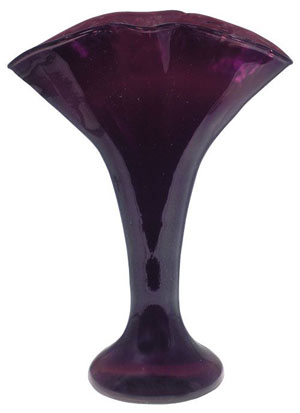 A300040
12'' Aubergine Fan Vase
Only $36.50, Buy Now!
This lovely Aubergine Fan Vase is a full 12'' tall! It will add beauty and style to your home decor.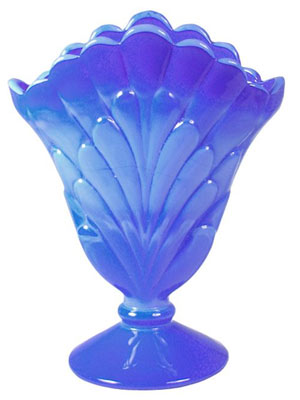 300037
8'' Periwinkle Blue Plume Vase
Special Price: $25.00, Buy Now!
Periwinkle Blue is a vivid opaque blue that works well in American Country or French Country decor. This striking blue medley is an original Fenton color developed by Paul Rosenthal during the 1930s. The heat-sensitive glass ranges from light to dark blue to create beautiful gradations of color - a true art glass treatment. Please note this piece does not have a family members signature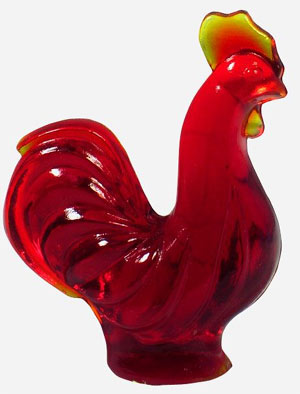 200019
2-3/4'' Ruby Mini Rooster
$12.50,
Buy Now!
Preferred Second.
This Ruby Mini Rooster is perfect for gift giving or as an addition to an established collection.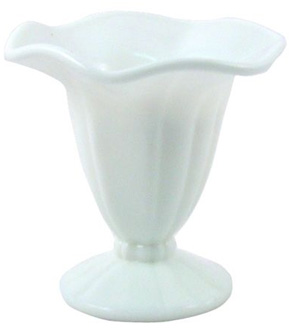 194219
4'' Paneled Milk Glass Vase
$13.25, Buy Now!
Preferred Second. This lovely petite Milk Glass Vase would make the perfect accent for your home or a beautiful tabletop vase for bright summer flowers!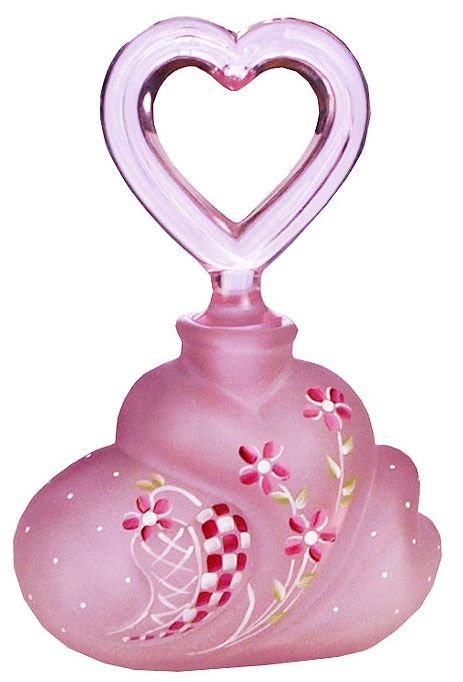 Fenton USA Presents. . .
Heart Perfume in Blush Rose

Our new Blush Rose provides the perfect canvas for Michelle Kibbe's refreshing design on this perfume with heart-shaped stopper. A great impulse or sentiment gift for someone special or yourself!
Eagerly sought after by collectors, perfume bottles have been made by Fenton since the 1920s when they were very popular. In the 1990s a group of Fenton glassworkers and managers traveled to France to learn specific skills in making perfume bottles, and the company later purchased special equipment to use in the manufacturing process.
Click on the image for details or click here for more Fenton perfumes. For 2009 Fenton USA products, click here.

Retro Romance with Gabriella Miller. . .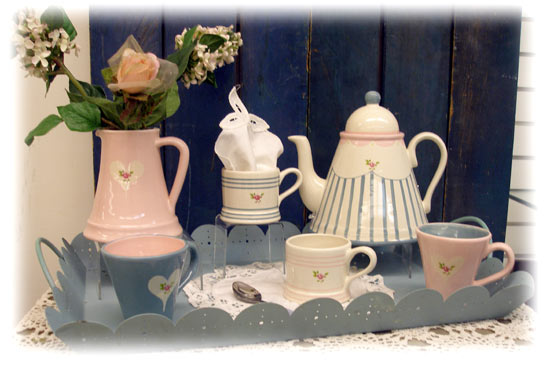 Add a touch of retro romance to your tabletop display with Gabriella Miller pottery from Fenton International. Each unique hand-thrown shape features handpainted soft pink scallops, stripes and enchanting hearts in a mix of three retro patterns. As an added touch, a tag telling the Gabriella Miller story is attached to each piece with a pink ribbon. Create functional mix and match gift ideas for Mother's Day, weddings, housewarmings, Thank You gifts, or "just because." All Gabriella Miller items are dishwasher and microwave safe. Click on each image for details or click here to view more items from our Gabriella Miller collection.
Fenton eBay Auctions...
Own a unique Fenton creation, including one-of-a-kind pieces, through our weekly eBay Auctions! Items featured this week...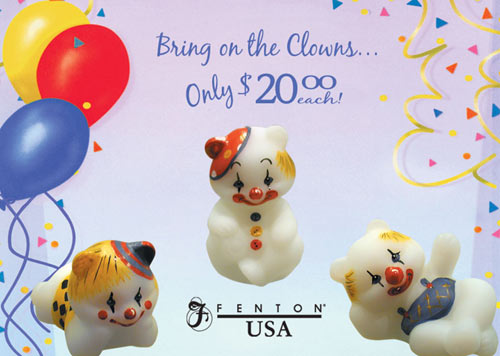 Fenton Gift Shop Weekly Special ... Only $20.00 each!

Wow! Only $20.00 each! Our clown bears are perfect gifts for the young and young at heart. Get ready to smile each time you see these cuties in your collection. The Day Dreaming bear was produced in 2003; the Reclining Bear was produced in 2004; and the Sitting Bear was produced in 2005. All were Limited Editions for the Fenton Gift Shop. Click on each image to order.