FENTON GIFT SHOP
SPECIAL OFFERINGS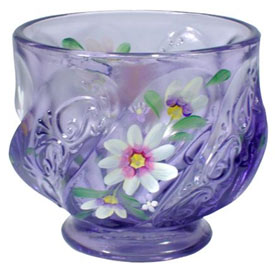 C6780I4
4-1/2''
Violet Paisley Candy Dish
$49.50
Buy Now!
Refreshing Spring flowers are handpainted on this Violet Paisley Candy Dish. Perfect for wrapped hard candy, bon-bons, or other goodies.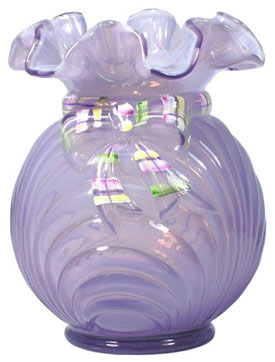 C975466
6-1/2'' Lavendar Opaline Vase
$63.00
Buy Now!
French Opalescent is covered with a layer of Violet to create the lovely Lavendar Opaline. This Caprice Vase with a double crimp and embossed bow is handpainted with a plaid pattern of pink, yellow and green.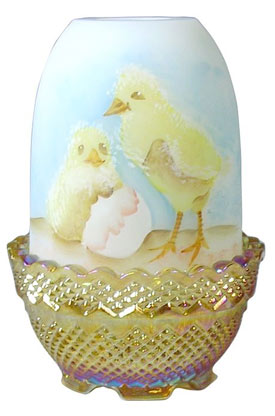 C730022
5-1/2'' Handpainted
Chick Fairy Light
$59.75
Buy Now!
This 5-1/2"
Fairy Light with a whimsical painting of two chicks hatching from their egg will bring joy to the person receiving this charming fairy light.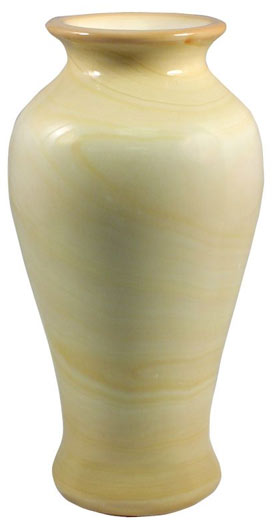 X2955CK
9'' Chocolate
Vase
Original price $62.00,
Now $46.50
Buy Now!
Rich Chocolate glass ranges
in color from a deep mocha shade to a milky cocoa color, and no two pieces are ever the same. Dating back to 1907, chocolate is a favorite among collectors, and the clean elegant line of this vase will add to any decor.
Fenton USA Presents. . .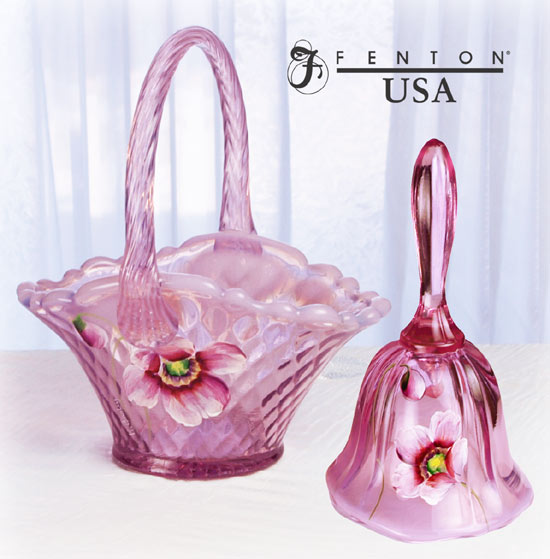 The Beauty of Baskets & Bells!
Our new Blush Rose for 2009 provides the perfect canvas for Kim Barley's lovely Poppies on Blush Rose design. Included in this
new grouping
are the 7-1/2" oval Basket and the
6-1/2" Aurora Bell.
Appealing to the eye and pleasing
to the ear. . . baskets and bells are delightful for decorating or simply to enjoy. . . and nobody does baskets and bells like Fenton. . .
handcrafted in
the USA with amazing skill!
The oval basket (08637HK) has a diamond optic pattern and a fine rib twisted handle. Each basket features a distinctive handler's mark. The basket handler has less than 30 seconds to accomplish his tasks: attach a glowing ribbon of molten glass to one side of the basket; deftly twist the rapidly cooling glass; stick it to the other side; impress the base of each side of the handle with his handler's mark; and finally, fashion the handle into a graceful arch.
The Aurora pattern of our bell (09667HK) was inspired by a ca. 1920s motif at U.S. Glass. Click on each image for details or click here for more new Summer 2009 items.
Limited Quantities Remain on Internet Exclusives
Limited quantities remain on our Internet Exclusives! These are first quality items of which we have very limited quantities available. Click here for a complete listing.
Fenton eBay Auctions...
Own a unique Fenton creation, including one-of-a-kind pieces, through our weekly eBay Auctions! Items featured this week...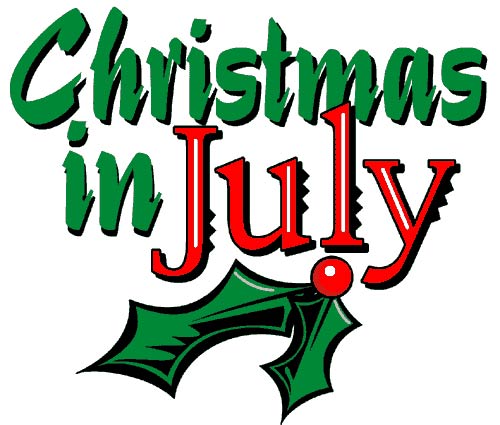 Click on each image
for details on this week's
Christmas in July Specials!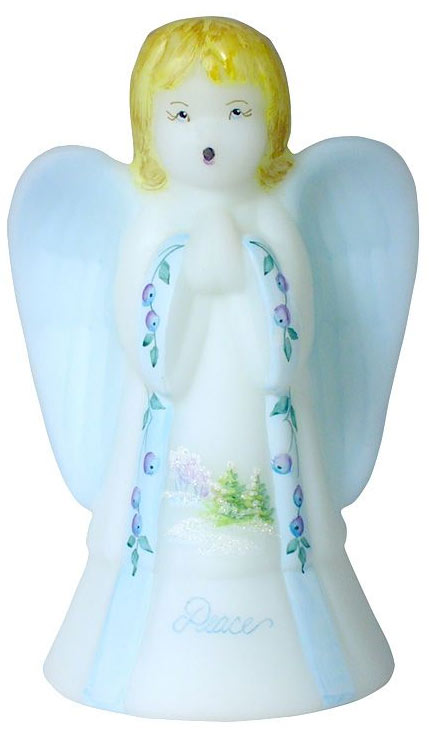 Z5014HP
6-1/2'' Fenton Gift Shop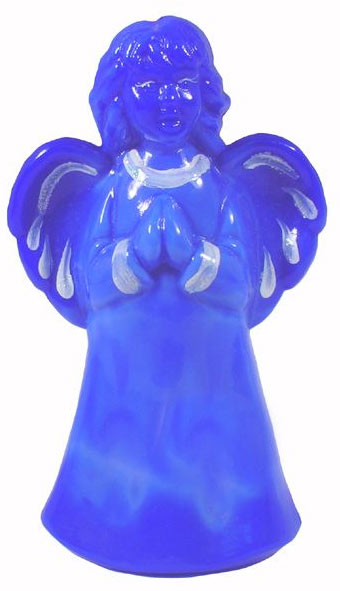 Handpainted Opal Satin Angel
Original Price $95.00, NOW $76.00

I5034HP
4-1/2'' Fenton Gift Shop
Handpainted Periwinkle Blue Angel
Original Price $34.25, NOW $25.50