FENTON GIFT SHOP
SPECIAL OFFERINGS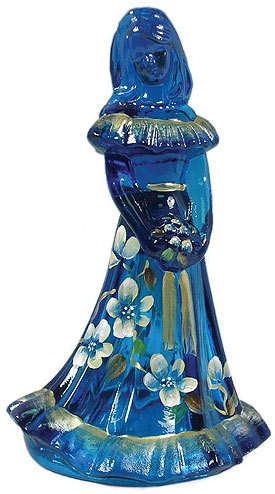 Z52284B
7'' Indigo Blue Cherry Blossom Doll
$61.25, Buy Now!
Cherry Blossoms on Indigo Blue... nothing signals the arrival of Spring more than the sweet scent of cherry blossoms. Produced as a new Gift Shop Exclusive for 2008, she will surely be sought after for years to come.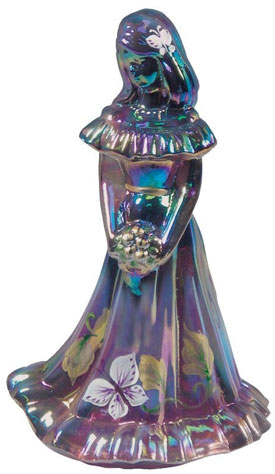 Z5228HPIP
7'' Plum Opal Iridized
Doll with Butterfly, $68.25, Buy Now!
Produced as a new Gift Shop Exclusive, this Plum Iridized Bridesmaid Doll has been handpainted with a delicate butterfly motif. Proudly handcrafted by the artisans at Fenton.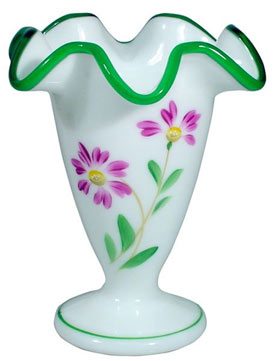 K2988HP2H
6'' Vase, Milk Glass w/purple flowers
and Emerald Green Ring
$49.50, Buy Now!

Handpainted with purple daisies, this Milk Glass vase is ringed with Emerald Green. Perfect for a summer arrangement fresh
from your flower garden.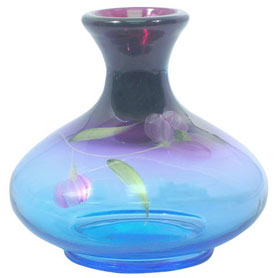 280002
5'' Handpainted Mulberry Vase
$40.50, Buy Now!
Mulberry glass has always been popular with our collectors. Handpainted with a simple and pretty metallic floral design this vase will be a nice addition
to any collection.
Fenton USA Presents. . . A Cameo Carved Masterpiece!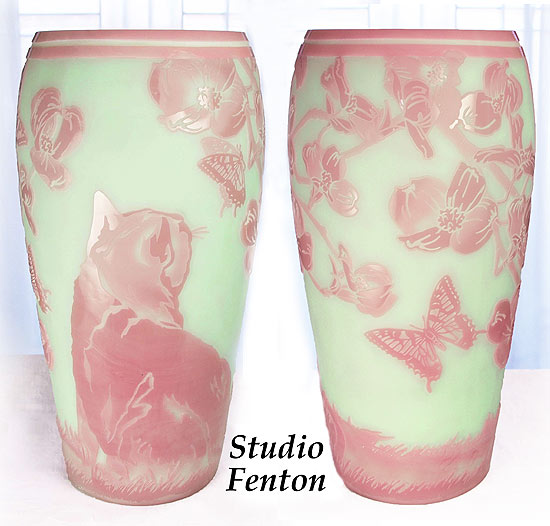 Truly an heirloom treasure, this magnificent 11'' Studio Fenton Spring Vase
in Lotus Mist Burmese was designed by Kelsey Murphy and Robert Bomkamp. The intricately detailed design features a cat watching a butterfly hovering amidst Spring flowers. The vase is limited to 250 pieces. Front and Back views are shown in the above photo.

Cameo carving is a a painstaking process. After the glass has been annealed, a special mask is taped to the surface of the glass. Using an advanced "vignetting" technique, each piece is carefully sandcarved, by hand, using aluminum oxide crystals under pressure to take away some of the surface. Great individual skill and experience are needed to control this operation, as many distinct stages of successive cameo carving are required to create the remarkable depth and the intricate details. Click on the image for details or click here for more new Summer 2009 items.
Coming Soon! New "Ellie" Doll Figurine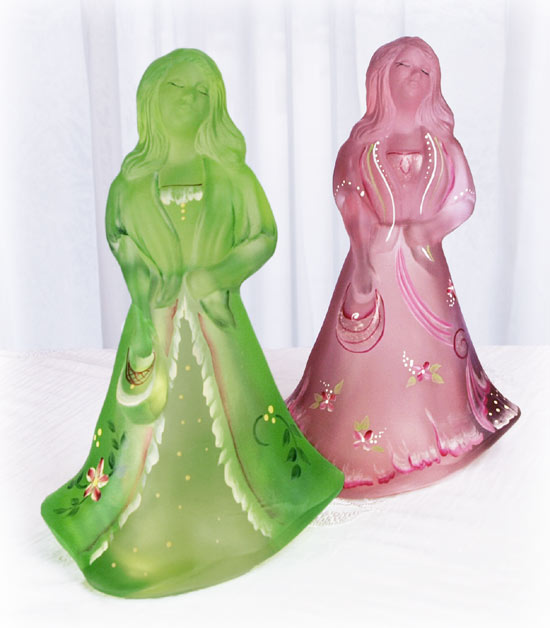 Our new daydreaming doll figurine evokes memories of a simpler time. Dressed for a prom or special occasion, the First Edition ''Ellie'' Doll figurine is named for Ellie Ash, the great-granddaughter of company founder Frank L. Fenton, and daughter of third generation family member Shelley Fenton Ash.
The new doll figurine was designed by Suzi Whitaker and will be available in three colors: our refreshing Key Lime, the new
Blush Rose, and Opal Satin. The three figurines feature graceful handpainted designs by Michelle Kibbe. Each figurine includes an "Ellie" card with a story about naming the doll. Coming soon to a dealer near you! For details, check with your local Fenton dealer!
Create your own work of art!
Attend Fenton Gift Shop's Glassmaking or Beadmaking School!
NOTICE: Due to a long wait list, a second Glassmaking School will be held on Thursday, August 6 at 6:30 a.m. Limited tickets are still available. Click here for details.

NEW! Fenton Glass Beadmaking Schools: Tuesday, August 4 at 11:30 a.m. and Thursday, August 6 at 11:30 a.m. $75 Fee. Click here for details and tickets.
Fenton eBay Auctions...
Own a unique Fenton creation, including one-of-a-kind pieces, through our weekly eBay Auctions! Items featured this week...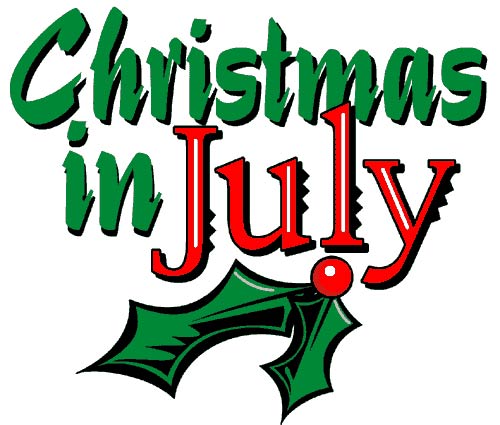 Click on each image
for details on this week's
Christmas in July Specials!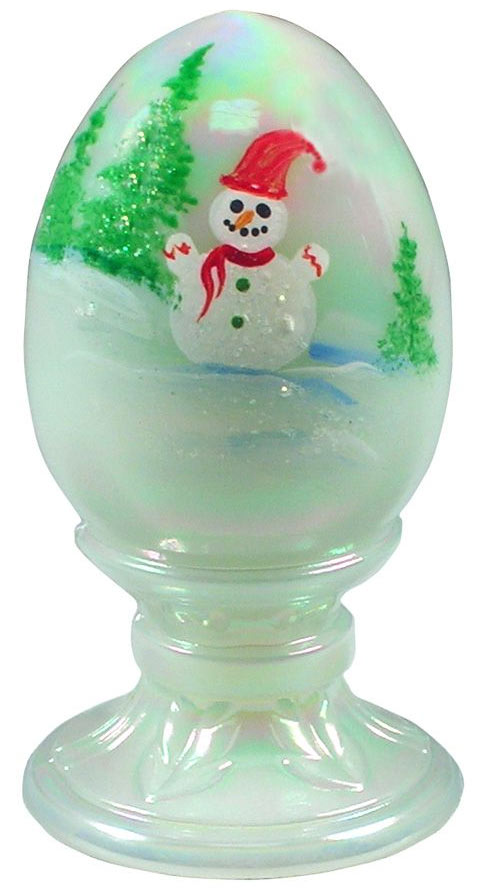 Z5145HPA
3-3/4'' Fenton Gift Shop
Exclusive Snowman Egg on Stand
Originally $39.50, NOW $30.00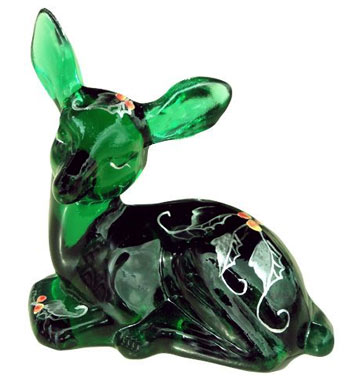 Z5160HPEA
3-1/2'' Fenton Gift Shop
Emerald Green Fawn
Originally $35.25, NOW $26.50